News
UN Women Executive Director visits Japan, calls for creating more opportunities for women and girls in Japan and globally
UN Women Executive Director Sima Bahous conducted a four-day mission in Japan, from 2 to 5 December, where she met with H.E. Fumio Kishida, Prime Minister of Japan, and delivered a keynote speech during the 6th World Assembly for Women (WAW!), a key global conference hosted by the government of Japan. The mission, which underscored the strong partnership between Japan and UN Women, saw Ms. Bahous highlighting the urgency of tackling challenges to gender equality head on to advance the world's common agenda for women and girls in Japan and globally.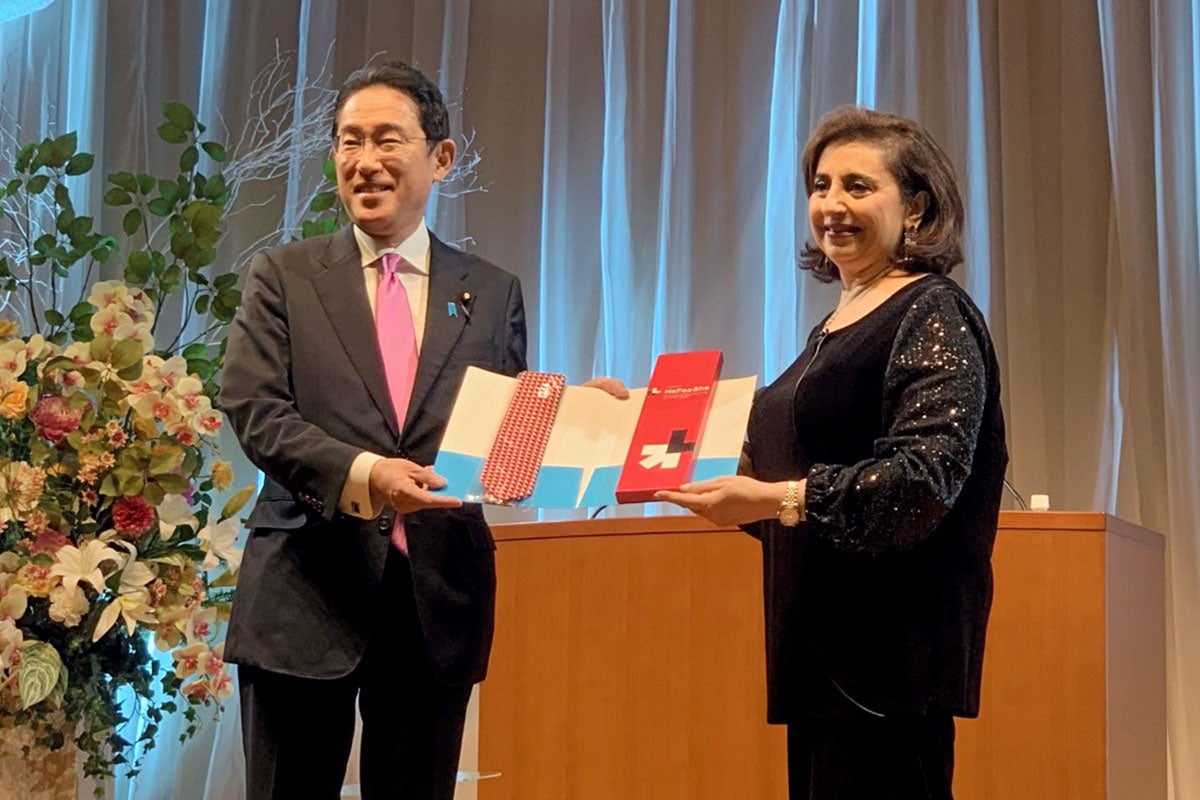 In his opening speech at the World Assembly for Women, Prime Minister Kishida affirmed Japan's commitment to this agenda, stating: "Japan will continue addressing individual needs of each and every woman by protecting their human rights and building capacities, as well as ensuring women's participation in peace and security." He signaled that this work would be done in cooperation with the Japan International Cooperation Agency (JICA), UN Women and others, referring to an ongoing project between the partners and counterparts in the Philippines as a concrete example of such cooperation.
For her part, Ms. Bahous used her keynote speech at the conference to outline challenges to gender equality worldwide and to call for continued strong action in Japan and globally. In addition, she recognized H.E. the Prime Minister as a HeforShe Champion, highlighting his engagement in the global movement, coordinated by UN Women, to invite men to stand in solidarity with women to create a bold, visible and united force for gender equality.
During the mission, Ms. Bahous also met with members of the National Diet, the parliament of Japan, as well as high ranking officials. These included: H.E. Yoshimasa Hayashi, Minister of Foreign Affairs; H.E. Masanobu Ogura, Minister in charge of Women's Empowerment; Mr. Keiichi Ichikawa, Deputy Minister and Director General of Ministry of Foreign Affairs; and Mr. Hironobu Narisawa, Mayor of Bunkyo-city.
In these meetings, Ms. Bahous expressed her appreciation and highlighted Japan's important role in delivering on gender equality globally in 2023—both as a member of the United Nations Security Council and as holder of the Presidency of the G7. For their part, Japan's government counterparts outlined appreciation for the partnership between Japan and UN Women and requested UN Women's expertise in moving the women's empowerment and gender equality agenda forward.
Ms. Bahous also engaged with members of the UN Women Japan National Committee. They exchanged views and strategized together as to how to raise the profile of gender equality issues within the national context, including from the global perspective. Ms. Bahous shared her appreciation for the National Committee and discussed options for outreach and engagement based on her global experience.
Concluding her mission on a high note, Ms. Bahous met with the staff of the UN Women Japan Liaison Office and thanked them for their preparatory work to make the mission possible.
Before returning to United Nations Headquarters in New York, Ms. Bahous reflected on the mission, saying: "Japan is a key partner for gender equality worldwide. I am pleased to have been able to discuss directly with the Prime Minister, government officials, civil society, and other partners in the country, to learn more about their priorities for gender equality domestically and across the world, and to continue to deepen our partnership for results. I look forward to continued engagement with Japan and ensuring that our partnership leaves a positive mark on the world for generations to come."