Interview
Paula Coto: The technology sector has outstanding debts on gender equality
From Marie Curie and Katherine Johnson to Tu Youyou, Segenet Kelemu and Maryam Mirzakhani, women throughout history have made innumerable and invaluable contributions to the fields of science, technology, engineering and mathematics (STEM). Innovations in science and technology are also crucial drivers of gender equality, offering new opportunities for social and economic transformation.
But women and girls still face significant barriers to participation in these areas, representing only 35 per cent of STEM students today. In the field of information and communication technology, that figure drops to just 3 per cent. Without equal representation in these rapidly evolving fields, women are already getting left behind. And in an increasingly online world, the digital gender gap is a growing source of inequality.
For the International Day of Women and Girls in Science—and in the run up to International Women's Day, which focuses this year on innovation and technology for gender equality—UN Women spoke with Paula Coto, a sociologist with Master's Degrees in education and public policy and a postgraduate lecturer on issues related to education, STEM and gender. She is currently the executive director of Chicas en Tecnología [Girls in Technology], a non-profit organization that seeks to reduce the gender gap in technology in Argentina and Latin America. In 2022 she received the Anita Borg organization's "Change Agent ABIE Award", which recognizes women who positively impact the expansion of opportunities for girls and women in technology globally.
What needs to be done to support women and girls in technology and innovation?
First, promote investment in the education of young women. Latin America faces a challenge in completing schooling and motivating young women in the face of biases, stereotypes and the lack of role models. These difficulties have a significant impact on life choices. According to a [2019] study we did with the IDB [Inter-American Development Bank] on software and programming, only 16 per cent of women started these careers [As of 2022, that figure stands at 17 per cent]. Second, consider proposals for labor market insertion. Within these sectors, we hear about glass ceilings, slippery floors, or the wage gap, which affect women's careers. In the areas of technology and science, less than 20 per cent of women have leadership roles [as of 2018], and the lack of recognition for their contributions inhibits how they position themselves in these spaces. Third, it is necessary to increase access to devices and connectivity that allows them to start interacting with technology.
How widespread is online gender-based violence and how does it manifest itself?
Women are victims of constant harassment, which is reproduced in different spaces of socialization— whether face-to-face or virtual. Across 51 countries, almost 40 per cent of women had been harassed online and 85 per cent had witnessed some form of online violence. Abusive behaviors take different forms, ranging from identity-based insults to targeted harassment or attacks on privacy. Still, there is something in common, which is to create a hostile environment for women online—to shame them, intimidate them, belittle them and insinuate that they do not belong there.
How can we prevent online gender-based violence?
For technology and innovation to be allies, those who create technological solutions must identify these problems in all their dimensions. To this end, incorporating women and other gender identities into the technological sphere is fundamental. The COVID-19 pandemic led us to use cell phones and computers more, but we do not often reflect on who creates this technology. Many forms of violence and harassment are not considered in the creation process. The technology sector has outstanding debts in terms of gender equality protocols, despite data showing that companies will have to deal with situations of gender-based violence. Incorporating women in the sector makes it possible to reduce these biases inherent to institutional cultures and favors the creation of more effective, safe, and inclusive solutions.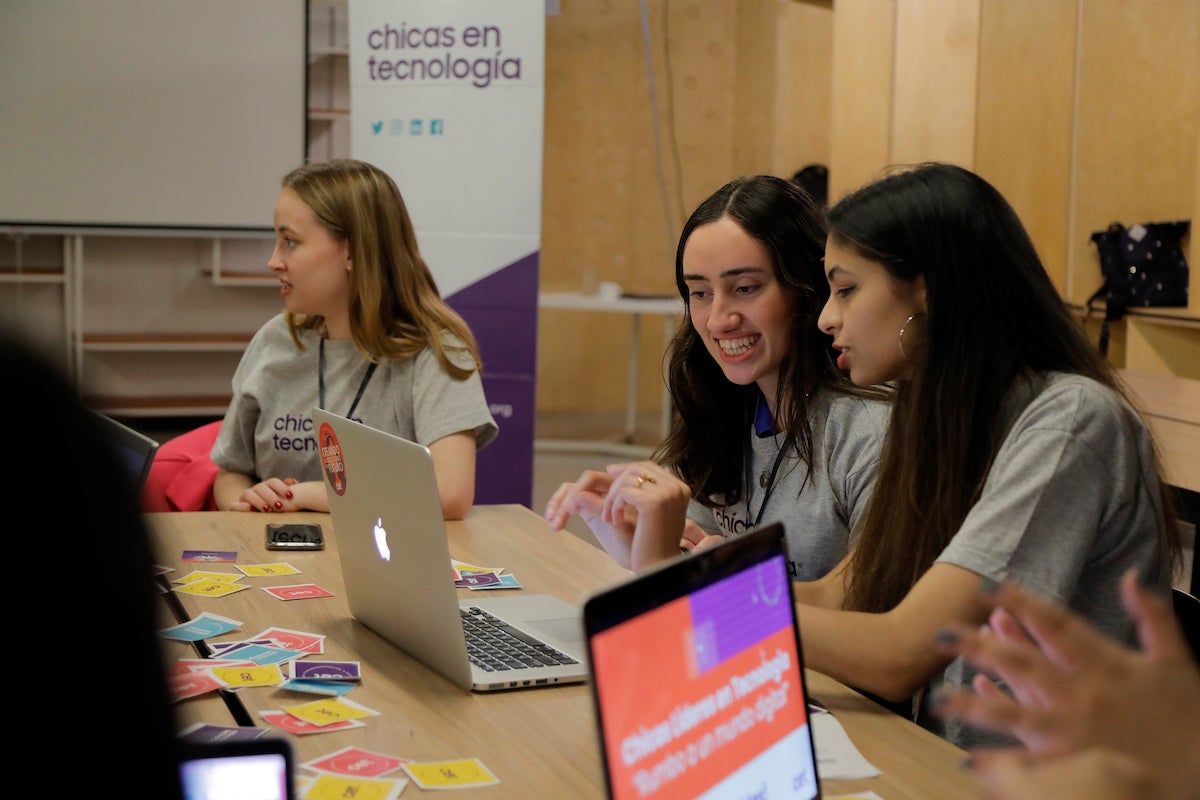 What solutions do you propose to bridge the digital gender gap?
At Chicas en Tecnología, we believe that it is essential to bring women closer to the world of technology from an early age, due to gender stereotypes but also because of other barriers faced by young women. We work with young women in Latin America to make them aware of the opportunities they have in the technological and entrepreneurial fields to develop their academic and work careers in STEM areas.
What programmes does your organization offer?
We have free and open programmes that focus on young women who start looking for information about projects in [STEM]. We are betting on collaboration and collective creation to achieve lasting and sustained changes, working with all the actors of the educational and entrepreneurial systems. [Participants] go through a training process where they analyze and develop technological solutions with a social impact perspective, using technology to have a positive impact on their communities. In this journey they go from being users to creators of technology. They do not work on something abstract—the use of technology for everyday life is their own and they find that they can intervene in their environments. These are scientific and technological skills, as well as leadership.
Do the girls you work with have training in or knowledge of technology? 
Half of the girls under 17 who come to Girls in Tech don't know women working in science and technology. We see the value of these initiatives to inspire them across the board, motivate them and train them on what it means to work in technology so that they can be creators and carry out university education processes. We accompany them in the first steps of employment to become the next generation of women leaders.