Feature
Global Alliance for Care leads changes in the care economy
The COVID-19 pandemic revealed the fragile state of global care systems and highlighted the vital yet unpaid roles predominantly assumed by women.
During the pandemic, women took on 29 per cent more childcare than men and faced higher job losses due to care duties. COVID-19 also highlighted the need to view care as a public good, transitioning from a private, cost-centric, and gender-biased perspective to a public and investment-focused one.
Governments, civil society, and business leaders now recognize the need to address paid and unpaid care roles to further gender equality, social and economic justice, and other Sustainable Development Goals, including those relating to poverty, education, health, work, inequality, and sustainable urban environments.
Against this backdrop, the National Institute of Women of Mexico and UN Women launched the Global Alliance for Care at the Generation Equality Forum in Mexico City, in March 2021. The alliance has since transformed the global narrative of the care economy, positioning care as central to a sustainable and just COVID-19 recovery.
Influencing global agendas
The alliance's presence at global events like the G7 Conference, the Commission on the Status of Women, and the UN General Assembly has made issues of unpaid care work central to sustainable economic recovery efforts.
The Global Alliance for Care has put the spotlight on care economy strategies and fostered multistakeholder engagement and political will through the gender equality lens.
Speaking at Embracing the principle of Co-responsibility in Care and Domestic Work, a high-level event during the 77th Session of the United Nations General Assembly in September 2022, UN Women Executive Director Sima Bahous said: "COVID has revealed the world's dependence on women as unpaid and primary caregivers. Women's work has proven essential. Yet, it remains largely unrecognized and unsupported, especially in times of crisis, with serious adverse effects on women's livelihoods and futures."
Unprecedented community and impact
With a robust membership of more than 147 organizations, the Global Alliance for Care has accelerated progress towards Target 5.4 of the 2030 Sustainable Development Agenda: "Recognize and value unpaid care and domestic work through the provision of public services, infrastructure and social protection policies and the promotion of shared responsibility within the household and the family as nationally appropriate."
Achieving this target would ensure that unpaid care and domestic work are recognized, valued, and supported while also promoting the creation of systems with universal access to quality care and protecting the labour rights of care and health workers.
"The level of commitment that the Global Alliance for Care has generated is what we need to guarantee a transformative change for women and girls", former General Secretary of the International Trade Union Confederation Sharan Burrow said.
Shifting global narratives
By repositioning care as a right and a public good that is crucial for economic growth and sustainable development, the alliance, through its advocacy campaigns, has etched its importance into policy agendas across the globe.
"Care work is increasingly recognized as central to unlocking progress across multiple sustainable development goals", said UN Women Economic Empowerment Section Chief Jemimah Njuki.​​​​ "However, the unequal distribution of unpaid care work and limited access to maternity, childcare, and parental benefits continue to be a key driver of gender inequalities."
Through its persistent advocacy, the alliance has positioned care work at the heart of the multilateral agenda. The alliance has also sparked collective action in care work, leading to decent job opportunities and dignified, safe environments for caregivers. Continued efforts have also secured political commitments, essential funding and forged a solid foundation for the sustainable development of comprehensive care systems.
Speaking at a side event in the context of the Commission on the Status of Women on 16 March 2022, Assistant Secretary-General for Human Rights Head, Office of the United Nations High Commissioner for Human Rights Ilze Brands Kehris said: "We must invest in gender-responsive public services that meet international human rights standards and that reach the most vulnerable, including those who face intersecting forms of discrimination".
"We must break the gender stereotypes which assign care responsibility only to women and girls. And we must protect the rights of care workers and unpaid caregivers. Gender equality in care and a human rights-based care economy would lead to a dignified life for all", she added.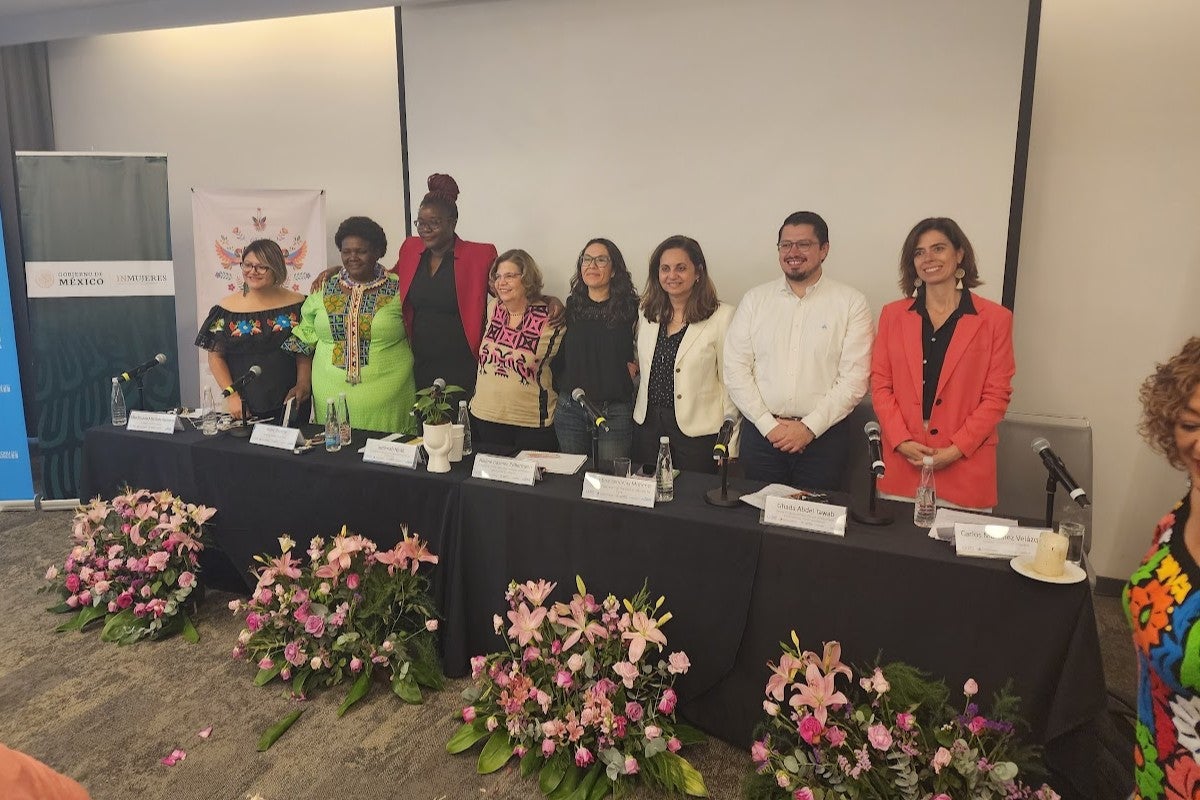 Amplifying voices
The alliance has amplified civil society voices, ensuring that they resonate in global, regional, and national dialogues.
The Global Grassroots Women Community Caregivers' Summit was a good example of this approach, where the pivotal role of caregivers was celebrated and acknowledged. The summit also called on governments, policymakers, philanthropies, civil society, and the private sector to respect, resource, and compensate local caregiver constituencies, domestic workers, and organizations to foster caring societies and just economies.
The Chair and Africa Regional Representative for the Huairou Commission Violet Shivutse said: "Grassroots women are caregiving frontliners, having faced multiple challenges and still leading community sustenance. Their organizations allow them to extend care beyond families, distributing essentials and medicines, and raising funds, for example. They see caregiving as a developmental task, filling societal gaps without proper recognition or compensation."
Looking ahead
Having laid a sturdy operational foundation with its General Assembly, Management Committee, and Technical Secretariat, the Global Alliance for Care has shown the power of collective action, and how united efforts can yield transformative results.
"The care economy catalyses economic recovery and the construction of a more egalitarian society", President of the National Institute of Women of Mexico Nadine Gasman Zylbermann said. "It is time to emphasize the urgency of ensuring the sustainability of comprehensive care systems based on the co-responsibility of all actors."
Since its launch at the Generation Equality Forum in 2021, the Global Alliance for Care has empowered countless voices, influenced global agendas, and championed transformative policies. Moving forward, the alliance will focus on securing commitments to its Call to Action.
The Global Alliance for Care will also continue to boost its strategic presence worldwide and put the voices of civil society are at the centre of decision-making. The alliance works to keep the care economy at the heart of efforts towards achieving gender equality and the empowerment of women and girls, as part of the Agenda for Sustainable Development.