Report published on the importance of accountability for child rights violations
Date: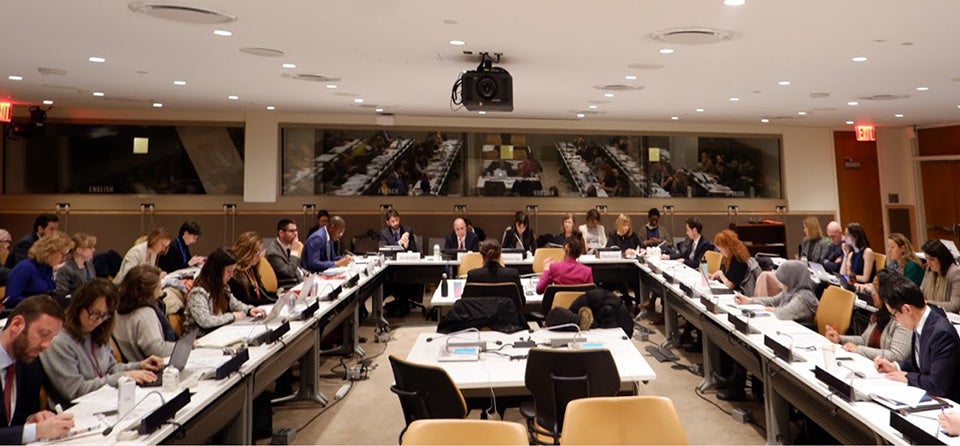 Investigating child rights violations in armed conflict was the topic discussed by experts at an event at the UN Headquarters in New York on 30 January, organized by UN Women and Justice Rapid Response, and co-sponsored by the Permanent Missions of Canada and Sierra Leone to the United Nations.
A panel of leading child rights experts discussed the gendered causes and impact of child rights violations, and the findings of a recent report by the Independent International Commission of Inquiry on Syria on child rights violations, which highlights the need for investigations to improve accountability for child rights violations.
The report, titled "They have erased the dreams of my children: Children's rights in the Syrian Arab Republic", documents the devastating consequences of the conflict on children, who have been killed and maimed, and subjected to myriad violations by warring parties since 2011.Rape and sexual violence have been used repeatedly against men, women, boys and girls as a tool to punish, humiliate and instill fear among communities.
"None of us choose where or when we are born. Syrian children are born in the conflict. We are so dedicated to work on this agenda and are aware of how lucky we are and the debt of responsibility we have towards these children" said Ambassador Richard Arbeiter, Deputy Permanent Representative, Permanent Mission of Canada to the United Nations.
"Our experience during conflict and the challenges we face with [its] legacies enforce our fight towards the impunity. We are here to reflect on the issues of accountability, which we treasure," said Ambassador Michael Imran Kanu, Deputy Permanent Representative for Legal Affairs, Republic of Sierra Leone Permanent Mission to the United Nations. "Although we still face challenges of post-conflict legacy, we continue to take steps with our partners, including UN Women to address these issues," he added.
The report identifies factors such as limited capacities for investigating conflict-related sexual violence, paired with deep-rooted gender biases, responsible for impeding the effectiveness of investigative and judicial authorities.
The event also highlighted the important role of civil society organizations in actively reporting and documenting child rights violations, even before the establishment of transitional justice mechanisms.
Nina Suomalainen, Executive Director, Justice Rapid Response said: "The investigation of child rights requires a different and very specific expertise. Investigations may need forensic doctors, human rights investigators, psychosocial counselors, and witness protection experts with specific experience interacting with children. In some cases, there is a need for military analysts to investigate attacks on schools or hospitals and provide recommendations for armed parties to guarantee the right to health and education of children in conflict areas."
One of the priorities that Ms. Suomalainen highlighted was to recruit and deploy experts in the investigations of crimes against children.
The devastating situation of education in Syria was stressed as an area of concern by Hanny Megally, Commissioner, Independent International Commission of Inquiry on the Syrian Arab Republic.
Since the start of the conflict, thousands of schools have been destroyed or used for military purposes, and more than 2 million boys and girls are not regularly attending classes of any form, he noted.
"These areas need to be given new attention and be prioritized," he said. "We need to see movement on these issues and not wait for the end of conflict or peace agreement.
"Accountability starts with the investigation. It is important that the proper information is collected properly from the beginning. That is the first block," commented Javier Pérez Salmerón, who is part ofthe Sexual and Gender-based Violence Justice Experts Roster maintained by UN Women and Justice Rapid Response, and currently deployed to the Independent International Commission of Inquiry on the Syrian Arab Republic. "The better we do our work with the primary resources the better accountability we get."
"We hope that the information from the report will be used, above all, to prevent future violations of child rights," said Paivi Kannisto, UN Women's Chief of Peace, Security and Humanitarian Action in her closing remarks.
In the report, the Commission urges parties to respect the special protection that children are entitled to under international humanitarian and human rights law, ensure accountability for violations that have occurred, and makes a series of recommendations to increase support for child victims.