International Women's Day 2013
2013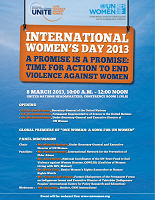 The 2013 theme for International Women's Day, celebrated annually on 8 March, is:
"A promise is a promise: Time for action to end violence against women"

Secretary-General Ban Ki-moon's Message for International Women's
Day 2013
Speech at UN event for IWD 2013 (8 March, 2013)
Watch video message
Press release and IWD statement
This year's event at UN Headquarters in New York was held on 8 March, 10.00 a.m. – 12.00 p.m. Read the press release
The first-ever song from the UN system, "One Woman" was launched on 8 March. The song is now available, along with behind-the-scenes videos chronicling the song's year-long production at http://song.unwomen.org. This musical celebration of women worldwide features 25 artists from across the globe. It is the first theme song for a UN organization.
Join the conversation and follow @UN_Women and the hashtag #1woman on Twitter. You can also donate a tweet through our Thunderclap, which will be released on 8 March.
Photos of International Women's Day 2013
About IWD
The United Nations began celebrating International Women's Day (IWD) on 8 March during International Women's Year 1975. Two years later, in December 1977, the General Assembly adopted a resolution proclaiming a United Nations Day for Women's Rights and International Peace to be observed on any day of the year by Member States, in accordance with their historical and national traditions.
International Women's Day first emerged from the activities of labour movements at the turn of the twentieth century in North America and across Europe. Since those early years, International Women's Day has assumed a new global dimension for women in developed and developing countries alike. The growing international women's movement, which has been strengthened by four global United Nations women's conferences, has helped make the commemoration a rallying point to build support for women's rights and participation in the political and economic arenas.
Increasingly, International Women's Day is a time to reflect on progress made, to call for change and to celebrate acts of courage and determination by ordinary women who have played an extraordinary role in the history of their countries and communities.
Find out more about UN System Observances for International Women's Day 2013
See our coverage of International Women's Day 2012