UN Women Executive Director Michelle Bachelet visits Peru
Date:
UN WOMEN PRESS RELEASE
For immediate release
15 October 2012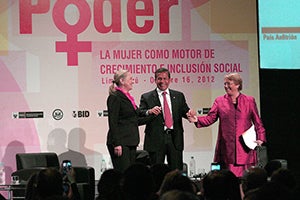 15 October 2012 — On Tuesday 16 October, the Under-Secretary-General and Executive Director of UN Women, Michelle Bachelet, will begin an official visit to Peru, which will start with her participation at the international conference entitled "Power: Women as Drivers of Growth and Social Inclusion, alongside President Ollanta Humala Tasso and the US Secretary of State, Hillary Rodham Clinton.
She will later hold meetings with the country's top authorities, including the President, government ministers, women leaders from various political parties in the Congress of the Republic, civil society, and women who have benefited from some of the projects implemented by UN Women in Peru.
The main themes she will address during her visit concern public budgets, with an emphasis on gender, women's participation in politics, decent work for female domestic workers, the eliminations of violence against women and Peru's recent adoption of the National Plan for Gender Equality.
During the visit, Ms. Bachelet will be awarded an honorary doctorate by the Cayetano Heredia University, and will also receive the keys to the City and Municipality of Lima.
Follow her speech on 16 October on livestream:
www.livestream.com/powerofwomen
Watch
live streaming video
from
powerofwomen
at livestream.com