Photo essay: A day in the life of women
Date: 04 March 2016
Teachers, farmers, businesswomen, politicians, mothers, law enforcers — women and girls contribute every day in many visible and invisible ways. Here's a glimpse into their lives.
MAURITANIA
In the capital of Brakna in southwest Mauritania mothers gather to attend a session on early childhood development. Providing children with a strong foundation of learning and good health is key to sustainable development and economic growth. Poverty however can hamper such progress, and girl children often bear the brunt becoming an after-thought in a poor family. Today, 836 million people still live in extreme poverty.
Photo: UNICEF/Agron Dragaj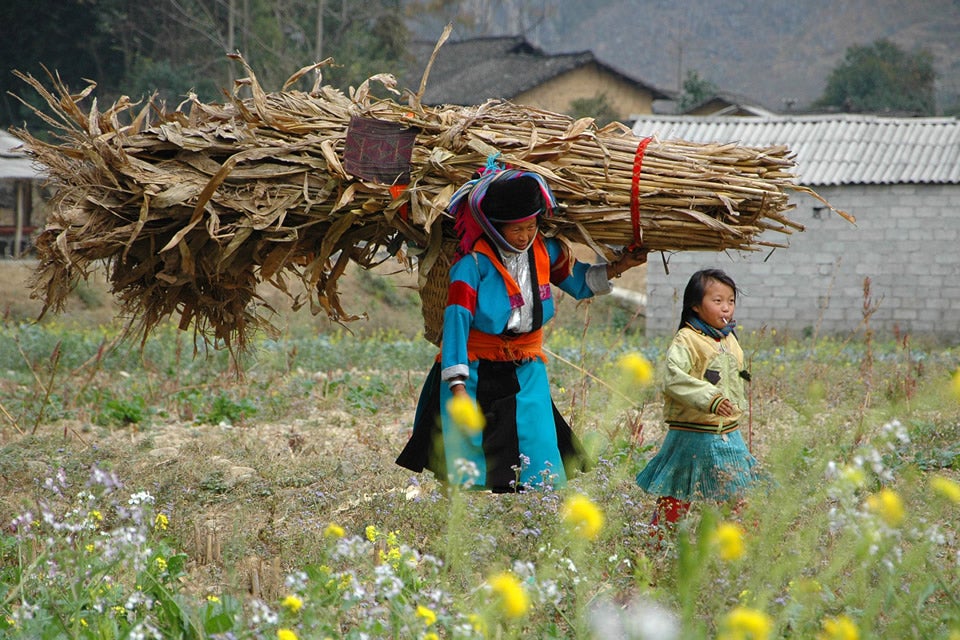 VIET NAM
In a northern Viet Nam province, a farmer and her daughter walk through a field carrying a heavy load of dried corn crop leaves. Climate change is bringing new hardships with women and children bearing the negative impacts of fuel and water collection and transport. Women in many developing countries spend from one to four hours a day collecting biomass for fuel.
Photo: UNDP/Canh Tang

LEBANON
In Lebanon's capital Beirut, a young entrepreneur crafts artisanal goods through carpentry in a shared studio space provided through a cooperative. Cooperatives serve an important role in women's economic development, improving access to resources and women's opportunities and strengthening economies.
Photo: UN Women/Joe Saade

MALI
A girl practices basketball at sunset in one of Africa's oldest trading centers, Gao, Mali. During the Jihadist occupation in 2012, girls were forbidden to practice sports and to wear shorts. The denial of women in sports extends beyond national borders. For instance, women competed for the first time only at the 1900 Olympic Games in Paris, with women from all nations participating just a few years back in 2012.
Photo: UN Photo/Marco Dormino

GERMANY
At a dental clinic at the Ramstein Air Base in south-western Germany, Headquarters of US Air Forces in Europe, a dentist examines her patient. Women are a growing segment of the medical profession, respected and valued for the care they provide. In Central and Eastern Europe, women comprise 40 per cent of researchers in science, including medical and health sciences — 10 percentage points higher than the world average.
Photo: Ryan Langhorst

COLOMBIA
In the southwestern Colombian port city of Tumaco, women run a street-side restaurant specializing in fried fish. Women continue to earn less, have fewer assets, and are largely concentrated in vulnerable and low-paying activities. Seventy-five per cent of women's employment in developing regions is informal and unprotected.

Photo: UN Women/Ryan Brown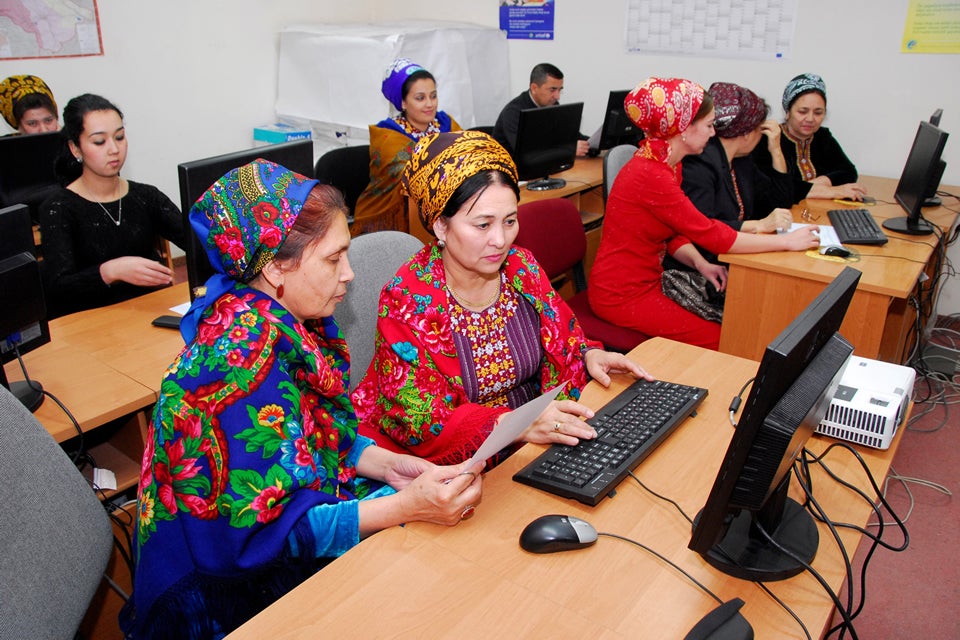 TURKMENISTAN
In Turkmenistan, statisticians enter data for processing and analysis. Information communications technologies has great potential to empower women and girls worldwide. Social media, in particular, is a space where women's voices and gender equality issues have been often brought to the forefront.
Photo: The World Bank

SWITZERLAND
In Davos, Switzerland, leaders including Christine Lagarde, Phumzile Mlambo-Ngcuka, and Sheryl Sandberg, discuss global growth at the World Economic Forum, the world's premier political and business leaders meeting. Women are key to economic growth. If women play an identical role in labour markets to that of men, as much as US $28 trillion could be added to global annual GDP by 2025. Yet, gaps remain — women currently hold only 20 CEO positions in the Fortune 500 companies.
Photo: World Economic Forum/Remy Steinegger

CHINA
In China, an instructor engages her students while raising awareness on HIV and AIDS to an important demographic: youth. Such education is critical to curbing infection rates. Globally, almost 1,000 young women are newly infected with HIV every day. Yet, only 21 per cent of female adolescents aged 15-19 have comprehensive knowledge of HIV.
Photo: UNAIDS

USA
Women make their way through the early-morning rush hour in the USA's most populous city New York. Whether in bustling cities or rural villages, women's income contributes to families, communities and societies. Yet, women on average are paid 24 per cent less than men globally for the same work. They also spend more than twice as much time on unpaid care and domestic work as men.
Photo: UN Women/Ryan Brown

THAILAND
Thai police cadets enjoy a light moment as they attend a training on ending violence against women and girls, geared towards enabling more effective response to such crimes. Data from 40 countries shows a positive correlation between the proportion of female police and reporting rates of sexual assault.
Photo: UN Women/Montira Narkvichien

BRAZIL
In Brazil's northeast state Pernambuco, an all-female dance troupe performs an Afro-Indigenous dance, traditionally done by men during the nation's popular annual festival Carnival. Whether in the arts, media or entertainment, women use their art form to change public discourse and shape perceptions on equality.
Photo: UN Women/Lianne Milton

INDIA
In the northern Indian state of Rajasthan, a mother shares the joy of learning as she helps her son with his homework. A child born to a mother who can read is 50 per cent more likely to survive. Every year of education beyond grade four that a woman receives, reduces risks of her child dying by 10 per cent.
Photo: UN Women/Shaista Chishty

SOUTH SUDAN
An all-female de-mining team in action in South Sudan deals with the legacy of landmines from Sudan's civil war. Women de-miners are not uncommon and have worked on the numerous minefield from Bosnia to Iraq, Sri Lanka, Tajikistan and other countries. The job involves strapping on 25 kilos of equipment and searching for deadly explosives that remain much after the battles end.
Photo: UNMAS/Elena Rice