Photo essay: Stories of hope from a Cameroon refugee camp
Date: 20 May 2016
To the world they are known as "refugees". Nameless, faceless, all the same. But each of them have a different story to tell, of their lives, who they lost, and how they got here. Fleeing from the devastating conflict in the Central African Republic (CAR), today they are rebuilding their lives, one day at a time, in a camp in Cameroon. UN Women supports economic and social rehabilitation to some 6,250 vulnerable women and survivors of sexual and gender-based violence there. These are some of their stories.
Hawa, 23, was eight months pregnant when her husband was killed in the fighting in CAR. Her father and brother were also killed and her mother disappeared, leaving her completely alone. She fled and crossed into Cameroon, becoming a refugee at the Gado camp, where she gave birth to a son, Haphisi Ibrahim.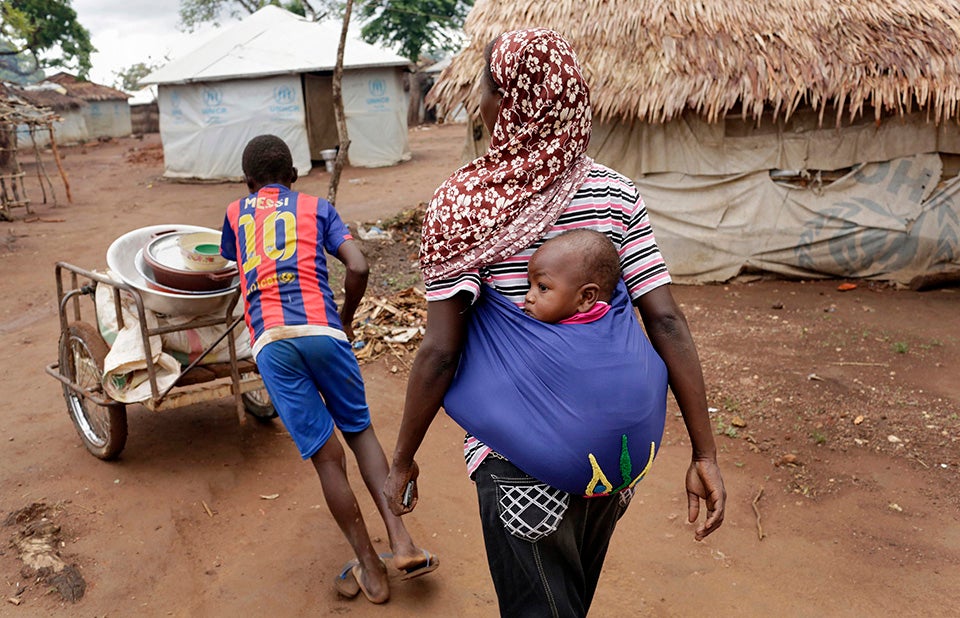 Hawa carries her son as a neighbour pushes a cart with bags of cassava flour, dried fish and nuts for Hawa to sell at the camp's marketplace. "When I arrived I didn't have anyone," she said. She received counselling from UN Women staff. "They sensitized and trained me on how to do a business plan at the camp."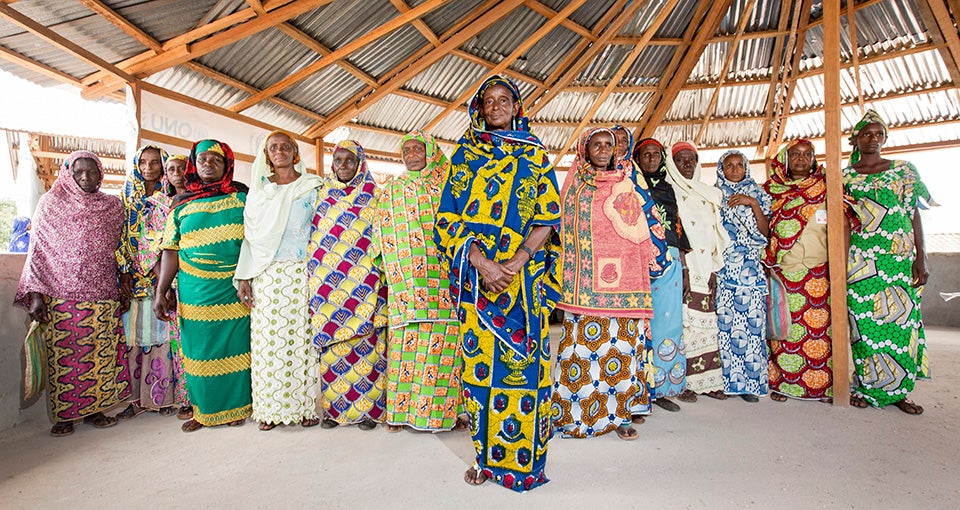 Ardo Djibo Fadimatou (centre, in blue and yellow), 64, lost eight of her 15 children during the conflict in CAR. She does not know the where her husband is. She speaks for the over 12,000 women in the Gado refugee camp as their elected President and leads meetings in UN Women's Social Cohesion Space. "The major problem I face as a female leader is to convince parents to send their children to regular schools. Most parents prefer their children to stay at home and learn the Koran. Women need to be educated, to have income-generating activities and be able to contribute to social cohesion here at the camp."
Yaya Dia Adama escaped CAR and came to the Gado refugee camp with her five children. She is a seamstress by trade and is able to make a living using the sewing machines at the UN Women multipurpose centre. She is currently training three other women to use them to make clothes, and together the women produce dresses to sell in the market. "Each day I am able to earn 1000 to 2000 [CFA] francs a day [USD 1.75-3.50]. This has helped me to provide for my children."
Ouseina Hamadou, 22, lives in the Ngam refugees host community and works as a food vendor. "UN Women trained me on a business plan, provided me with financial assistance, which I reinvested in my restaurant at the roadside. I started saving 5,000 francs [USD 8.50] a day and when I had 200,000 francs (USD 350), I decided to start building my own house."
Nene Daouda is a 38-year-old widow who lost her husband in CAR during the war. She escaped to the Ngam refugee site in the Adamawa region of Cameroon with her five children, one of whom recently passed away from illness.
Nene (centre) and one of her daughters, Salamatou Abubakar (left), 12, have been providing food to many refugees at a makeshift restaurant in a small market at the camp. "I witnessed a complete transformation in my business and income following the training I attended, organized by UN Women. At the end of the training, they gave us 50,000 [CFA] francs as capital (USD 85). I reinvested this money in my business and started weekly savings." Today, she is able to provide education and other basic needs to her children. In the image on the right, Nene passes out bites of dough to tide visitors over while she finishes cooking.
Salamatou steps outside to cut herself slices of mango as a snack. She sees a group of boys nearby playing football and immediately runs to join them, forgetting, at first, to put down her mango-slicing knife.
Displacement is devastating. Every day brings news challenges. But for these women, and many others in Cameroon, life at the refugee camp has also empowered them in ways they never imagined.
For larger-format images, you can also find this photo essay cross-posted on Medium.
Credit for all photos: UN Women/Ryan Brown