Left behind no more: UN Women addresses inequalities women face in Ukraine
Date: 20 February 2019
Originally published on UN Women's regional website for Europe and Central Asia
In Ukraine, women facing multiple forms of discrimination are heavily excluded from political and public life. Their voices are not heard. Their needs and rights are neglected in the reforms, recovery and peacebuilding processes. Particularly affected groups are: women and girls with disabilities, women living with HIV, rural women, young women, older women, ethnic minorities, particularly Roma, internally displaced women, lesbian, bisexual, transgender, intersex and queer (LBTIQ) people and others. These groups face human rights abuses, intolerance and severe discrimination in access to decision-making, employment, health care, education and other basic services.
Since 2017 UN Women has been supporting the Government and the civil society of Ukraine in the efforts to implement the Convention on the Elimination of All Forms of Discrimination against Women (CEDAW) – which Ukraine ratified in 1981 – through the CEDAW in Action! project.
Gender analyses of national strategies and programs have been conducted to strengthen the Government's capacity towards gender-sensitive reforms. Importantly, in the 40-year history of Ukraine reporting on the CEDAW, the first ever National Action Plan on the Implementation of CEDAW was passed on 5 September 2018. It has placed issues of women facing multiple forms of discrimination squarely on the agenda for the Government in 2019.
This series of illustrations depicts vulnerable groups of women participating in important processes that concern their lives. It also calls on the decision-makers to consider and address the needs of various groups of women and girls in policies and programmes at all levels.
The illustrations are designed by Dana Rvana and produced by the UN Women "CEDAW in Action!" project funded by Global Affairs Canada.
Certain groups of women suffer from discrimination in connection with their ethnic identity, disability, age, internally displaced person status and other factors. Their voices are not heard. They are invisible to decision makers and their needs are excluded from policies that affect them directly
"The human rights of women and the girl-child are inalienable, integral and indivisible part of the universal human rights."
— Vienna Declaration and Programme of Action, 1993, para 18
Due to long-standing biases and gender stereotypes, women scientists in Ukraine tend to work in the academic and governmental sectors, while men dominate the private sector, which offers higher wages and more career opportunities. (UNESCO, 2016).
In Ukraine women constitute 85 per cent of the widowed and older people living alone and often experience social isolation. They are at a higher risk of domestic violence and other crimes than older men. They tend to live longer than men but receive smaller pensions because of the lifelong wage gap. Women account for 70% of conflict-affected older people and 78 per cent of IDPs in the conflict-affected areas. They suffer from limited access to information, healthcare and social protection (Ukrainian Centre For Social Reforms/UNFPA, 2014).
The vast majority of women living with HIV are of reproductive age: from 18 to 45 years old. Almost half of these women learned about their HIV-positive status during pregnancy, and many women gave birth to healthy children thanks to the programmes on preventing mother-to-child transmission of HIV. Yet women living with HIV are still subject to discrimination, prejudice and stigma among healthcare workers (Charitable Organization Positive Women, 2016).
Poverty risks are higher among women and girls living in rural areas with poorly developed labour markets and lower rates of income.
Almost 48 per cent of women living in rural areas do not have access to nearby medical services. A full 36 per cent of rural women do not participate in decision-making in their communities. Only 46 per cent of rural women are computer- and Internet-savvy (UNDP, 2015).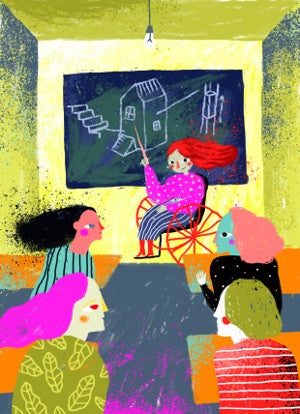 Women with disabilities face particular disadvantages and challenges in Ukraine: Access to healthcare and reproductive health services, gender-based violence, inaccessible infrastructure and a low level of economic and social activity. They are rarely represented in decision-making positions or in legislative and executive bodies (National Assembly of People with Disabilities, 2012).
Roma women and girls face discrimination within and outside of their communities in Ukraine. They have higher illiteracy and lower education rates, often in conjunction with early marriage (only 59 per cent attend secondary school). High unemployment rates and poor employment opportunities hinder their full social inclusion and integration. A lack of identification documents prevents Roma women from exercising their social and economic rights (Roma Women Fund Chiricli, 2016).
Women constitute the majority of internally displaced persons (IDPs). Due to traditional gender roles, they are usually the ones who care for children, the elderly or family members with disabilities. Women make up the majority among unemployed IDPs and face difficulties finding work in host communities, accessing healthcare and paying high rent. The rates of mental health disorders, including post-traumatic stress disorder, depression and anxiety, are higher among women IDPs than men, and most IDPs lack access to quality care (London School of Hygiene and Tropical Medicine and the Kyiv International Institute of Sociology, 2017).
LBTIQ women are considered especially vulnerable due to stigma, their lack of legal visibility and the absence of non-discrimination provisions, and are subjected to hate speech and hate crimes, as well as gender-based violence (Charitable Fund "Insight", 2016).
International Women's Day is celebrated around the world as a day when women are recognised for their achievements without regard to divisions, whether national, ethnic, linguistic, cultural, economic or political. Since its early years, this day has helped direct society's attention to women's rights and women's increased participation in the political, social, public and economic arenas.