Global Overview
PROGRESS UNDER 2020 MILESTONES This chart provides an overview on progress under 2020 milestones set in the IRRF of the Strategic Plan 2018-2021. In total, UN-Women has achieved good performance in 83 per cent of assessable indicators in the Strategic Plan, including 89 per cent of development results milestones at the output level. (This chart presents the data as of March 2021)
Global and regional distribution by output level results in each of the impact areas These charts help understand the thematic focus in UN-Women programmes in each region, as well as globally, in 2019. For example, Europe and Central Asia had the greatest focus on Ending Violence Against Women in terms of percentage of outputs (42% of all outputs in the region).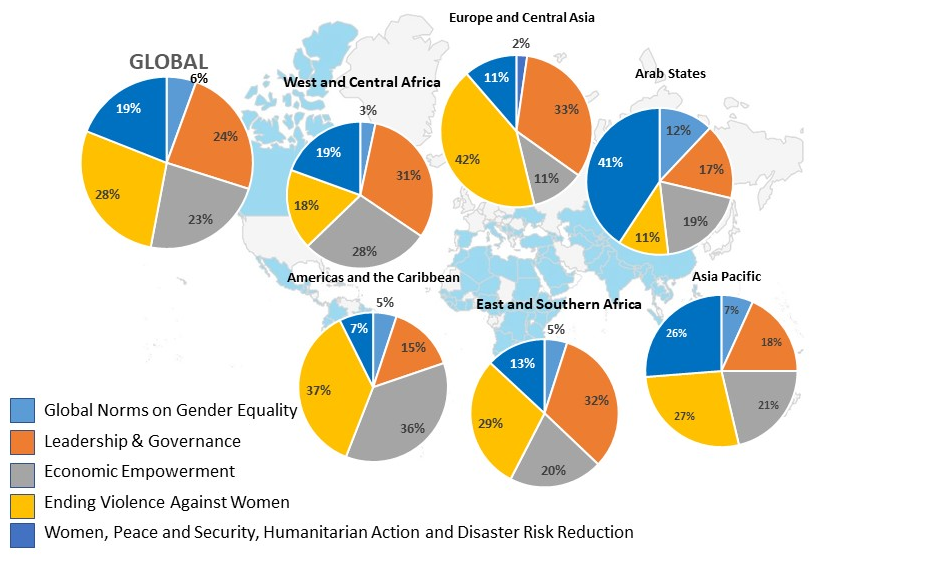 Disclaimer:  The boundaries and names shown, and the designations used on this map do not imply official endorsement or acceptance by the United Nations.
LEAVING NO-ONE BEHIND The principle of leaving no one behind is reflected as a guiding principle in UN-Women's Strategic Plan 2018-2021. A number of indicators in the Development Results section of the Strategic Plan's IRRF use disaggregation by basic demographic characteristics, such as age, sex, and geographical location, as part of the Entity's explicit planning and reporting on efforts to leave no one behind. The table below highlights output indicators' results for 2020 and their distribution across these characteristics.
Other indicators in UN-Women's Strategic Plan measure results towards leaving no one behind, for example, by focusing on maximizing the number of direct beneficiaries in rural areas (e.g. indicator 3.10.2: Number of rural women supported to gain access, use and/or control of productive resources by UN-Women). In the 2020 Report of UN-Women's Executive Director on the implementation of the Strategic Plan 2018-2021, UN-Women also reported quantitative results by other characteristics such as disability status, where relevant; and qualitative results from UN-Women's field offices' work to leave no one behind. In addition, further information was presented in its 2020 Annex VI. Report on the implementation of the quadrennial comprehensive policy review of operational activities for development of the United Nations system.
Programme Expenses by Outcome Area This chart shows the overall distribution of UN-Women programme expenses ($ millions) by outcome in 2020. Total UN-Women programme expenses for 2020 was $341 million. Financial information for the period ending 31 December 2020 has been prepared on an accrual accounting basis in accordance with International Public Sector Accounting Standards (IPSAS).
Distribution of outcomes by income groupings The pie chart provides the 2020 percentage distribution of outcomes by country typology: low income, lower middle income, upper middle income and high income countries/territories. The column chart illustrates the percentage distribution of outcomes by country typology within each outcome. For example, 44 per cent of all outcomes that address Economic Empowerment are supported by UN-Women in Lower Middle Income Countries. (Source for country classification: The World Bank https://datahelpdesk.worldbank.org/knowledgebase/articles/906519-world-bank-country-and-lending-groups)