Participants Voices
This June, hundreds of organizations and civil society activists will gather in Rio de Janeiro, Brazil, as heads of State and Government meet at The United Nations Conference on Sustainable Development, or Rio+20, to consider the progress made on environment and development issues. The activists will come from across the world to monitor the proceedings, share and exchange ideas, make connections and push for change - many with a focus on women rights and gender equality. Here are some of their voices on what they hope to achieve.
Tess Vistro, Asia Pacific Forum on Women Law and Development, National Federation of Peasant Women, the Philippines
Tess Vistro works with rural and indigenous women, in the Philippines and other Southeast Asian countries, particularly on women's land rights, food security and biodiversity. With The National Federation of Peasant Women, she has documented the impact of climate change on the lives of rural women, specifically, the effect of rising sea levels on the livelihoods of rice farmers and their families, and the impact of drought and flooding on the productivity of women farmers. She believes that the process of raising the consciousness of development issues among rural women is a result in itself. "The fact that the women themselves are taking these issues collectively in their own hands is valuable, she says.
Having worked with communities affected by militarization, Vistro hopes to see space for peace and security in the negotiations and Outcome Document at Rio. "Militarization of rural communities displaces women and their families from their lands and therefore the sources of their livelihoods, she says. "There can be no sustainable development when rural women in their communities are frequently held under threat of displacement, or physical and sexual abuse.
Vistro has been working to amplify the voices of grassroots and rural Asian women in the Rio+20 dialogue, as a member of the Women's Major Group. Her organization, Asia Pacific Forum on Women Law and Development, is part of the Women Rio+20 Steering Committee.
Rosa Koian, Bismarck Ramu Group, Papua New Guinea
As a longtime community development worker and activist, Rosa Koian highlights issues that she believes receive too little attention at home, and overseas. "We see our trees stolen and our rivers and seas polluted and we are told it is good for our development. But from the developed world we hear them talk about growth, she says. "We are caught in a very selfish system.
Koian is the Networks Coordinator for Bismarck Ramu Group, a community network that empowers indigenous communities on development and conservation issues. This includes legally challenging the advances of transnational corporations and extractive industries in the pacific island country.
Koian believes that difficult questions will need to be confronted at Rio+20. "How can we achieve a sustainable future if we let our governments pursue a development model that encourages the ruthless disruption of our ways of lives? she asks. She hopes to see a consensus on reducing practices that degrade the Papuan environment, such as large-scale resource extraction.
Godavari Dange, Sakhi Federation and Swayam Shikshan Prayog, India
Godavari Dange's first leadership role was as a member of a village savings group; she now leads a federation of more than 500 member groups across 110 villages. Her responsibilities have included mobilizing women, monitoring and auditing savings groups, and working with banks and state poverty reduction programs. She gives advice to grassroots entrepreneurs, and works on initiatives to boost community health and disaster prevention.
She believes that integrated approaches to development, as recognized and practiced by many grassroots women, are crucial. "The survival and wellbeing of our families and communities depends on our ability to combine daily practical issues with long term sustainability, she says.
Dange is proud of the leadership of Swayam Shikshan Prayog (Self Education for Empowerment) in community resilience initiatives. Through it, women have learned how to prepare for natural disasters and have been recognized as leaders in the field; they have actively participated in negotiations with local authorities and been featured as experts on radio and TV programmes.
At Rio+20 Dange would like to see more incentives developed for grassroots-government partnerships, and more steps taken to ensure decision-making access and funding for grassroots women who are successfully addressing development problems. "Earmarking resources and creating innovative financial mechanisms would enable grassroots women to expand and strengthen their sustainable development initiatives, she says.
Marie Dialo, Marie Dialo Laboratories, Senegal
Dr. Marie Dialo is a manufacturer of natural body and hair products, and explores new uses for African plants with her company Marie Dialo Laboratories. With the support of UN Women, this also works to counter poverty among West African women through professional training, and income from the 'green' manufacturing of traditional products.
Among the numerous projects initiated by her laboratory, Dialo is particularly proud of the training for women Shea butter producers in Benin and Burkina Faso. By combining traditional and modern knowledge transfers, the production process has been designed to be ecologically sustainable, and of higher quality. The project also helped to improve women's work conditions, says Dialo, by providing them with better resources, such as boots and gloves.
She hopes that the Rio+20 talks will lead to more innovation in development programmes, and solutions that focus on the real needs of women.
Prerana Shakya, Finland-Nepal Partnership for Girl Guides, Nepal
Much of Prerana Shakya's focus, at the helm of the Finland-Nepal Partnership for Girl Guides, has been on building sustainable communities with young people. The partnership gets youth involved in educating and advocating for health facilities in Nepal's Rasuwa district. The Guides for example, have worked to raise awareness in communities about sanitation and latrine use. Shakya's work also addresses violence against women and she is an active campaigner in the Nepalese Girl Guides' campaign, "Stop the violence - speak out for girls' rights, which ran in 64 scout districts. She has also worked on reintegration activities for children involved in armed conflict, and on community child care programmes, and other issues.
Prerana feels that her work feeds well into the priorities being considered at Rio +20, and looks forward to engaging Nepalese youth with them. "I expect that Rio +20 will bring decisions that are practical and reliable - able to bring real changes in the lives of people, she says. "I would also expect that they focus on gender, since all over the world women are facing inequalities.
Evelyn Namara, Solar Sister Inc., Uganda
Evelyn Namara is the programme coordinator at Solar Sister Inc.in Uganda, a market-based initiative that takes solar energy to rural communities in Africa, while empowering women economically. She has seen many women start up their own micro solar businesses, playing a role in both conserving the environment and reducing 'energy poverty'. In Uganda, where less than 10 per cent of the population are covered by the grid, solar energy can replace the burning of fuel for lighting purposes and significantly reduce the toxic fumes that endanger lives. 'Solar sisters' receive training in business skills, clean energy knowledge, and marketing skills, and are equipped with a start-up inventory kit.
"I want to see other models, and what everyone is doing out there to address issues around poverty, environment and gender issues, says Namara regarding her participation at Rio +20. "Above all, I would like to see real measures being put in place to sustain and support existing innovative models that address these issues.
Bishnu Thakali, Women Environment Protection Committee, Nepal
Bishnu Thakali is the president of the Women Environment Protection Committee (WEPCO), Nepal, which began as an initiative by sixteen women to collect garbage from 50 neighbouring households in 1990. Within five years it had grown to serve 1,000 households in Lalitpur, and now processes and recycles up to five tonnes of waste daily. It has become a beacon of women's empowerment, and has brought a change in attitudes towards waste and its management, in Lalitpur and beyond.
For Thakali, Rio +20 will be an opportunity to expand her network and knowledge base, and gain support in expanding WEPCO's programmes to support the community.
"With women's participation, we help to generate income by training them about waste as a 'resource', explains Thakali. "We have been involving women from various communities in paper and plastic recycling, composting and biogas. The women make different products from waste such paper bags, greeting cards etc. In this way the environment is conserved along with income generation for the women, which leads to sustainable development. WEPCO also provides technical expertise in managing solid waste management and constructing biogas plants.
Albina Ruiz Ríos, Cuidad Saludable, Lima, Peru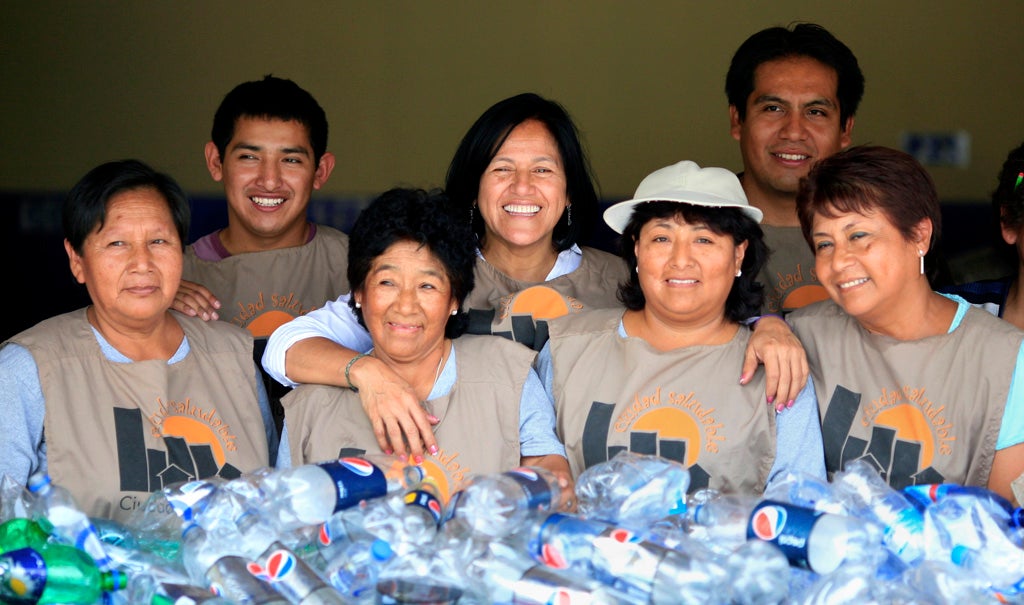 With Albina Ruiz Ríos at its helm, the organization Ciudad Saludable creates efficient solid waste management systems and sustainable microenterprises that improve the livelihoods of waste collectors. Their model helps to develop private waste management systems, an approach that, in many cases, has proven to be more efficient than the public sector. About 40 per cent of those who work for the organization as waste collectors are woman living in poverty.
"By being integrated into the waste management system, the women can build their self-esteem and sense of dignity says Ruiz Ríos. The organization also helps women to increase their income. What does Ruiz Ríos want from the Rio+20 Conference? She wants to see two concrete outcomes: gender inequality treated as a priority in Rio+20, and concrete agreements that can be enforced and implemented by governments.
Josephine B. Castillo, Damayan ng maralitang Pilipinong Api (DAMPA), The Philippines
Josephine is a national coordinator in the Philippines for DAMPA, a network of 217 community organizations. She has worked as a leader and organizer among rural and urban poor communities for over 20 years. DAMPA mobilizes vulnerable groups, such as youth, older persons, and single parents around a wide spectrum of community issues, from disaster preparedness to land tenure.
Recently, DAMPA organized a water cooperative to provide clean drinking water for poor communities in Manila, by working with members of Congress and a public utility company. It has also set up a mortgage programme that which encourages them to save, and allows community members to buy and share land.
Other efforts include a sustainability or "resilience fund which encourages members to put aside 1 peso ($0.02) per family per month, to safeguard against emergencies. "All these initiatives have made changes in our communities, she says.
"I want to know about the practices of other countries for a sustainable community, explains Castillo of her hopes for Rio+20. "I expect our presentation of our best practices as grassroots women to be recognized by international organizations, the government and the UN, and I hope we can help create policies that will support the initiatives of grassroots women.
Marling Haydée Rodríguez, Cooperativa Las Brumas, Jinotega, Nicaragua
As President of the organization Unión de Cooperativas Las Brumas, Marling Haydée Rodriguez is contributing to the empowerment of women and sustainable development in two ways: by practicing sustainable agriculture through land reforestation and soil conservation; and fighting for the property rights of the women of Jinotega, a north central region of Nicaragua.
The Unión has also worked to ensure the adoption of Act 171 in Nicaragua, which helps low-income rural women to acquire credits from the Government to purchase land. "Women in our community have shared good practices on sustainable development with local government bodies.
We have also contributed to the creation of partnerships among women at the regional and national levels, says Rodriguez. From Rio+20, Rodriguez, wants to see these kinds of good practices on sustainability brought to a broader audience.