Building skills, finding voices: HIV-positive women in Cambodia
Date:
Mom Ra lives just a few hours from Cambodia's capital, Phnom Penh, but the 30-year-old felt very far from state support when first diagnosed with HIV. Like other HIV-positive women in her small village, she knew almost nothing about the illness and was diagnosed late, after countless costly trips to the local village doctor and losing a child to the disease. Like many such women, she says, she also struggled to find information on treatments and her rights, and has been isolated by open discrimination from her neighbours.
Yet in 2011 Mom Ra found promise and a sense of solidarity when she became one of 1,300 women to receive a USD 100 grant, and training to help her start a small business. The project is supported by UN Women's Fund for Gender Equality as part of its programme to strengthen economic livelihood opportunities for low-income and HIV-positive women in the country.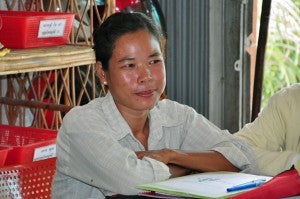 Although HIV rates are declining in Cambodia overall, female infection rates have increased in the last decade; more than half of all adults living with HIV are women. Such women often lose work or jobs because of ill health or discrimination, yet their health care expenses are debilitating: free antiretroviral drugs are only available through public health facilities in Cambodia once a patient's health has deteriorated significantly. And because many women are infected by their husbands, they often find themselves widowed or caring for a sick spouse while unwell themselves. These aspects leave many struggling, dispirited and unable to be a part of public or social life.
The two-year programme covers 12 rural areas, and is led by two non-governmental organizations — the Cambodia Health Education Media Service and Cambodian HIV/AIDS Education and Care — which work with small community organizations such as the Takeo Women's Network near Mom Ra, and with government partners.
Today Mom Ra proudly describes the fish farm that she and her husband built behind their house with the grant money. With her recent USD 40 profit she also bought a chicken, expanding her business into poultry. Her peers from the project also now have small thriving local businesses, selling chickens or operating small food stalls in front of their homes.
Yet while the rural women speak of the personal changes brought by their new economic abilities, they have also started to participate in public life. All have attended classes and forums that built their skills in leadership, negotiation and speaking with local authorities, and last year Mom Ra travelled to Phnom Penh for the first time, along with other members of the women's network, to participate in a national meeting on women's leadership.
The trip to the capital made a lasting impact on the group; listening to women leaders speaking from the heart made them feel braver. As Mom Ra explains, it has helped them realize that they not only have rights, but also voices to express them, as well as a responsibility as HIV-positive women to make sure that they are heard.
UN Women's Fund for Gender Equality works to advance the empowerment of women and girls at the global level through multi-year, high-impact grants of up to USD 1 million, given directly to women's organizations and governmental organizations throughout the world that are committed to gender equality.