Scrumming together with rugby players to end violence against women in Georgia
Date:
Safehouses, hotlines … and rugby? The work being done in Georgia to address violence against women is taking place on many fronts, notwithstanding its national playing fields.
Violence against women in the country remains a pandemic. Every eleventh married woman has been subjected to physical violence, more than one-third of those severely, and often by their husbands during their pregnancy. Yet one recent survey sponsored by the UNFPA noted that 78.3 per cent of Georgian women believe that domestic violence issues should remain within the family. UN Women has been supporting efforts to address gender-based violence through outreach campaigns, as well as helping to improve services for survivors, and the capacities of service providers.
A partnership between UN Women and the Georgian Rugby Union has recently fired the national imagination, particularly that of sports-inclined Georgians, through an innovative advocacy campaign.
Over the past year, famed national players who serve as role models for that nation have spoken out about "zero tolerance for domestic violence on TV talk shows and public service announcements, in local media and press conferences, and at rugby games. They have distributed T-shirts emblazoned with "Let women's abusers come and scrum with us! and in partnership with UNICEF, they have visited and spoken with young inmates in a Tbilisi correctional facility about gender-based violence. The idea has been to take critical messages to men and boys about stereotypes and ending violence against women, from the male sports stars that they most respect.
"There can be no better way to promote behavioural changes in youth and men than using sports and famous sportsmen as role models, Nodar Andguladze, a player of the popular rugby team, Lelo, has announced during the campaign. "Our primary goal is to get more men on board in this fight.
The issue was promoted strongly during the recent Junior World Rugby Trophy in Tbilisi. "Rugby is a sport which shares the values of respect, solidarity and tolerance, said Philippe Bourdarias, tournament manager of the International Rugby Board, at the event. "Rugby players are the best positioned to make changes in traditional and stereotype attitudes in the society.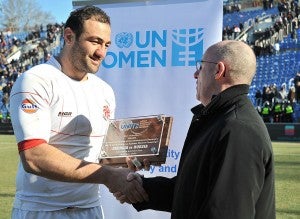 At the game, a player from each of the participating national rugby teams — Canada, Georgia, Japan, Samoa, Russia, Uruguay, USA and Zimbabwe — signed affirmations in support of UNiTE, the UN Secretary-General's Campaign to End Violence against Women.
The topic is bringing other figures from Georgian sports on board. In late March the Georgian Football Federation organized a women's football tournament, as well as a European Nations Rugby Cup game between Georgia and Russia, themed on the issue of ending violence against women.
"I know this is a very important match for Georgian fans … and I would like to take this chance and address boys and men, said Milton Heig, Chief Coach of Georgia's national team. "We, the Georgian National Rugby Team call on all rugby fans and men in general never to commit, never to tolerate and remain silent about violence against women and girls.
During the match, ball boys and fans wore UNiTE Campaign T-shirts, and campaign banners were placed prominently across the field. The Man of the Match Award winner, Mamuka Gorgodze, committed himself to the campaign's success in his acceptance speech.
And it appears that the message of positive masculinity has been taking root. "I want to be a rugby player, said 13-year-old Sandro, at one of the games. "All my friends dream to become rugby players. They are strong and kind, like real men, and I want to be like them.
Over the last two years, UN Women, with the Swedish International Development Cooperation Agency, has also helped to set up two new safehouses and a 24-hour toll-free hotline in Georgia, and has supported gender trainings for professionals in the field. The hotline has logged more than one thousand calls from women in distress — often asking advice on where to go, or what legal rights they can claim — and the safehouses have helped more than 110 women and children escape abusive situations. In May 2011 the government began to fund the shelter and hotline projects fully, significantly increasing the state budget for measures related to domestic violence.