UN Women Executive Board President visits Haiti
Date:
During a visit to Haiti 19-22 July 2012, the president of UN Women's Executive Board, H.E. Kim Sook, Permanent Representative of the Republic of Korea to the United Nations, called for an end to gender-based violence and the promotion of women's participation in politics.
"We cannot wait for poverty to be eradicated in Haiti before dealing with issues affecting women," said Ambassador Kim. "Gender-based violence, discrimination and lack of access are some of the problems women in Haiti come up against - problems that must be resolved as soon as possible," he added.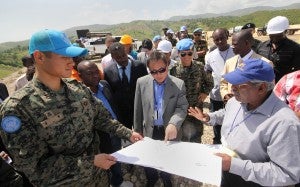 Ambassador Kim stressed the urgent need to lobby for gender equality and women's political participation, as well as to bolster efforts to put an end to gender-based violence and to promote the empowerment of women in Haiti.
Ambassador Kim met with Haitian authorities and with various women's rights organizations. The aim of these meetings was to assess progress on women's rights as well as to identify challenges to be faced. Ambassador Kim said that UN Women's presence in the field would be stepped up in the coming year.
Ambassador Kim also met with the Yanick Mezile, Haiti's Minister of Women's Affairs and Rights, and Rose Anne Auguste, Minister for Human Rights and Poverty Eradication. Talks were also held with Marie Mimose Felix, the Minister responsible for rural population. Ambassador Kim participated in a working session with Kevin Kennedy, the UN Secretary-General's Deputy Special Representative in Haiti.
During a meeting with female politicians and women's rights organizations in the Haitian capital, Port-au-Prince, Ambassador Kim raised the issue of the implementation of a recent constitutional amendment favoring the establishment of a 30 per cent minimum quota pertaining to women working in public administration.
Ambassador Kim also met the Korean contingent of the United Nations Stabilization Mission in Haiti (MINUSTAH) stationed in Léogane, a city located approximately thirty kilometres from Port-au-Prince. He was then hosted by UN Women partners, Mouvement des Femmes Haïtiano-Dominicaines (Haitian/Dominican Women's Movement) where the issue of prevention of violence and women's empowerment was discussed.
In Jacmel, located in the South-East of the country, Ambassador Kim visited the first temporary women's shelter which was opened on 15 June. The temporary shelter Magalie pour la Vie is run by the women's rights organization Fanm Deside (Women Decide) and was built with support from UN Women. Ambassador Kim emphasized the importance of such shelters as part of the response to gender-based violence.
For more information about UN Women Executive Board, please visit: https://www.unwomen.org/about-us/governance/