It's time to act for women's economic empowerment, say global leaders
Date: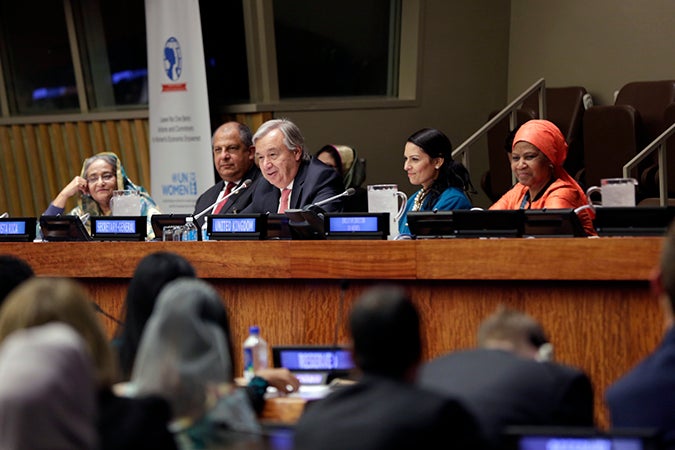 During the 72nd session of the UN General Assembly today, a roundtable dialogue organized by the Group of Champions on Women's Economic Empowerment and UN Women, with the presence of the UN Secretary-General António Guterres, urged action to advance women's economic empowerment.
At the current pace of change, it will take 170 years to close the economic gender gap, according to a 2016 report by the World Economic Forum. The event was an opportunity to call on world leaders to accelerate progress by taking forward the recommendations made by the UN Secretary-General's High-Level Panel (HLP) on Women's Economic Empowerment, with a focus on leaving no one behind.
President of Costa Rica, Luis Guillermo Solis Rivera, co-chair of the Group of Champions and a longstanding advocate for gender equality, said: "There's much left to do regarding gender discrimination and exclusion. I am confident that the Group of Champions will serve the UN as an example that gender equality can no longer be regarded as a horizon, but as a real need for all women who cannot wait to show the world what they are capable of."
Speaking at the event, UN Secretary-General António Guterres called on all partners to implement the commitments included in the HLP report. "Women's Economic Empowerment is also a human rights issue. It contributes to building resilient economies and peaceful societies, and it is also a condition to achieve the Sustainable Development Goals," he said, adding: "Let us deliver on the promises we have made to bring sustainable peace to the world today."
"Seeing parity is a crucial instrument to change our organizations." - @UN SG @antonioguterres #LeaveNoOneBehind #UNGA pic.twitter.com/jtmLqZ0SCq

— UN High-Level Panel (@UNHLP) September 19, 2017
Simona Scarpaleggia, Chief Executive Officer of Ikea Switzerland and co-chair of the HLP, provided the insights from the private sector: "Commitments are fine to start with, but actions need to follow. We need to address an injustice that is affecting half of the world's population. In Ikea, for instance, we are actively working in achieving gender equality and not only within our group. We have convinced 40 CEOs of companies operating in Switzerland to commit to concrete actions to advance the women's economic empowerment agenda."
"The time is now and we are all accountable" to #LeaveNoOneBehind! @SScarpaleggia, CEO @IKEA_CH #UNGA pic.twitter.com/M6WRWBMh06

— UN Women (@UN_Women) September 19, 2017
Winnie Byanyma, Executive Director of Oxfam International, was one of the representatives of the civil society present at the event, and a HLP member. She stated: "If you ask me about the situation of the most marginalized women, including rural women and women in the informal economy, to say they are being left behind is too polite. They are crushed at the bottom of the pyramid. The legacy of this panel must lead the work to build a more human economy, where women's work is valued and paid by definition, where their decision-making power is increased."
UN Women Executive Director, Phumzile Mlambo-Ngcuka, thanked the members of the panel for their work and highlighted some of the areas where efforts need to be beefed-up, such as the need for more countries to ratify the ILO Convention on domestic workers, addressing the rights of women with disabilities and those affected by conflict.
Too many women who want to work do not get the chance. Learn more from @UN_Women: https://t.co/mel0ZwdYcA #LeaveNoOneBehind #UNGA pic.twitter.com/kAlmqCjqGJ

— Phumzile Mlambo (@phumzileunwomen) September 19, 2017
The two reports produced by the HLP since its inception in 2016 identify seven drivers of change and present recommendations for transformative actions necessary to advance women's economic empowerment. With the completion of its mandate, HLP members and other stakeholders will continue to work on deepening partnerships to realize the vision of a more equal and just economy that works for every woman and girl.