Women's organizations advocate for localized humanitarian and crisis response
Date:
Women leaders in humanitarian action and crisis response often defy cultural norms about women's roles. They pursue agendas that challenge traditional structures, cultures and ways of working, which can ruffle feathers, but are essential to bringing aid to the women and girls who need it most. Yet they face an uphill battle.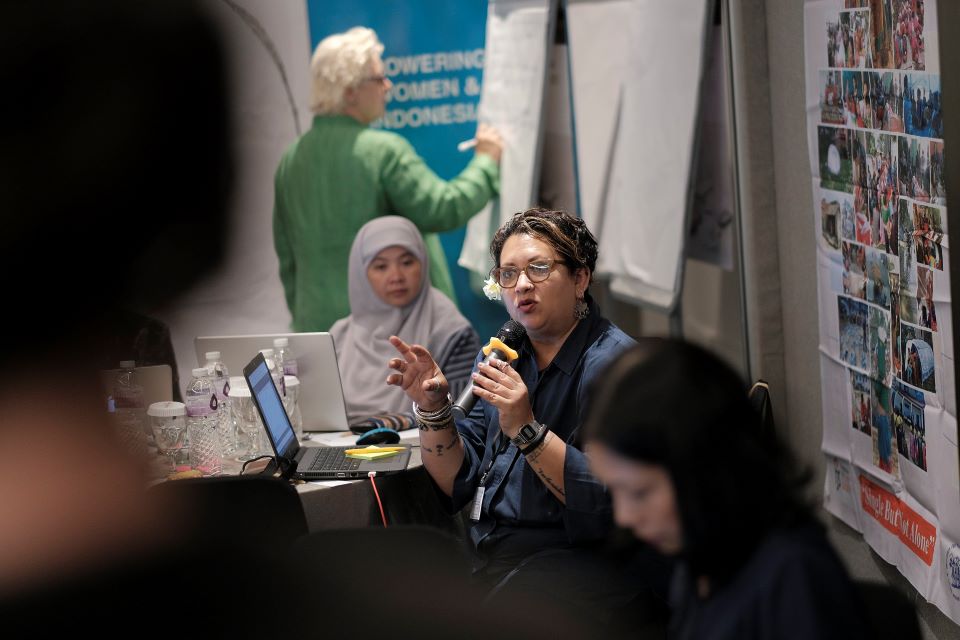 "With limited access to decision-making, women, including young women, are often invisible in policymaking," explains Sharon Bhagwan Rolls, Technical Advisor at the Shifting the Power Coalition, which was formed following the aftermath of Cyclone Pam (2015) in Vanuatu and Cyclone Winston (2016) in Fiji. It is the only regional alliance, with 13 women-led civil society organizations, from six Pacific Forum Member Countries, focused on strengthening the collective power, influence and leadership of diverse Pacific women in responding to disasters and climate change.
"Without adequate representation [of women] in these discussions, the default approach is techno-centric and ignores the realities of climate change and disasters for women," She adds.
Meanwhile, "localization" has become a buzzword in security and humanitarian circles, in recognition of the fact that local and grass-roots organizations often best know the needs of those on the ground. The so-called 'Grand Bargain', launched during the World Humanitarian Summit in Istanbul in May 2016, included a commitment by some of the largest donors and humanitarian organizations to improve the effectiveness of humanitarian action by providing 25 per cent of global funding to local and national humanitarian responders by 2020.
To channel and draw upon women's expertise in localizing aid, in July and August 2019, UN Women's Humanitarian Action and Crisis Response Office, together with the informal Friends of Gender Group (created at a Grand Bargain meeting in Bonn in September 2016), organized three regional consultation workshops with local women's organizations – in Addis Ababa, Amman and Jakarta – which culminated in an informal Friends of Gender Group annual meeting in December 2019.
Bhagwan Rolls attended the consultations in Jakarta, where women's organizations agreed on several recommendations, including the need for: dedicated, flexible and sustainable funding for women's organizations; a focus on long-term, quality and equitable partnerships; meaningful participation; more networking; inclusion of unpaid work in humanitarian assessments; and the promotion of organizational change in the culture, structures and policies of humanitarian partners and in coordination structures to ensure greater leadership and effective influence by women's organizations, as well as a more inclusive leadership for all.
"Women's organizations access a very limited share of budgets for local actors," said Gisela Duetting, UN Women's Senior Specialist Gender and Livelihood, Humanitarian Action and Crisis Response Office,. "Women's organizations are key for a more effective and inclusive humanitarian and crisis response and need support. The Women's Humanitarian and Peace Fund (WHPF) is a great example of what is working."
At the annual meeting in Geneva in December 2019, Wesal Abdullah, of the Arab Women Organization of Jordan (AWO), hailed the large number of local organizations participating in the global consultation, highlighting that it was exceptional to be given such a space in policy-level discussions.
Meanwhile, Angelina Nyajima, Founder and Director of Hope Restoration, highlighted roadblocks that local women's organizations still face. She said 30 Grand Bargain signatories are active in South Sudan, "but for NGOs to qualify for Humanitarian Coordination Team membership (and related funding), they need a minimum of two years' experience in implementing sizeable programmes with paid staff.", "Several women's organizations are now fulfilling those criteria as larger women's organizations have mentored smaller ones, with financial help from Care."
The Grand Bargain Friends of Gender Group annual meeting concluded by setting a number of priorities for 2020, including: to influence policies to encourage country-level funds to support women's organizations, and initiate a dialogue with donors on funding for local women's organizations, particularly at the country-level.
They agreed to share all information with local women's organizations at country-level, and to highlight how gender-responsive programming can result in more effective humanitarian responses. They will also make efforts to promote the leadership and meaningful engagement of local women leaders of affected populations and to ensure sufficient investment and accessibility of gender statistics and gender analysis, among other priorities.