UN Women National Goodwill Ambassador Demet Evgar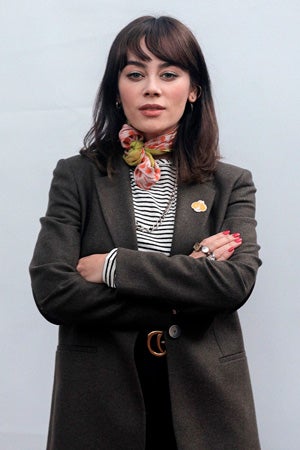 Demet Evgar is a Turkish theater, film, and TV actress. Demet Evgar has been a supporter of women's rights and gender equality throughout her life and her career. She has participated in social impact projects supporting women's rights and is an active advocate for women's rights and gender equality on her social media platforms. She also uses her TV, film, and theatre projects as a platform for supporting and reaching as wide audience as possible.
Evgar has actively shown her support for the Istanbul Convention even after Türkiye's withdrawal from it. Her conviction in the matter and active engagement in social media where she regularly posted content regarding this cause and also the importance of The Istanbul Convention on eliminating gender based violence lead her to be regarded as one of the strongest voices for women's rights organizations in Türkiye. She also took part in social responsibility projects which raised funds for women in need.
As well as in her private life, Demet Evgar has been supporting and trying to educate wide audiences on women's rights and gender equality through her professional performances. She has been choosing projects where the stories revolve around the resilience and empowerment of women. One example was her role as a strong women's rights advocate who stood against male violence. These efforts of hers have been recognized by many civil rights organizations and she has been featured on feminist magazines and platforms. Her performances in shows that were promoting women's empowerment and visibility (which reached audiences beyond Türkiye– to Eastern Europe, Central Asia and The Middle East), also brought her about ten awards in different categories.
Evgar often has mentioned how important character choices are for her. She has been using all platforms, even including the advertisements she is in to make a statement that supports women's empowerment or at least not to take part in anything that could recreate harmful norms and feed gender stereotyping. Her choices and selectiveness in this manner have been a reflection of her passion for equality in her private life.
In a world where content is easily accessible through online platforms, Demet Evgar chooses to use her presence and strong voice to transform the whole media industry towards gender equality.
Besides advocating for women's empowerment and gender equality, Demet Evgar runs and supports fundraising campaigns for children with dire health issues, wildfires, theatre and arts.