UN Women @ SIDS Conference
News & speeches |Interviews |Features |Join the conversation
The Third UN Conference on Small Island Developing States (SIDS) – taking place from 1-4 September 2014 in Apia, Samoa – will focus attention on a group of countries that face multiple sustainable development challenges, due to their unique vulnerabilities.
Every day, women take decisions that impact sustainable development—be it the use of water, or energy, or forests. They can become drivers of sustainable development, if they have equal access to resources and opportunities and are part of the decision-making processes.
At the Conference, as part of her first visit to the Pacific region, UN Women Executive Director Phumzile Mlambo-Ngcuka will call on governments to accelerate their implementation of programmes and policies to advance gender equality and women's empowerment and bring real change on the ground.
News and speeches
UN Women Executive Director to make first official visit to Australia and the Pacific
Interviews
"Island States are not homogeneous"
Adelsia de Jesus Almeida Duarte is a Professor for gender and local development from Cape Verde. She speaks to UN Women about the specific challenges her country faces and what she expects from the upcoming SIDS conference.
"We need to reposition the world's attention to the challenges of SIDS States"
Anande Trotman Joseph is a lawyer and gender equality advocate from Grenada. She speaks to UN Women about the challenges many Caribbean States face for sustainable and gender-responsive development.
"It's important for youth to be involved at the high level"
Tahere Si'isi'ialafia's, a 24-year-old Baha'i youth from Samoa and board member of the Pacific Youth Council. She speaks to UN Women about the importance of involving youth in high-level fora like the SIDS Conference.
Feature stories
Markets set to improve, with Pacific women in the lead
UN Women is working with women market vendors in Fiji, Solomon Islands and Vanuatu to improve their working conditions, earning power and leadership skills. Read more »
Caribbean women protect their crops through green technologies
Through workshops, women farmers in Barbados, Grenada and Jamaica are learning more sustainable farming techniques and securing their livelihoods. Read more »
Sowing seeds, reaping income and independence in Timor-Leste
Through self-help groups, grants and gardens, widows, single moms and survivors of violence are gaining economic clout in rural Timor-Leste. Read more »
In Fiji, communities mobilize ground-up to end violence against women and girls
Street workers and the homeless are raising awareness to halt violence against women in public spaces, while more than 700 students and teachers are educating to transform attitudes in 63 schools. Read more »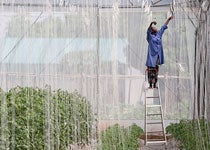 In Focus: Women and the environment
As part of UN Women's Beijing+20 campaign, we focus on this critical area of concern of the Beijing Declaration and Platform for Action, and how women can and do make a difference in climate change and environmental decisions. Read more »
Join the conversation
Join the conversation on social media by following the hashtags #islands2014 and #sids2014 on Twitter, and UN Women Pacific on Facebook: https://facebook.com/unwomenpacific.