Roma women turning the tide of violence and discrimination
Date:
"Many women, especially in Roma communities, suffer from several forms violence without even recognizing it, says Indira Bajramovic, a pioneer for Roma women's rights in Bosnia and Herzegovina. "We are working to make violence against women recognized in all its forms and to support survivors in claiming their rights and seeking the protection they are entitled to.
Domestic violence is among the most widespread forms of violence in Bosnia and Herzegovina.
The situation is especially alarming for a particular group: Roma women. As women and as members of an ethnic group that endures discrimination throughout Europe, they face double barriers in accessing their rights. Along with the impunity of perpetrators of violence, this exacerbates Roma women's exposure to harm and limits their life choices.
With support from the UN Trust Fund to End Violence against Women, Rights for All, a human rights organization, is working with a group of Roma women leaders to turn the tide.
Uniting for the rights of Roma women
Indira Bajramovic first joined a Roma organization as a secretary in 2000. She was the only woman there. Soon, other Roma women began to turn to her with their problems. The same year, Indira left her job to establish Bosnia and Herzegovina's first Roma women's rights organization, Better Future.
Melina Halilovic was 16 when she became a volunteer teacher for Roma children who had dropped out of school. "Education had helped me overcome my problems, so I wanted to support others to do the same, she says. Today, Melina is a social worker and president of a Roma youth initiative called Be My Friend.
Indira and Melina's paths crossed in 2010, when Rights for All asked them to join a 10-member network of Roma women leaders to spearhead efforts to combat violence against Roma women.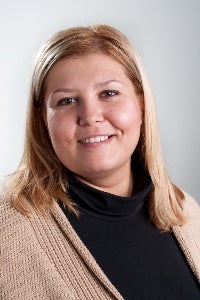 Their network began with an extensive survey of Roma women on violence and other rights violations — the first of its kind in Bosnia and Herzegovina. The findings were alarming. Out of 609 women interviewed, over 43 percent reported having suffered physical violence, while 76 percent knew a woman who had. Over 17 percent stated that they had suffered sexual violence. The figures are likely conservative, as violence is grossly under reported in Roma communities, owing, among other things, to their isolation and lack of recognition of different forms of violence.
The findings also pointed to a systematic lack of assistance for Roma women who do approach the police, healthcare or social services. In the words of one Roma woman: "I gave up calling the police… when we call them, they often say, 'Let it be, Gypsy business'.
Catalysing change
The survey helped Rights for All and the Roma women leaders bring the issue into public discussions that are catalysing change. Local government representatives responsible for supporting women affected by violence are now collaborating more with the Roma women leaders to better assist survivors to access services. In her home city of Tuzla, Indira was invited to join the Mayor's advisory board on social inclusion. Tuzla has the largest Roma community in Bosnia and Herzegovina, but her group is the only one on the board from the Roma community.
To directly assist women affected by violence in 10 Roma communities across the country, the women leaders have undergone paralegal training. In the first five months after it, they assisted in over 90 cases. For many survivors, this has been the first time they learned about available support services.
The Roma women leaders' joint action is vital for providing assistance to women affected by violence, and for advocating with a strong voice for equality and due diligence in judicial and other state institutions.
Driven by a tireless zest to stand up for the most discriminated group of women, Indira, Melina, and their colleagues are ensuring that no women are left behind in the struggle to realize women's rights.This work is not easy, but it is possible when you want to work for change, Melina says.
Managed by UN Women on behalf of the UN system, the UN Trust Fund to End Violence against Women is a leading source of support for innovative projects combating one of the most pressing issues of our time. The UN Trust Fund relies on voluntary contributions and your donation is critical! Join us in this vital work. Donate to the UN Trust Fund.
Related Links
To read more about young Roma women in Bosnia Herzegovina please visit: www.youthatrisk.eu.