Escaping the scourge of female genital mutilation in Tanzania: a Maasai girls' school provides scholarships for those at risk
Date:
"You need to be circumcised to be married, so that if you get pregnant you don't bring shame to your family, explains Nengai, a proud, 26-year-old school teacher. In Gelai, the rural village where she grew up, all of the girls she knew were circumcised, usually after they completed primary school."
Her own mother came from a poor family and was married at just 9 years of age to a man with four wives — the man who would become Nengai's father. As it is for countless girls in the region, when Nengai finished her primary education, history looked certain to repeat itself with chilling symmetry. Her father wanted her to be circumcised "so I could get married to a rich man, who already had four wives, in exchange for some cows."
According to the World Health Organization, around 140 million women and girls are living with the consequences of circumcision, also known as female genital mutilation (FGM) around the world, most of them in Africa. It is often linked to early marriage and the end of a girl's education. When she has been 'circumcised,' sometimes as young as 9 years of age, a girl is deemed ready to be married, and will attract an often sorely-needed dowry, paid in cattle to the family. FGM is often justified on the grounds that it is a 'tradition', but it is internationally recognised as a human rights violation. Besides the physical and emotional trauma associated with the procedure, FGM carries an increased risk of HIV/AIDS transmission, as instruments are often shared, as well as the risk of infection or prolonged bleeding, which can even result in death.
Nengai remembers being scared, but says she didn't know how horrible the procedure would be. Traumatised and frightened, she spoke to her mother, who told her of the suffering she faced and the beatings she endured as a child bride. "Run away, my mother told me."
Nengai ran, and sought refuge with one of her teachers, who risked her own safety by taking her to the Maasai Girls' Lutheran Church Secondary School in Monduli. Since completing her education and training as a teacher, Nengai now works in the nearby regions of Arusha and Manyara, home to large Maasai populations, where UN Women's partner organisation, the Maasai Women Development Organisation (MWEDO), has provided women and girls with education for years.
At the MWEDO girls' school near the town of Arusha, 86 girls -many of whom would otherwise have been circumcised and/or married- have been identified and given scholarships with full board to ensure they complete a minimum level of education and can be worth more than the dowry to their families.
Narau, 15, a girl in Nengai's class, says that "It makes me sad to hear her [Nengai's] story, but I'm grateful that she is my teacher because she can relate to us. She knows what it's like. I'm not married, but if it wasn't for the school, I would be married and have children by now."
Her classmate, 14-year-old Mereso, says her mother and brother were elated when she was awarded a scholarship at MWEDO three years ago.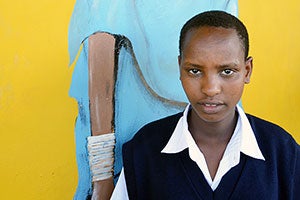 "But my father was upset, she admits. "He had planned for me to be married immediately — as soon as I finished primary school."
But education has widened her horizons. "My favourite subject at school is history, learning about the colonial economy, about resistance and collaboration. I'm inspired by my country's history, and I want to become a lawyer so I can advocate and stop young girls from being married."
As part of this year's 16 Days of Activism Campaign against Gender Violence, UN Women and the UN Tanzania Inter-Agency Gender Group are supporting the 'Caravan for Change', a bus loaded with 25 activists, journalists and NGO staff who are organizing forums, radio events, dance performances and other activities to support the country's legislation outlawing FGM. The Caravan left the capital, Dar es-Salaam, on 26 November and will stop in several villages en route to Tarime, a district in the Mara region where an FGM procession is expected to take place on 1 December. During even-numbered years, it is customary for many tribes to start such 'processions' in which thousands of girls are mutilated publicly, in violation of Tanzanian law."