UN Women ED in Rome for talks on empowering rural women
Date: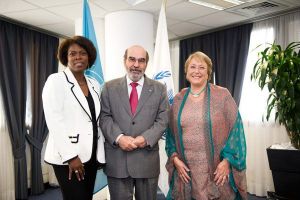 ROME — World Food Programme Executive Director Ertharin Cousin welcomed Ms. Michelle Bachelet, her counterpart at UN Women, to WFP headquarters on Friday 13 July, 2012 for two high-level meetings on a 5-year multi-agency programme to empower rural women.
The joint programme, "Accelerating progress towards the economic empowerment of rural women, involves UN Women and the three Rome-based agencies fighting hunger: the UN Food and Agriculture Organization (FAO), the International Fund for Agricultural Development (IFAD) and WFP.
During the first meeting, with the heads of the Rome-based agencies, Ms Bachelet reiterated that the joint programme is a priority. It is an opportunity to deliver real results and to serve as a model for "delivering as one, she said.
All the agency heads re-affirmed their commitment to the programme and agreed to launch it in New York during the UN General Assembly in September and in Rome on the International Day of Rural Women on the 15th of October 2012.
A joint fundraising strategy was also agreed. A meeting was scheduled with representatives from the Resource Mobilisation Units of all four Agencies, to discuss how to move forward on fundraising.
The second meeting with the Rome Based Permanent Representatives, was co-hosted by the head of WFP and Her Excellency Gerda Verburg, Ambassador and Permanent Representative of The Netherlands. Ms Bachelet presented the Joint Programme with FAO, IFAD and WFP representatives making statements of commitment.
The Permanent Representatives applauded the commitment to working together and building on the comparative advantage of each individual agency, to implement practical actions and deliver results for the empowerment of rural women.
ED Cousin reiterated her commitment to advancing gender equality and partnerships, emphasized the collaborative advantage of the four agencies and noted that "together, we will achieve the goal.
This 5-year joint programme is aimed at economically empowering rural women. It will be implemented in Ethiopia, Guatemala, Kyrgyzstan, Liberia, Nepal, Niger and Rwanda. WFP is the Lead Agency for the Joint Programme in Guatemala and Rwanda.
Reprinted from World Food Programme website.