Art and commitment mix in vibrant hues to end violence against women
Date: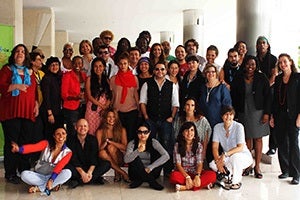 "Every time I go to write something, I remember my colleagues in Latin America and the Caribbean, and I say 'here we can talk about what gender-based violence means'," says Diana Avella, an acclaimed Colombian rap singer who was one of the first members of the Latin America and Caribbean Artists' Network for the UNiTE to End Violence against Women campaign.
"It has really inspired me, especially in being able to talk more openly about the issue of violence, because sometimes people respond as if it were a cliché. Sometimes, they don't realize that it's so common, yet so hidden, so accepted, that we actually allow it, or even endorse it," says Diana.
Created in 2011 by several artists as a result of a UN-Women-sponsored workshop in Panama and attended by 30 artists from all over Latin America and the Caribbean region. It builds on similar efforts in the Caribbean, where leading musical artists organized around the UNiTE campaign after workshops in April 2010 and later recorded a series of public service announcements calling for an end to violence against women.
Today, the expanded regional Artists' Network has 71 members ranging from musicians, to visual and performing artists, graphic designers, actresses/actors, film directors, etc.
Crediting the Network for having changed the way she composes her music today, Diana says "I don't know if it was the methodology of the 2011 workshop, or because of us, the artists who were there, but it certainly created a wonderful sense of unity. We are still talking about it over the Internet!" adds Diana. "It was a wake-up call to me personally to never to stop thinking about it."
Recently the Network welcomed several new artists, including internationally-known singers Julieta Venegas from Mexico and Rochy Ameneiro from Cuba, as well as Cuban-American film director Catherine Murphy and Panamanian actress Sara Rodríguez.
"These new members are a testimony that people from all artistic disciplines can contribute in order to raise awareness in society about the really serious problem of violence suffered by millions of women and girls. The solution to this problem lies in everyone engaging, as the United Nations Secretary-General, Ban Ki-Moon has often reiterated," recalls Nadine Gasman, Manager for the Latin American and Caribbean Region of the UNiTE campaign.
"Art is the best means of reaching out to the young, and not so young, to men and women, to society in general," concludes Nadine.
Matías Jordán, a singer/painter from Argentina, is one of the newest additions and, at 19 years old, the youngest member of the Network. He is not only a member of the Artists' Network but has also joined UNiTE Global Youth Network. The regional group of the network was created last December with the aim of highlighting the issue of violence against women and girls, from the perspective of young people in the region.
"I witnessed an act of gender-based violence and I felt helpless, I didn't understand why it was happening. I believe that young people and artists can support the Secretary-General's UNiTE to End Violence against Women campaign. Firstly, they can help with spreading the word and education about the campaign itself; then they can engage in practical activities to set an example as a Network, and to raise visibility," says Matías, explaining his reasons for joining.
At their performances, exhibitions and other public events, members of the regional Artists Network speak out on the issue of violence; they also discuss it during interviews and with other artists in a Google Group and their blog. They also incorporate their advocacy against violence in their art.
"Being part of the Network makes us think. It makes us aware that violence against women is a global problem, and that it can be confronted through the empowerment of women, and with the support of men," adds Ágata Surma, a U.S.-born visual artist based in Panama and a founding member of the Network.
In December 2012, the Network organized an online exhibition, its first collaborative project. Using songs, videos, photographs and other innovative art, 15 artworks created by members of the Artists' Network dealt with the realities of gender-based violence through an Online Exhibition.
In the coming months, they are also planning to launch "Joy," a new song in English, Spanish and Portuguese, which was jointly produced by a range of artists, including Paola Villacís and Tião Simpatia from Brazil, composer Miguel Solaris from Costa Rica, the late Masud Sadiki from Saint Kitts and Nevis, and Trinidadian calypso artist David Rudder.
"Through music, performance and drawing, we, the artists – and I mean 'we' because I also participated in the exhibition – are seeking to open up the campaign to the general public," says Bárbara Fetis, an actress from Spain who has made Panama her base. Since August, she has coordinated the UNiTE Artists' Network and was the force behind the exhibition. "In this way, we want to call attention to the themes that the campaign is dealing with, and the campaign goal: to create a peaceful society based on mutual support that successfully puts an end to violence against women."