From the Alps to the yurt: Swiss cheese meets Tajik milk bowls
The Cheese Exchange, a UN Women initiative, brought entrepreneurial Tajik and Swiss women cheese makers together to share skills and develop new dairy products for Tajikistan.
Date: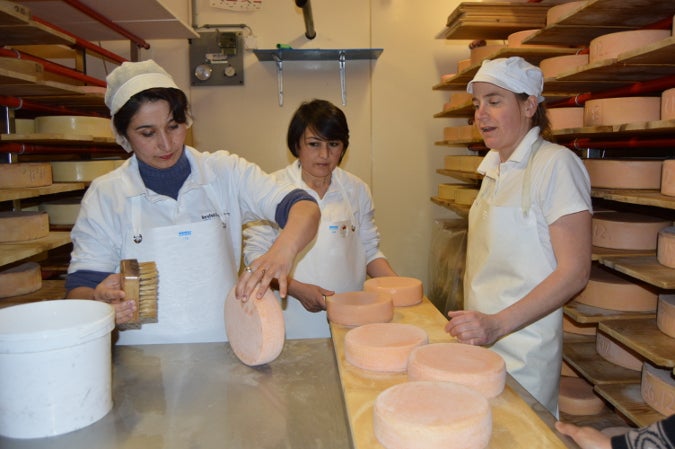 Adventure-seeking summer visitors to Tajikistan's breath-taking summits and valleys will soon be sampling tasty new locally made dairy products, thanks to the Cheese Exchange.
A UN Women initiative, the Cheese Exchange recently brought together entrepreneurial Tajik and Swiss women cheese makers to share knowledge and develop new dairy products for the rapidly growing numbers of foreign tourists to alpine Tajikistan and its dramatic, snow-dusted Pamir Mountains.
In February, the Swiss women hosted their Tajik counterparts, from UN Women-supported dairy cooperatives in Sughd Province and the Rasht Valley, for an eight-day exchange of cheese making tips, learning and knowledge. Their Swiss visit kicked off in Graubünden, a mountainous region in eastern Switzerland, very similar to Tajikistan's imposing Pamir mountains. In the morning, the Tajik crew produced Swiss hard cheese, semi-hard cheese Mutschli and curd with in Präz's village dairy.
"It is impressive to see how the Tajik women have already internalized the workflow," said Maike Oestreich, the Präz's milk technologist, referring to the Tajiks' first Mutschli, a small, cows' milk cheese from alpine pastures.
To read the full story visit UN Women's regional website for Europe and Central Asia: http://eca.unwomen.org/en/news/stories/2016/02/cheese-exchange--swiss-vs-tajik