Across the Western Balkans, rural women are influencing local budgets and shaping progress
Across Albania, Bosnia and Herzegovina, former Yugoslav Republic of Macedonia and the Republic of Moldova, UN Women works with governments to implement gender equality commitments and enhance women's participation in decision-making. Funded by the Austrian Development Agency and Swiss Development Cooperation, the programme enables women to influence local budgets to address their diverse needs.
Date:
Gentiana Sinjari points to the "Tree of Life", her six-hectare farm overlooking the Adriatic Sea. The land is lush with olive trees, fruits, vegetables and vineyards. For three years now, Sinjari has been working hard to transform the land into an agritourism business to benefit the people of Shkallnu, a rural area near the city of Durres, Albania's largest port.
"This land was love at first sight. We wanted to build a house with a sea view, but then I insisted on building a farm. Visiting this land every day, meeting with the villagers, getting to know the flora and fauna…made me realize that it was more than a holiday dream." says Sinjari.
She had to start with building a road to access the farm, with the help of friends and villagers. As she began cultivating the land, she realized that irrigation would be a problem. The land had not been cultivated for years and the irrigation system was destroyed. "The climate is becoming an issue year after year," explains Sinjari. "This land is very fertile, but the rains that flood during the winter and lack of rain during summer, make it very difficult for the plants to grow. A drip irrigation system was the first necessity, and it was impossible for me to build it by myself."
What is gender-responsive budgeting?
Through the Ministry of Agriculture, Sinjari applied for a subsidy scheme and received about USD 10,000 to install a drip irrigation system that distributes water into the soil, and 3,000 grape plants. Sinjari is among 471 women farmers in Albania who have benefited from the agricultural subsidy scheme that was put in place as a result of gender-responsive budgeting—a tool that is used to ensure that budget allocations and spending meet the needs of men and women equally. Sinjari's project will benefit many more in the village of Shkallnur, as she plans to hire more than 50 people for running the farm, most of them women.
Across Albania, Bosnia and Herzegovina, former Yugoslav Republic of Macedonia and the Republic of Moldova, UN Women is working with governments at the local and national levels under the regional programme, titled "Promoting Gender-Responsive Policies in South East Europe and the Republic of Moldova". The programme, running from 2011 – 2019, is funded by the Austrian Development Agency and Swiss Development Cooperation.
In Albania, for instance, UN Women improved the knowledge and capacity of public servants, in partnership with the Ministry of Finance and Ministry of Social Welfare and Youth, on how to use gender-responsive budgeting tools. As a result, Albania approved a new law on Local Government Finance that enables women and men to equally participate in and influence decisions regarding local budgets.
In the former Yugoslav Republic of Macedonia, UN Women supported organizations, such as Strategic Development Consulting and Akciia Zdruzenska, that increased local women's knowledge on municipal budgets and promoted their participation in public forums, where they could voice their priorities and influence decision-making.
"Rural women in Western Balkans do not benefit equally as men from government funds, especially when it comes to different subsidies and grants. Gender pay gap in the region is around 20 percent, and women's participation in different government processes is low as well," explains Ermira Lubani, UN Women Regional Project Manager. "Through the gender-responsive budgeting project in the region, on one hand, UN Women is supporting the government in identifying the needs and allocating the needed resources to close gender gaps, and on the other hand, supporting women from the community to demand their rights and voice their priorities at the local level."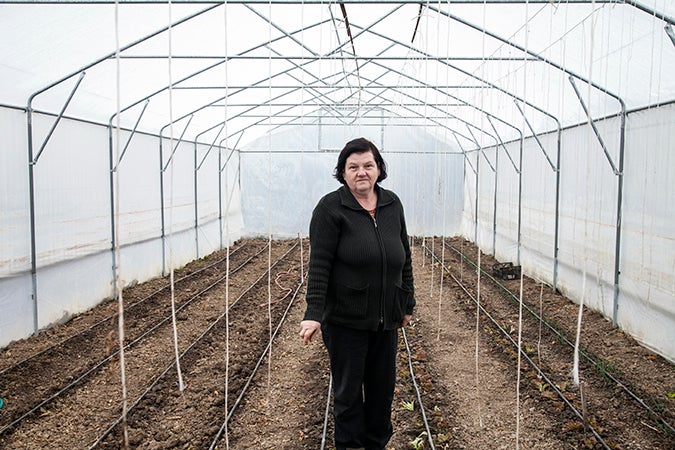 After devastating floods in 2014, 58-year-old Zilha Kurešević, from the town of Šamac in Bosnia and Herzegovina, lost her job as an accountant and needed to find new ways of providing for her family. With the help of an agricultural scheme, Kurešević started cultivating strawberries in the 500 square metres of land she owned.
"Cultivating strawberries brings more profit than cultivating other fruit or vegetables," says Kurešević. Strawberry is a crop that grows quickly and produces yield in a short period of time.
In Bosnia and Herzegovina, several local governments have created specific schemes to address gender inequalities, primarily in the agricultural sector, where women's participation is often low, since women are expected to be home-makers and rarely own land, while men are expected to be the breadwinners. Kurešević was among 15 women in her community who received seeds, equipment, fertilizers and the knowledge required to cultivate the land.
In the former Yugoslav Republic of Macedonia, gender-responsive budgeting initiatives in local communities have addressed the lack of public transportation from rural communities to bigger towns, which hindered women's mobility and their ability to access work or send their children to school.
In the municipality of Sveti Nikole, located in the east-central part of the country, a local organization named Civic Initiative of Women of Sveti Nikole organized a petition voicing the need for better mobility of women in rural areas.
"We plan to submit the petition to the Mayor and the Council of the Municipality and request a decision for introducing public transportation," says Maneva Milena, member of Civic Initiative of Women of Sveti Nikole, which is supported by UN Women project partners, Strategic Development Consulting and Akciia Zdruzenska.
Women are also mobilizing in the village of Shipkovica, in the western part of the country, to demand better public transportation. The floods of 2015 had severely damaged the roads in the area, and the only way to reach the nearest town, Tetovo, is through private vans and taxis—a costly means of transportation for most women.
"Women have the right to participate in the local budget decision-making processes and have the right to ask for accountability from their municipality," says Dzane Kreshova, President of the local non-profit organization, Zenski Forum.
Across the Western Balkans, women's needs vary, and actions and commitments to address their needs must be accompanied by resources. "Women, especially in such rural areas need help to make their life easier and better," reminds Gentiana Sinjari from the "Tree of Life" farm in Shkallnur, Albania. Gender-responsive budgeting gives women like Sinjari a tool to voice their needs, influence the local budget-making process and hold their governments accountable for actions that can improve their lives.