Girls in Moldova hone their STEM skills and take a stand against domestic violence
Sixty-five girls aged 16 to 20 from 13 regions of Moldova learned web development, robotics, and 3D printing at the third edition of GirlsGoIT summer camp that took place on 21-30 July in Chisinau, Moldova. The participants have also visited several technology companies, such as DAS Solutions, Moldcell, Matrix and Tekwill. Additionally, DAS Solutions offered internships for two summer camp participants.
Date:
Most girls interacted for the first time with a 3D printer to print their designs, wrote code for a robot, and created their first web pages.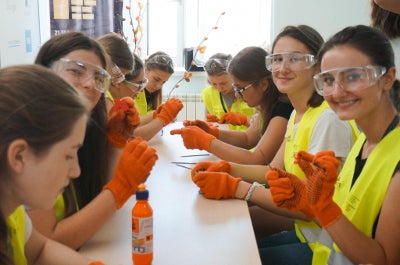 "Technology is the future. I think every girl and every woman has huge potential. Why not learn about technology if they want to? In the end, we are all equal," said Marița Ciorba, a participant in the 2017 GirlsGoIT summer camp, the first summer camp edition that includes other disciplines alongside information technology, such as robotics and 3D printing.
Besides acquiring new technical skills, girls have also learned more about their rights. In a session organized by UN Women, girls participated in a discussion with UN Women staff and Maia Taran, a survivor of violence and a "Positive Champion" who inspires other women survivors of domestic violence to seek help. The conversation was about human rights and preventing domestic violence and cyber violence.
"GirlsGoIT has led me to choose technology for my career and now I want to contribute to the advancement of other Moldovan girls in the field of ICT. I will do my best to empower the 65 participants of the summer camp," said Ileana Crudu, a mentor at this year's summer camp who participated in an earlier edition of the GirlsGoIT. Now she studies Artificial Intelligence at Maastricht University in the Netherlands as one of the few female students in her class.
GirlsGoIT was launched on March 27, 2015 and aims to empower young Moldovan women in STEM. GirlsGoIT platform is present in 11 regions of the Republic of Moldova and is supported by UN Women in Moldova, the Swedish Embassy in Moldova, the Swiss Agency for Development and Cooperation, Google, USAID Moldova, Moore Stephens KSC, Spark Research Labs, and TEKEDU. The training partners are Technical University of Moldova and Atelier 99.
Read the full story on UN Women's regional website for Europe and Central Asia