Making the business case for sexual and reproductive health rights
High-level event on the margins of 72nd UN General Assembly highlights sexual and reproductive health rights are essential to women's empowerment
Date:
The Governments of Costa Rica, Finland and Zambia, in collaboration with UNFPA and UN Women, co-hosted today an event to raise awareness on the role of sexual and reproductive health and rights (SRHR) in the economic empowerment of women, on the margins of the ongoing 72nd session of the UN General Assembly.
Women's right to decide if and when to marry and have children is key to empowering women economically and enabling them to lead healthy and productive lives. For instance, speakers at the event highlighted that when 10 percent more girls go to school instead of staying home bearing children, a country's GDP increases on average by three percent. Yet, today, more than 200 million girls do not have access to contraception.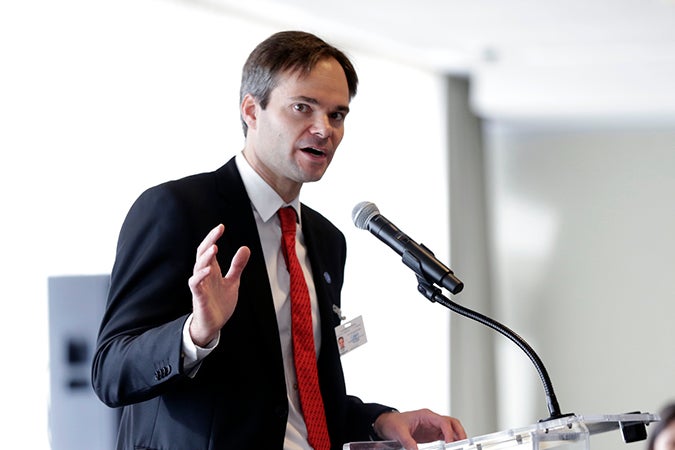 Considering these statistics, Mr. Kai Mykkänen, Minister for Foreign Trade and Development of Finland, said: "Gender issues are at the core of human rights, but we should be stronger in manifesting that sexual and reproductive health rights are at the core of economic development as well. Not doing so is a missed opportunity when thinking about effective ways to support economic development."
The need to empower girls and give them equal opportunities from birth as the only way to fully exploit the potential of women was highlighted by Mr. Frans Timmermans, first Vice-President of the European Commission, who declared himself a feminist, "because being feminist helps a guy become better at that, and helps fathers discover the beauty of fatherhood."
"Empowering women from birth is the only thing we should do to make sure girls use potential they have."- @TimmermansEU #SRHREmpowers #UNGA pic.twitter.com/9TfXRqwUFd

— UN Women (@UN_Women) September 20, 2017
According to speakers at the event, recent studies have found that globally, female labour force participation decreases with each additional child by about 10 to 15 per cent among women aged 25 to 39. When policies and regulatory frameworks are in place that support women's economic participation and enable their access to sexual and reproductive health, such as providing access to sexual and reproductive health services, paid parental leave, child care support and protection from violence in the workplace, women are better able to get and sustain decent work.
UN Women Executive Director, Ms. Phumzile Mlambo-Ngcuka, explained: "A comprehensive approach to SRHR is critical—from dialogue and peer-learning on sexual education, to the provision of health services, or to gender-sensitive policies at the workplace. All different trends must come together."
The event also provided a platform for participants to share knowledge and experiences on realizing women's and girls' sexual and reproductive health and rights and their economic empowerment. Participants discussed the need to fight misperceptions about contraception methods, such as their risk of infertility due to prolonged use, and to address teenage pregnancy and the dire consequences it poses to girls' health and wellbeing. For instance, Vice President of Costa Rica, Ms. Ana Helena Chacón Echeverría, announced that the country has recently passed a law banning marriage and sexual relations between a minor (younger than 18-year-old) and an adult.
"Together we can create a world where #humanrights are enjoyed by all" – Ana Helena Chacón Echeverría, VP of Costa Rica. #SRHREmpowers #UNGA pic.twitter.com/Or2RBFjAdi

— UNFPA (@UNFPA) September 20, 2017
Innovative solutions mentioned at the event to support girls' sexual and reproductive health and rights included menstrual cups that can prevent menstruating girls from missing school, and using informative text messages for girls and boys to reduce unwanted pregnancies.  The need to improve data availability on the use of and access to contraception was also stressed at the event.