Six women athletes who are changing the game
Date:
From a teenager boxer in Moldova to the first woman elected to the International Olympic Committee, we're celebrating all the ways women athletes and women in the sport industry are inspiring us to level the playing field.
Women are more visible in sport now than ever before. At the 1900 Olympic Games in Paris, where women competed for the first time, only 22 of 997 athletes were women. The London 2012 Olympics was the first Games to see women compete in every sport. In Rio 2016, approximately 45 per cent of all athletes competing were women.
Now, as athletes from 93 nations fly to Pyeongchang County in the Republic of Korea to compete from 9-25 February, women are set to make their mark on the 2018 Winter Olympics like never before.
To celebrate women in sport, we bring you some inspirational women who are breaking down gender barriers.
Stela Savin, Moldova
Stela Savin dreams of becoming a world boxing champion. She comes from a Roma family where she is the fifth of seven siblings.
Traditionally, Roma girls in Moldova tend to get married and start families early in life. Many cut their education short and leave school to start a family. Stela respects her family and works hard, but in return she asked their support for her own life choices.
"I am honouring our Roma traditions. I am never going to abandon them. However, I don't want to leave school and training and get married. I have a dream and I am going to do all I can to make it happen. I don't know why girls think they can't do the same as boys do?" Read her full story»
Hajra Khan, Pakistan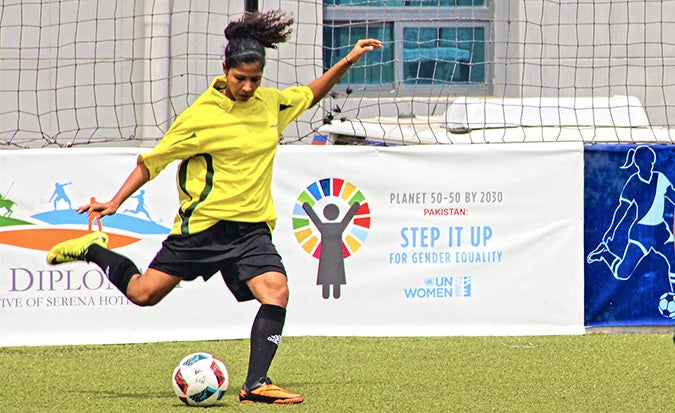 Hajra Khan made history, both as the captain of the Female National Football Team of Pakistan, and again when she became the first Pakistani female footballer to sign a contract to play abroad in the Maldives National Women's League in 2014.
In addition to being an all-star on the field, Hajra is using her skills to grow women's sports in Pakistan. She hopes to launch a football training academy, primarily geared at training women players including the grassroots' level.
"In order for women to have true equality in sport, the media will need to begin to recognize women for their athletic ability and not their looks or personal life alone, but also, society will need to move away from the social conditioning of women into gender stereotyped roles and allow for young girls to choose their own path, especially if that includes an interest in sports." Read her full story»
Adrielle Alexandre, Brazil
For 12-year-old Adrielle Alexandre, who carried the Olympic torch in Rio in 2016, winning is not only about becoming an Olympic rhythmic gymnast, but making her community a place free of violence and full of respect.
She is among 400 girls who participated in "One Win Leads to Another" a joint programme by UN Women and the International Olympic Committee (IOC), in partnership with Women Win, Bola Pra Frente, Instituto Agenda and Brazil's National Olympic Committee, and supported by the Swedish Postcode Lottery Sport Foundation, which works to empower girls through sport and teaches young athletes about leadership and self-esteem, sexual and reproductive health and rights, ending violence against women and girls and how to financially plan for a better future.
"I've learned from sport that we have to make efforts to succeed. We get nowhere if we stay at the same place doing nothing…. Being a winner is about making my dreams come true, helping others and changing my community into a place free of violence and full of respect." Read her full story»
Abby Wambach, United States of America
Abby Wambach, a two-time Olympic Gold Medalist and FIFA Women's World Cup Champion, is an international sports icon. While best known for being the leading all-time international goal scorer for men and women in football, Abby is also a vocal advocate for equal pay.
After retiring from international football in 2015, Abby turned her attention to fighting for the rights of women athletes and speaking out against the injustices she faced as a player.
"If you think you're treated unfairly, don't wait for the fear of rocking the boat; rock the boat… It's not only the pay gap, there's also opportunity gap, and just being seen as an equal is a challenge. When you open the sport section of almost any newspaper or website, you see men playing sport. My call for action is to the media: write more stories on women's sport, make sure women are visible!" Read her full story»
Flor Isava-Fonseca, Venezuela
As one of the first women members of the International Olympic Committee in 1981, Flor Isava- Fonseca has worked tirelessly to increase women's representation in sport.
Despite facing challenges and discrimination, Flor persisted and in 1990 shattered another glass ceiling when she was elected to the IOC Executive Board.
"When I was elected to the Executive Board of the International Olympic Committee (IOC) in 1990, it was something unheard of. The Committee had 11 men, no one thought they would see a woman sitting there… Slowly, there were more of us. In victory and in defeat, we gained experience and perspective. It was not easy, but women refused to abandon the dream, and we were not alone. There were men among us committed to the cause as well. Together, we changed the game." Read her full story»
Khalida Popal, Aghanistan
In 2007, Khalida Popal became the face of women's football in Afghanistan as the first captain of the women's Afghan National Football team. To Khalida, being an athlete was her way of standing up for women's rights.
After enduring years of death threats, she didn't feel safe in Afghanistan and moved to Denmark to protect herself and her family. where she's continued to work for women's empowerment through sport.
"In my country, women are not respected…they are not even seen as human. It is important to first work with women to build their capacity and confidence. Women have to first believe that they are human, they are strong. Football allowed us as to come together as a group, to raise awareness." Read her full story»