Running for a cause in Mexico
Date:
Palmira Martínez participated in her first 5-kilometre race through a radio contest. Now, 10 years later she has run in more than 10 half-marathons and two marathons, winning first place in one.
Martínez, who was born with a malformation in the optic nerve, ran against many odds, literally, to succeed as a blind professional runner.
"The journey has not been easy," she says. "The hardest obstacle was to get rid of all of the prejudices I grew up with. My family believed running was a sport for men, and that – apart from being a woman – my disability would not allow me to run a marathon. And I believed them… I thought it was dangerous, that it was something a woman like me could not achieve."
In March 2018, Martinez was one of more than 70,000 women who ran for gender equality in Mexico as part of the Carrera Bonafont con Causa [Bonafont Race for a Cause], the largest 5K race in the world for women in the world.
The race travelled through four cities—Mexico City, Puebla, Monterrey and Guadalajara—and included diverse racers from around the country. Girls and young women, mothers and elderly women, as well as women with disabilities, like Martinez, showed up to raise awareness about gender equality and equal labour opportunities between women and men.
"The UN Women and Bonafont Race was my 31st. During a race like this, we can have our voices heard, promote equality between men and women, and support women regardless of their disability," said Guadalupe Aurora San Román Canseco, professional runner and guide for blind runners. "This motivates me to break prejudices such as the belief that, as women, we are not strong or fast enough, or that age affects our sport performance even more. Women do not have limits. Our strength and perseverance are unique."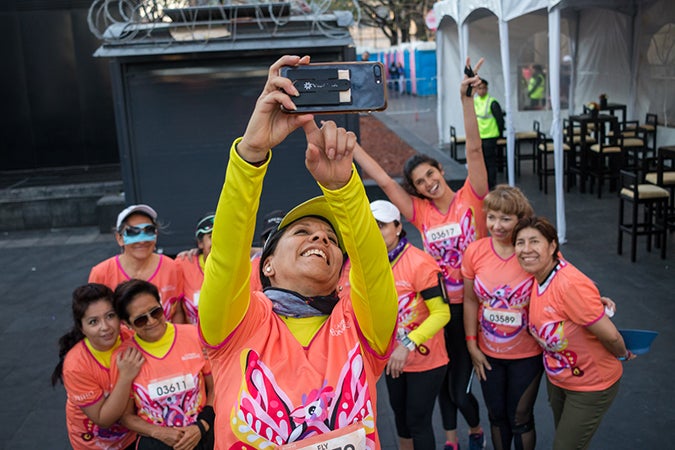 The Carrera Bonafont con Causa, was just one part of a UN Women and Danone partnership. In Mexico, Bonafont, a Danone company and UN Women have created a three-year action plan to transform women's lives and raise public awareness about equal work opportunities.
"We have chosen Mexico as a pilot country, as the place witnesses a deep social problem of inequality in work opportunities between men and women. Bonafont shares the values of empowerment and equality promoted by UN Women. This partnership is a watershed in the evolution we are going through as a brand, and we are very proud to work hand in hand with UN Women in this commitment to have a real impact in society," said Alejandro Pinillos, CEO of Bonafont Mexico.
As part of the agreement, UN Women and Bonafont will begin a programme for women's economic empowerment in earthquake-affected communities in Mexico City and Juchitan de Zaragoza, Oaxaca. The programme will aim to help women entrepreneurs start up and run businesses that provide other women and their communities with services, such as care centres for the elderly, laundry rooms, nurseries and more.
Additionally, Danone is working to ensure that all of their women employees will have the same opportunities as the men employees.
"This is not only about the integration of women in the economy of our country, but also about sharing the decision-making power between men and women. This is why we should keep on working and step up efforts so that both men and women become actors and beneficiaries of the development of Mexico. Let us create more and more opportunities for women in all areas of economy and on all levels of positions,", concluded Belén Sanz Luque, UN Women Representative in Mexico.