In Mexico, female soccer players take centre stage to break gender stereotypes
Date:
Elda Cervantes has practised taekwondo and soccer since she was five years old. By the time she was 16, she was playing professional soccer in Mexico, at a time when there was no dedicated efforts to secure equal recognition or benefits for female players. Today, the 27-year-old plays for Mexico's National Soccer 7 Team (7-person indoor soccer), and was selected for the 2018 Football 7 Women's Copa America in Peru, where she was the top scorer.
Like many other female athletes, Cervantes has had to fight discrimination throughout her sporting career.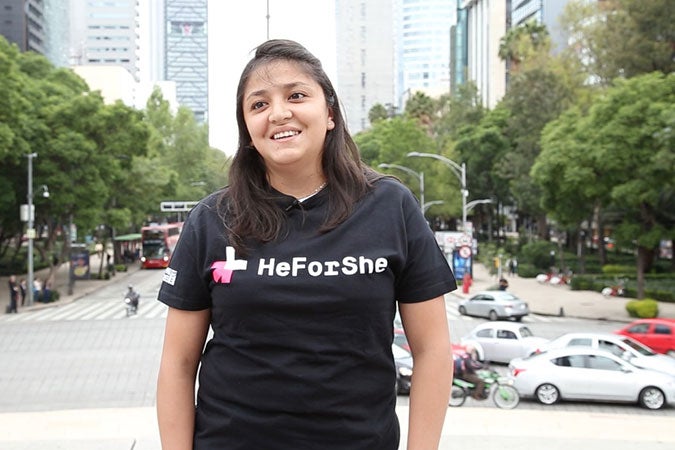 "At the beginning, when I was the new member of the [soccer] teams, they used to leave me on the bench because I was a woman and they thought I didn't know how to play. Later, they gave me a chance and were amazed by the way I played. The same thing happened with taekwondo, [the boys] thought they were superior to me," she said, adding. "It wasn't easy, but little by little I earned a place and the respect of my peers."
Cervantes served as one of the spokespersons for the HeForShe Flash Tournament on 8 May 2018, which brought together women's soccer teams from eight major universities in Mexico, aiming to break gender stereotypes, promote women's participation in sport and inspire actions to end violence against women.
"I'm pleased that now opportunities are being opened for girls and women of this country to be recognized and supported in this sport," Cervantes said, referring to the initiative.
In recent years, women athletes in what have traditionally been known as "male sports", like soccer, have gained more recognition in Mexico. Initiatives such as the creation of the MX Female League for women soccer players (2017) has facilitated this progress, but also, because women in Mexico are beginning to demand equal conditions and pay in the world of sport.
"What women live within the sports' context it's very similar to what they live in other areas. It's a reflection of a historically chauvinist society, but it's starting to have certain level of openness; there's a better culture of sports practice and now there's a women's soccer league," said nationally renowned sport journalist, Marion Reimers, hopeful that the rise of women's soccer will pave the way for professionalization of other sports for female athletes in Mexico.
"If we want to have societies where there is truly sustainable development, we must ensure that half of its population, women and girls, have the same opportunities in all sectors, including sport," said Belén Sanz Luque, Representative of UN Women in Mexico. "Sport can be a powerful tool to empower girls and women and to eliminate gender stereotypes and to fulfill the 2030 Agenda whose main goal is to achieve sustainable development without leaving anyone behind."
For Elda Cervantes, it's a matter of rights. "I believe that women have the right to practice any kind of sport we like, there are no limits," she says.
The HeForShe Flash Tournament organized by the National Commission to Prevent and Eradicate Violence against Women, in partnership with UN Women and the sports agency Sports Full, and other organizations such as Versus Mexico, Cinemapark and the Mexican Institute of Youth, is one of many initiatives that are leveraging sport as a platform to provide leadership skills to women and girls and amplify their voices.