Crisis update: Restoring dignity and livelihoods after storms in the Caribbean
Date:
Nearly a year ago, catastrophic hurricanes devastated the Caribbean. After Hurricane Irma, almost the entire population of Barbuda, a small island in the eastern Caribbean, was driven to its twin island of Antigua. In Dominica, Hurricane Maria wiped out crops, equipment and infrastructure.
When crisis hits, women and girls are disproportionately exposed to risk. Their livelihoods are endangered, they face increased risk of rape, sexual exploitation and other forms of violence. They are also more likely to make sacrifices to protect their families, such as eating less food to ensure no one else is hungry.
In efforts to ensure that women both benefit from, and lend their expertise to the humanitarian response in the Caribbean, UN Women has been working with partners in the immediate aftermath of the storms and beyond.
Promoting dignity in emergency response
In the immediate aftermath of Hurricane Irma, a joint effort by UN Women and UNFPA started the distribution of "dignity kits" containing basic health and hygiene products for displaced women and girls from the Caribbean island of Barbuda, as they arrived in Antigua.
As women and girls were forced from their homes, they found themselves in need of basic health and hygiene products including soap and sanitary napkins that are not easily found in relief packages.
"There was a very huge need for [dignity kits] …because [although] there was mass distribution of different [aid] products and items, not a lot of focus and emphasis were placed on the sanitary items that women and girls needed in particular," explained Farmala Jacobs, the acting Executive Director of the Directorate of Gender Affairs, the national gender machinery of Antigua and Barbuda.
At the aid distribution centre, as Ms. Jacobs talked to relief coordinators, displaced women ran up to her, because they had overheard about the dignity kit items and were looking for sanitary napkins and other products that women and girls urgently needed.
Safety and security in shelters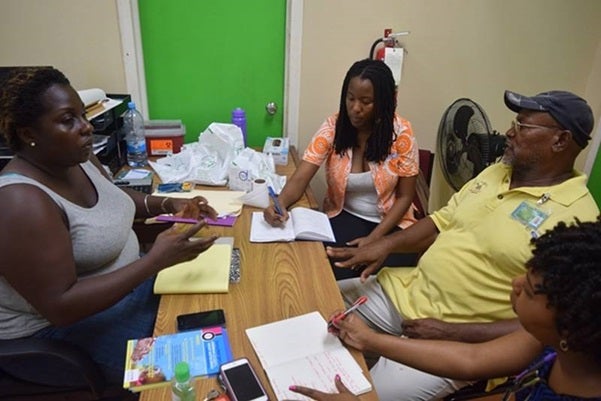 With many Barbuda residents being temporarily housed in shelters following the storm, women and girls needed protection from gender-based violence in crowded shelters.
UN Women worked to implement guidelines and protocols for sharing resources and spaces within shelters that would ensure the safety of women and girls.
While distributing dignity kits, Jacobs and her team observed the shelters and brought any concerns back to the coordinators so that the correct protocols and measures could be put in place.
Restoring livelihoods
After Hurricane Maria hit the island nation of Dominica in September 2017, 76 per cent of women farmers reported major losses. And some women couldn't immediately return to their work because of damage to their homes as well.
"Livelihoods were lost! The income we make from the farm, that is how the women feed their families and send their children to school. A lot of people had to start again. I had to start all over," said Jennifer Pascal, Vice-President of the North East Women Farmers Group.
For Pascal and others, assistance to get back on their feet and work, not handouts, was the immediate need. They asked for short crop seeds so that they would have a crop to sell again in less than two months.
UN Women supported women farmers' groups to get labour and equipment to bring their farms back into production. The Post Disaster Needs Assessment conducted by UN Women has been used to inform its programme of support to Dominica, but also other development actors, such as the World Bank and the national government in their efforts to rebuild Dominica.
Eileen Lloyd of the Bellevue Chopin Farmers Group is glad to have the new tools, seeds and farm labour support provided by UN Women.
"It was just a Blessing. After Maria, it was very difficult to get seeds, and then we were promised some seeds and tools from UN Women and … we appreciate them handing them over to us," Lloyd said.
"We will put [this contribution] to good use. Post Maria, we are bouncing back … we will make sure that we have enough food to give our nation", said one of the spokeswomen for the North East Women Farmers Group.