From where I stand: "The fact that domestic violence is not a criminal offence in Kazakhstan is hurting women during COVID-19 crisis"
Date:
Dina Smailova, a well-known activist from Kazakhstan, recently spoke to UN Women about the rising reports of domestic violence since the introduction of quarantine measures to stop the spread of COVID-19. With 4 billion people around the world sheltering at home, many women are left in isolation with abusive partners, unable to access life-saving resources and support systems. In some countries, helplines have registered an increase in calls by more than 30 per cent.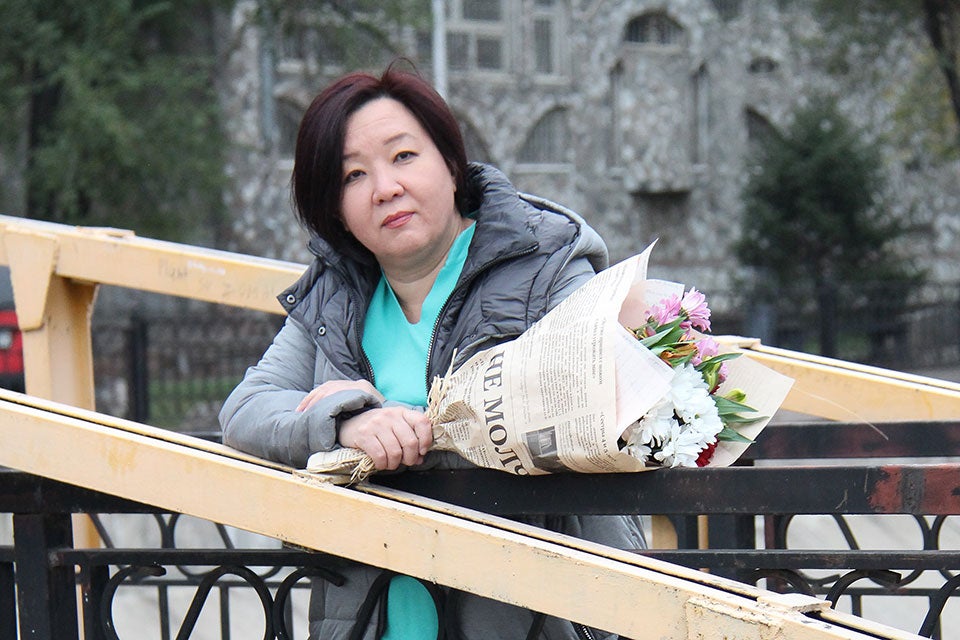 In Kazakhstan, there are currently more than 650 reported cases of coronavirus and six deaths. The situation is challenging, and women are at the forefront of this fight. Women work in pharmacies, shops and hospitals, and are in constant contact with people, putting their families and themselves at a high risk of infection.
Before quarantine, our helpline received calls mainly from survivors of sexual violence. We had calls on domestic violence cases too, but not so much. In the first week of quarantine, for the first time in recent years, we saw a pause in calls. But a week later, we started to receive 10-15 calls per day and almost all of them were from women who were suffering from domestic violence.
We are going through a difficult situation. Previously, when we counselled survivors of domestic violence, we urged them to report to the police and most women followed our recommendations. But now, just 2 out of 10 women would report to the police. Women are not willing to report to the police because they are living in isolation, and sometimes in large families, with their husband's parents and other relatives in one house. Also, they know that the police would arrest the aggressor only for three hours and they would return home after this period [because domestic violence is decriminalized in Kazakhstan].
During quarantine, the courts do not work, claims are not accepted, abusers are not isolated, and women have to continue living with their abusers. We have suspended several cases. One of them was a rape case and we would have had hearings. It is now postponed until the end of quarantine. It is always risky when such cases are postponed or delayed, because during this time anything can happen— the offender can give a bribe, documents may be lost...
In the meantime,people violating quarantine are immediately detained for 10-15 days. That is why I recently appealed to our President with a request to strengthen penalties for aggressors during quarantine.
Another example is the case of the famous Kazakh fencer Tamila Muridova. For two years, Tamila experienced domestic violence by her intimate partner who is also an athlete. She tried to break up many times, but her partner constantly pursued her. After the last beating and rape, her friend filed out a police report. Now, because of COVID-19 quarantine, the case is being delayed, and the aggressor is free.
The fact that domestic violence is not a criminal offence in Kazakhstan is hurting women during COVID-19 crisis. If, for example, violation of a protection order by the aggressor immediately becomes a criminal offence with a longer sentence, I think that would make a difference."
---

Dina Smailova is known in Kazakhstan for her unwavering advocacy for justice for sexual violence survivors. She is leading the NeMolchi (Don't Keep Silent) movement, which started a public dialogue on sexual violence and is providing free legal support to survivors. NeMolchi accepted more than 120 cases in the past two years, 47 of which resulted in rape convictions. Her team also contributed to strengthening the law on sexual violence, which entered into force on 11 January 2020. Since the introduction of COVID-19 quarantine measures in Kazakhstan, Smailova has seen an alarming increase in domestic violence cases. Find out more about the shadow pandemic of violence against women and girls is escalating during the COVID-19 crisis and what you can do to help.
Related links: