Women, peace and security: Preventing war and sustaining peace
Justice now: an interactive experience |Top stories |News |Join the conversation |
The issue
When women lead and participate in peace processes, peace lasts longer. Since the groundbreaking UN Security Council resolution 1325, calling for women's participation in peacebuilding was passed 17 years ago, there is mounting evidence that women are powerful actors in sustaining peace in their communities and nations. Research shows that achieving gender equality helps in preventing conflict, and high rates of violence against women correlates with outbreaks of conflict.
Despite the evidence, actions for women's inclusion, leadership and protection remain inadequate. In some areas, there has even been a roll back on progress.
In 2016, the percentage of signed peace agreements containing gender-specific provisions declined to 50 per cent, as compared to 70 per cent in 2014.
As of June 2017, 141 million people were in need of humanitarian assistance. Gender gaps in humanitarian settings are glaringly evident. In conflict and post-conflict settings, maternal mortality rates are nearly twice the global ratio, while girls are two and a half times more likely to be out of school.
At the same time, violent extremism is on the rise. Terrorists and extremist groups manipulate prevailing gender norms and gender stereotypes to advance their agenda and drive recruitment. Women and girls are not only targets of their systematic sexual violence, but have become targets of recruiters—women make up at least 20 to 30 per cent of foreign terrorist fighters.
As the UN Security Council prepares to convene for its annual Open Debate on Women, Peace and Security on 27 October 2017, the UN Secretary-General's 2017 report stresses that achievement of the Sustainable Development Goals requires full implementation of the women, peace and security agenda [1].
The report's six recommendations provide a roadmap to achieve a shift from ad-hoc inclusion of women to making women's leadership a norm—focus on transformative implementation; place gender firmly at the centre of UN's prevention agenda; invest in quality gender and conflict analysis; protect civil society and women's human rights defenders; ensure robust funding; and exercise greater leadership and political will.
UN Women continues to work around the world to engage women, including young women, as leaders in their communities to build peace and resilience. As the UN deliberates on the women, peace and security agenda, UN Women highlights the voices and experience of women building and sustaining peace, rebuilding their lives, communities and countries and mobilizing for justice and equality.
Justice now: an interactive experience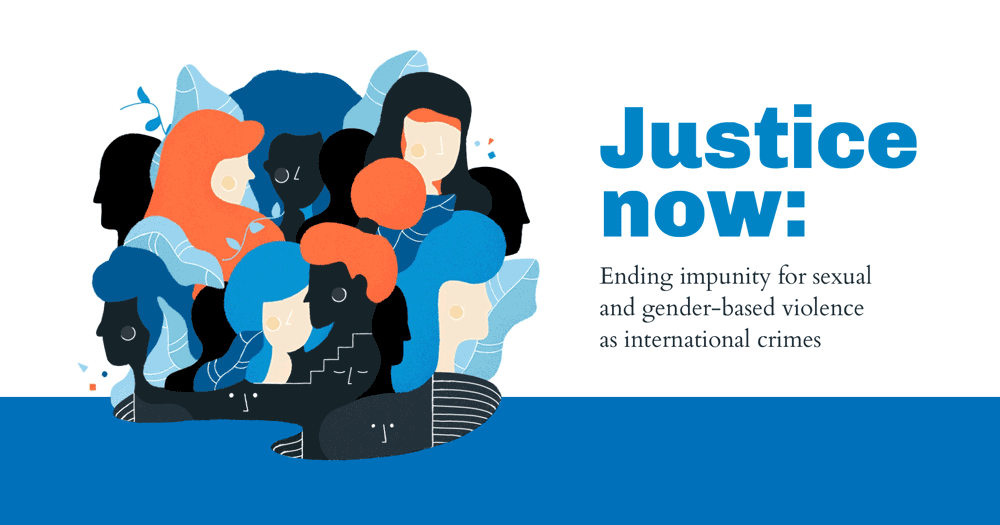 During times of instability, women and girls are disproportionately impacted by sexual and gender-based violence. These crimes can fall under war crimes, crimes against humanity and genocide, and are considered especially grave violations of international law. Victims and survivors have a right to justice, but without evidence, impunity prevails. How can justice be achieved? This interactive infostory explores the various paths to justice, gives voice to survivors' stories and looks at the critical role that investigators play in ending impunity for sexual and gender-based violence crimes. View more►
Top stories
Sepur Zarco: In pursuit of truth, justice, and now reparations
Thirty-four years after the rape and slavery of indigenous Q'eqchi' women of Sepur Zarco, a Guatemalan court convicted former military officers of crimes against humanity. It was the first time that a national court anywhere in the world had ruled on charges of sexual slavery during an armed conflict—a crime under international law. The court also ruled to grant reparations to the survivors and their communities. For justice to work, and for peace to sustain, women must be able to define and experience justice.
In the words of Hikmah Bafagih: "Our vision is to create an inclusive Islam"
Meet Hikmah Bafagih, from the city of Malang in East Java, Indonesia. University professor, community organizer, peace-builder, Counsellor, mother, wife—Bafagih has many roles. She is also a religious leader, steering the women's wing of the biggest Muslim organization in Indonesia. Her vision is to create an inclusive Islam, and she is used to opposition. Steadfast in her belief that women are solidarity makers, she works to empower women in her community, supports LGBT people and people living with HIV.
Fleeing Boko Haram, women find healing and economic resilience in Niger camps
In Niger, the Diffa Region bordering Nigeria is home to more than 300,000 refugees who have been driven from their homes by looting, massacres, abduction and rape by Boko Haram militants. Women and children account for 70 per cent of displaced persons. When they arrive in the refugee and IDP camps, their immediate and urgent needs go beyond shelter, food, water and medicines. They need sustained psychological support to heal from the unimaginable trauma they have endured, means to earn a livelihood and build resilience.
In Kosovo, legal recognition of war-time sexual violence survivors after 18 years
After almost two decades of silence and stigma, Kosovo [2] women survivors of sexual violence during the armed conflict of 1998 – 1999 will soon get legal recognition and reparations, including financial assistance. UN Women is providing micro-grants and psychosocial support so that survivors can heal and overcome the economic hardships that came in tow with trauma and abandonment.
From where I stand: "Women are the leaders of today"
Khadeja Ramali, 27-year-old peace activist believes that "Libyan women are the leaders of today…They don't need to wait until tomorrow to have a say." She used to think that peacebuilding was only for the older generation of political activists. But she changed her mind during the Arab Spring. Today Ramali works to empower other young women to participate in peacebuilding. Empowered young women are powerful actors for preventing conflict and sustaining peace.
News
Speeches
Women, peace and security, an essential pillar in global affairs
In her statement at the Security Council Open Debate on Women, Peace and Security on 27 October, UN Women Executive Director Phumzile Mlambo-Ngcuka said: "The women, peace and security agenda continues to expand its footprint on global policymaking. It is now an essential pillar in global affairs. But its advocates and champions are animated by the conviction that this is only the beginning." Read more►
Join the conversation
Raise awareness about women's role in building sustainable peace and join the conversation about Security Council resolution #UNSCR1325 now! You can check out and promote UN Women's social media content in English, Spanish, and French here
To share our content on women, peace and security, you can also follow UN Women on all of these platforms:
@un_women, @onumujeres, @onufemmes, @phumzileunwomen, on Twitter
UN Women, ONU Mujeres, ONU Femmes, on Facebook
unwomen on Snapchat
UN Women on Google+
UN Women on Instagram
UN Women on Pinterest
UN Women on LinkedIn
#UNSCR1325 Tweets
---
Notes
[1] All data from United Nations Security Council (2017), Report of the Secretary-General on women and peace and security, S/2017/861.
[2] All references to Kosovo on this website shall be understood to be in full compliance with UN Security Council Resolution 1244 (1999).