Women's collectives foster access to justice in India
Date:
"Women couldn't speak freely before. Now they are breaking barriers and challenging traditions," says Sudha Devi, a paralegal from the village of Tilaiya, in the eastern Indian state of Jharkhand.
A large part of Sudha's time is spent helping women register cases of violence, share their stories of trauma, and demand justice from perpetrators and from the community. Thanks to training on women's rights and legal literacy, Sudha and many other women are re-defining the way women and communities deal with violence.
"We have trained women's groups and collectives to carry out training on law, gender, patriarchy and women's relationship with various institutions," says Suneeta Dhar, of the NGO Jagori.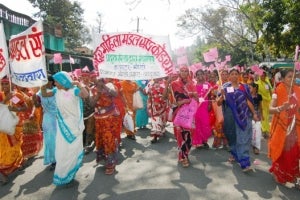 Supported by UN Women's Fund for Gender Equality, Sudha is part of an initiative which is helping local women to access justice by strengthening Nyaya Samitis (justice committees) and Nari Adalats(women's courts) in the districts of Koderma and Hazaribagh in Jharkhand. Led by two non-governmental organisations, Pradan and Jagori, the project has triggered dialogue on issues women face and enabled more women to confront and speak out against violence and other issues, within and outside their homes.
Women often find themselves unable to reach formal justice systems as a result of discrimination from filing complaints at the police station to drafting witness statements. "In this case, these informal systems become important, as reporting of cases and support from Nyaya Samitis enable women to gain courage and strength through counselling. The support of other women through this process, along with information about the legal process from trained women paralegals, goes a long way in providing justice to women," says Anne F. Stenhammer, UN Women Representative for India, Bhutan, Sri Lanka and Maldives.
The cornerstone of the initiative are the paralegals. Women like Sudha Devi became Nyaya Sakhis (friends of justice) after legal literacy training by Delhi-based NGO Multiple Action Research Group and Jagori. The training equips them with legal know-how and strengthens their understanding of legal provisions of laws such as the Protection of Women against Domestic Violence Act (PWDVA) of 2005. They also learn how to file a First Information Report.
As a paralegal, Sudha says she "has been able to support women to refer their cases to the police and courts".
The Nyaya Sakhis also use their knowledge of local practices, customs, and social networks to gather evidence and mediate agreements in family and community disputes.
Nyaya Samitis
Once armed with legal training, women volunteers from self-help groups (SHGs), women's collectives and federations form justice committees to resolve disputes informally for women who suffer from violence.
This process of accessing justice starts when issues of violence are raised in monthly meetings of self-help groups and others. After they are referred to the justice committees, three or four members undertake an investigation and draft witness statements and meet with the various parties.
A Nari Adalat (women's court) is convened following the investigation, where a decision is issued by the women's court along with members of the village committee in the presence of the Sarpanch (Village Head). This provides community support to the decisions made by the justice committee. Though informal, these decisions provide faster redress to women, especially since they are in line with legal provisions. Where decisions are not enforced or cases are too sensitive, they are referred to formal legal channels.
Since the project began in December 2010, on average 350 cases have been counselled through these justice committees, with approximately 65 of these filed as First Information Reports through formal channels. On average, 10-12 cases are referred to them every month.
Over the last two years, the Nyaya Samiti's (justice committees) presence in Hazaribagh and Koderma has strengthened immensely, and they are now recognized by the village elders and the police.
"Many cases are now referred to the Nyaya Samitis by the Sarpanch (village head) or the police. Members of the Nyaya Samitis have worked hard to build relationships with the Sarpanch, neighbourhood and district officials, police officers, as well as district magistrates," says Avijit Malik, Team Leader of PRADAN in Koderma.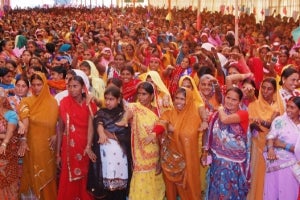 Nari Adalats
The Nari Adalats, or women's courts, then address these grievances, bringing full circle to the resolutions, while also providing key emotional support and counselling.
One case filed recently before the court and supported by the justice committees resulted in the conviction of the perpetrators. The case which was filed in 2005 involved the gang rape of a 13-year-old Scheduled Tribe girl. Scheduled Tribes have long been marginalized in rural India. Relentless perseverance by the justice committee — in meeting lawyers, filing statements, attending court and counselling the young girl through the court process — was instrumental in bringing closure to this long battle.
The presence of Nari Adalats not only provides solace and justice to women but motivates others to raise their voice regarding violations against women. "The solidarity and support which comes with women's institutions such as the Nari Adalat gives courage to survivors, as well as ensuring redress of violence," reiterates Sarbani Bose, PRADAN Team Leader, in Hazaribagh.