Ugandan Parliament adopts resolution to address needs of war-affected women
Date:
Years of advocacy by women's rights groups including those monitoring justice for women with disabilities in northern Uganda pays off.
"You are illiterate, you are deaf, you are blind, you are mute, and how can you then get information to empower you to demand for your rights?" says Irene, the treasurer of the Gulu Union of Women with Disabilities (GUWODU), an NGO in the town of Gulu, in Uganda's Northern region, supported by UN Women. Irene's leg was amputated after she stepped on a landmine during the 20-year conflict between the Government of Uganda and the Lord's Resistance Army (1986-2006).
"We died in large numbers during the war," says Teddy Aciro, Chair of GUWODU, drawing attention to the impact of war in Uganda's Northern region on people with disabilities, especially disabled mothers. "See, when the rebels would come, everybody would run into hiding; but as a disabled mother, you try to look around for your children to protect them from the rebels. Remember, you either do not have eyes to see, or legs to run, so the rebels find you in the process. They burn you in the house."
Even in the resettlement phase, many women with disabilities preferred to remain behind in the Internally Displaced People's camps. While in these camps, women with disabilities faced all kinds of violations, especially sexual violence as they are an easy target. Teddy also points out that women with disabilities are targeted sexually because of a myth that they do not have HIV or AIDS.
"A woman with disabilities has nowhere to go; at least a man with disabilities can stay on clan land because that is his homeland. Women are expected to belong to the clan into which they marry," explains Irene.
With support from UN Women and national partner Center for Women in Governance (CEWIGO), Teddy and her team created the Human Rights Disability Platform, which ensures that local authorities including the police, district magistrates and army officials meet monthly to receive reports of cases against disabled women.
"We use this opportunity to monitor implementation of justice for women with disabilities. As a result of these disability forums, we have since seen greater cooperation from the chief magistrate and other judicial officers. Every time a case file indicates that it is concerning a person with disabilities, the magistrate comes to the ground-floor courtroom to hear it and all the cases are heard quickly."
Progress towards justice and reparations
Justice for conflict-affected women in Uganda took a big step forward as the Parliament unanimously passed a resolution calling for establishment of special programmes for people affected by the LRA war in northern Uganda. The resolution, adopted on 9 April 2014, urges the Government of Uganda to establish a gender-sensitive reparations fund and offer reparations to women and men that were affected by the Lord's Resistance Army rebellion. Members of Parliament noted that the 20-year insurgency in northern Uganda affected mostly women and girls who were subjected to rape, violence and sexual exploitation.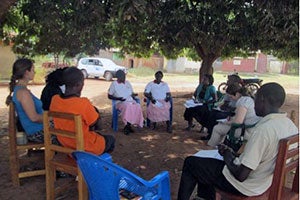 The resolution follows years of advocacy with the first-ever meeting to discuss the design of a victim-centred and gender-just reparations programme held in Kampala in February 2012, co-hosted by UN Women, the Office of the High Commissioner for Human Rights and the Uganda Human Rights Commission. The meeting which brought together government, UN, donor, and civil society representatives including from women's rights and victims groups contributed significantly in securing the Government's public commitment to moving forward with a reparations programme. That commitment has been consolidated in this resolution which followed two petitions to Parliament by formerly abducted women and other persons affected by the war, seeking intervention from the Government.
The petition was spearheaded by the Women's Advocacy Network (WAN), with support from two civil society organizations who are grantees of the UN Trust Fund to End Violence against Women, namely the International Centre for Transitional Justice (ICTJ) and the Women's Initiatives for Gender Justice (WIGJ). WAN, an initiative of the Justice and Reconciliation Project, is a network comprised of over 300 formerly abducted and war-affected women. The resolution calls on the Government to closely monitor recovery, rehabilitation and integration challenges faced by the LRA war victims and communities in Uganda's Northern region; increase development assistance and investments directly to communities affected by the war; and recommends that the Government should prioritize livelihoods, healthcare, skills training and education for women and child survivors.
Teddy, Irene and their colleagues are survivors who have turned their challenging circumstances into an opportunity to mobilize for the rights and dignity of others. They hope the reparations process will catalyze similar transformations for many more war-affected women and their children in northern Uganda.
"UN Women welcomes this development and encourages linking this process to broader justice and accountability mechanisms such as a truth seeking body that incorporates redress for human rights violations suffered by all conflict-affected individuals and communities," said Hodan Addou, Country Representative of Uganda, UN Women.
This work is supported by UN Women, through funding from its core budget as well as programme funds from the Department for International Development and the Government of Australia and grants to civil society from the UN Trust Fund to End Violence against Women.