From complex coding in Kigali to graduation gowns in Pittsburgh
Thanks to a UN Women-sponsored scholarship programme, two young African women fulfil their dreams of completing a Master's in information security at Carnegie Mellon University
Date: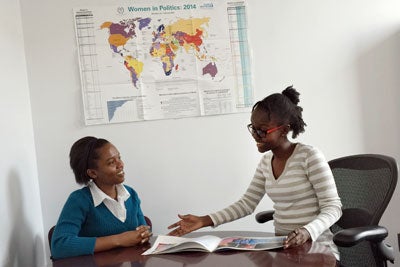 From Nairobi and Kampala, passing through Kigali and Pittsburgh, on their way to visit New York City on 11 March – for Ivy Wainain and Lynn Kirabo, walking through UN Women Headquarters is a "surreal" feeling. They take stock of every step they have undertaken to reach the milestone they are about to achieve – graduating from a Master's degree in the United States.
Both young women are the first students of the Carnegie Mellon University Rwanda (CMU) Campus to be granted a full tuition scholarship through a joint sponsorship programme established by the Government of Rwanda and UN Women to assist promising next-generation African leaders. Both said they would have been able to afford pursuing the Master's degree without the scholarship.
"UN Women Rwanda has always been a keen sponsor of women's education in the region," says UN Women Rwanda Representative Diana Ofwona. "We have also funded students at the Kigali Institute of Science and Technology as well as empowerment initiatives to boost girls' education in science and technology."
As part of the two-year Master's programme in Information Security and Technology in which both Lynn and Ivy are enrolled in Rwanda, a handful of students are selected to travel to the United States and attend classes at the Pittsburgh campus as a semester abroad. Ivy and Lynn were among the four Rwandan students chosen. Because this happens to be their last semester, they will also have the chance to swing the tassels of their graduation caps in the U.S., being awarded their degrees this coming May, alongside other CMU Pittsburgh graduates.
Ivy, a 26-year-old from Kenya, always knew she wanted to pursue a higher academic degree in the niche-field she identified as her target; information security. When searching and applying to graduate schools, Ivy looked internationally, as did 29-year-old Lynn, from Uganda, whose childhood dream was to be a "computer wizard." In September 2013, Ivy and Lynn joined CMU Rwanda, along with 25 other students, of which only six are girls.
Although fully embracing the possibilities of this American life parenthesis, both Lynn and Ivy want to go back to Africa and apply their knowledge in their respective countries.
"Information security touches the heart of any organization or establishment one may seek to create," says Ivy, whose goal is to set up an IT consulting firm in security and data analytics in Kenya. "Protecting data is to me, the most impactful way to better serve a community and show the younger generations the potential that can stem from the starting point that is data."
Lynn wants to be "part of the solution" for Uganda's healthcare system, by contributing to developing hospital accountability programmes in her native capital, Kampala, and hopefully across the country.
Having the support of their families played an important role in how these young women began to shape and pursue their dreams. "As a child my dad gave me this night-shirt that said 'anything boys can do, girls can do better' and that's the precise thought instilled in my upbringing. My parents never told me such-and-such is a man's job or a woman's job," says Ivy.
Going forward, Lynn is determined to become the mentor that many young girls lack today.
Mentored by strong women themselves, Ivy and Lynn always look back at the role models who have shaped their journey. For Ivy it was a family friend who was the female director of the national oil company. She wants to emulate that mentorship someday.