16 ways, 16 Days: Your guide to ending violence against women
Date:
This story was originally published on Medium.com/@UN_Women
The 16 days of Activism spanning from International Day for the Elimination of Violence against Women on 25 November, through Human Rights Day on 10 December, is an annual campaign against gender-based violence.
This is the time of year when a whole lot of people come together and speak out on one topic: ending violence against women and girls. In the streets, in schools, offices, villages and cities, every year, people around the world galvanize to raise awareness and take action during the 16 Days of Activism against Gender-Based Violence. This year, the 16 Days are coming on the heels of #MeToo and other global movements and grassroots campaigns that have made it clear that women, everywhere, have had enough.
While so many stories have come to light, many voices are still silenced, many stories remain unheard, many never reach your social media feeds. This year, we're coming together under the theme, Orange the World: #HearMeToo, to bring to the forefront the voices of women and girls who have survived violence and who are defending women's rights every day, away from the limelight of Hollywood and the media.
Here are a few ways you can get involved:
1) Listen to survivors
In the era of #MeToo, #TimesUp, #NiUnaMenos and other online movements, survivors of violence are speaking out more than ever before, and it's time to listen. Read stories of survivors and activists around the globe here, or by following #HearMeToo on social media.
2) Know the facts.
It is happening all around you. One in three women and girls around the world experience physical or sexual violence in their lifetime. You can learn more about the different forms of violence, and how it impacts women here.
3) Share your story
Time to support & empower survivors.
Time to spark a global conversation.
Time to #orangetheworld!#16days #HearMeToo pic.twitter.com/rI6Yqmqpkh

— UN Women (@UN_Women) November 15, 2018
What is your experience? Share your photos, messages and videos showing how you are participating in the campaign at using #orangetheworld and #HearMeToo. Join the 'Orange the World' Event page on Facebook and post photos and actions happening in your country during the 16 Days of Activism.
4) Buy from women entrepreneurs
Money matters. Empowering women economically keeps women from being entirely dependent on their partners and also helps survivors rebuild their lives, so buy from women, whenever you can. Check out this local women's group that makes shampoo in Guatemala!
5) Create your eight-word story
For the #16Days of Activism, we launched a new platform for you to share your story on ending violence against women. Watch the video to learn how you can create your #HearMeToo story on https://t.co/QYvmZJ2erC #orangetheworld pic.twitter.com/7LaNVBtwhQ

— UN Women (@UN_Women) November 18, 2018
Your voice is unique, your voice matters. Using UN Women's "My Story" image generator tool, create a unique short story card about your experience of violence or support for survivors — all in up to eight words. Then, share your "story card" with the world. While you are at it, like and share the stories of others. http://unwomen.org/mystory
6) Orange your profile picture
Turn the world orange. Use our Facebook frame and our twibbon on Twitter to orange your social media presence during the 16 days and raise awareness.
7) Learn the language
The words and the language we use can perpetuate or break gender stereotypes. You can fight gender bias using gender-inclusive language that places both women and men on an equal level. Check out the United Nations guide to gender inclusive language, and UN Women's searchable GenderTerm lexicon for more information.
8) Use your platform
Use that megaphone that you have! You can use your platforms to inform and impact change with your friends, family and community. On our @unwomen Instagram account, look out for our challenges on Instagram Stories and content you can share to show people why you care, why you want an end gender-based violence.
9) Attend an orange event or organize your own
Orange the world. Marches, flashmobs and concerts, sporting events and iconic buildings lit up in orange will take place during the 16 Days of Activism against Gender-Based Violence. You can learn more about the events in your area here, and by following UN Women's regional and country offices on Twitter.
10) Support one another
By standing together, we're stronger. Supporting women and those that empower women, is essential to achieving gender equality and ending violence against women. Whether you reach out to the women in your life to check in, or get involved with a local women's group, you can make a difference.
11) Know your rights
#UDHR70: Every day, for the next 30 days, we will feature each of the UDHR's 30 Articles. We will attempt to show how far we have come, how far we have to go, and honour those who helped breathe life into stirring aspirations.

👉 https://t.co/Fv1Kky5rEx #StandUp4HumanRights pic.twitter.com/qgBv4LMjrg

— UN Human Rights (@UNHumanRights) November 10, 2018
Violence against women and girls is a human rights violation. With this year marking 70 years since the Universal Declaration of Human Rights was signed, we're calling for all women, girls and their families to be informed of their rights.. Join the UN campaign, #standup4humanrights and learn how the Universal Declaration of Human Rights play a role in our lives every day!
12) Mobilize men and boys
Men are half the world, they are our brothers, fathers, sons, co-workers, and friends- bring them into this circle. Men and boys of all ages and walks of life must take a stand against violence against women and girls. Call on all the boys and men in your life to stand with you and women and girls, to end violence against women and all gender inequality. From joining the HeForShe movement to being advocates within their communities, men need to take steps in ending toxic masculinity.
13) Get creative
Art inspires change. It's a powerful form of expression that can spark a conversation on gender-based violence and engage your friends, family and community.. Check out our Instagram account @unwomen where we feature some of the illustrators who are speaking out through their art.
14) Learn the signs
By recognizing violence, we can end it. Worldwide, almost one third of all women who have been in a relationship have experienced physical and/or sexual violence by their intimate partner. A sudden or gradual change in appearance or behaviour can be an indicator that abuse or neglect has occurred (or may still be happening). Learn how to detect the signs of relationship abuse.
15) Give to the cause
Every woman and girl deserves to live a life free from violence and discrimination. Your donation can help UN Women break the cycle of violence, assist survivors, and drive economic inclusion and equal rights for women and girls everywhere. Donate now at donate.unwomen.org/en
16) Spread the word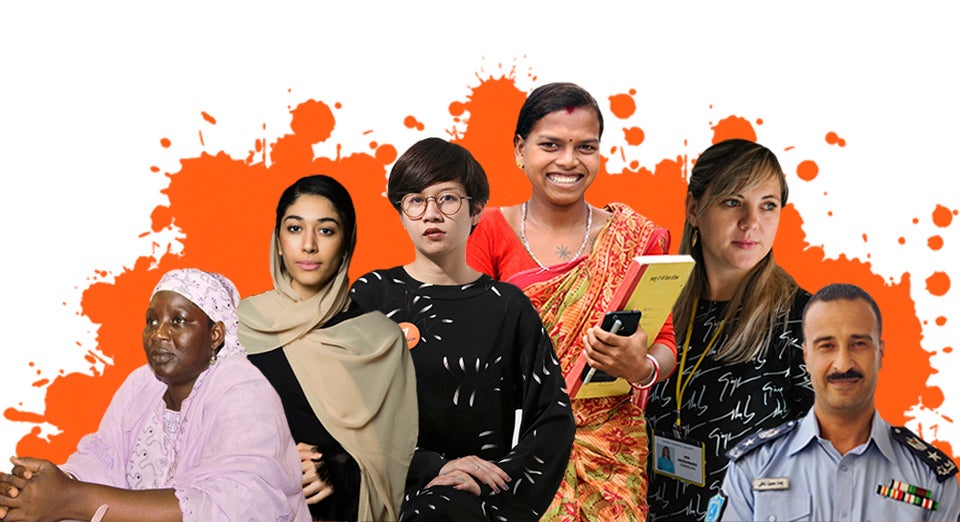 Now that you know the facts about gender-based violence and the signs of intimate partner violence, and have heard the stories from survivors, be sure to share with your friends and family. Check out our story package, and UN Women's social media package (in English, French and Spanish) for ideas on how you can share and amplify the voices of survivors and activists from around the world.