Coverage: UN Women at the European Development Days
Date:
UN Women, with a delegation led by its Executive Director Phumzile Mlambo-Ngcuka, are taking part in the European Development Days, Europe's leading forum on international cooperation and development, from 5-6 June in Brussels. The event gathers every year more than 6,000 participants from over 140 countries. The overarching theme of the 12 edition of the forum will be "Women and Girls at the Forefront of Sustainable Development: protect, empower, invest".
6 June
On the final day of the European Development Days, UN Women Executive Director Phumzile Mlambo-Ngcuka highlighted the importance of including women's needs and rights in humanitarian crises. As part of a panel discussion titled Women and girls on the Move: Towards Safer Work and Migration for Women, Ms. Mlambo-Ngcuka said: "Whether they go voluntarily or are forced, people should not lose their rights when they move."
The Executive Director later participated in a tribute to Nelson Mandela, marking his 100 years birth anniversary. She highlighted the remarkable work of the South African icon, saying, "The legacy that Mandela leaves with us is that of international solidarity. He was focused on the end of a struggle and all I can hope for South Africa is that it manages to represent the spirit enshrined in the Constitution, thanks to him."
5 June
During the European Development Days, The Spotlight Initiative, a joint initiative by the European Union and the United Nations on eliminating all forms of violence against women and girls, launched in 2017, took centre stage.
UN Women Regional Goodwill Ambassador for Africa Jaha Dukureh introduced a panel discussion on the Spotlight Initiative: "When I first started doing activism on FGM, back at home I was insulted. Now I am celebrated as a hero. So I can see progress is being made. The Spotlight initiative, which in Africa focuses on the eradication of harmful practices, is a great step forward and has the potential to achieve lasting change."
The panel discussion between UN Women Executive Director Phumzile Mlambo-Ngcuka; Co-Executive Director, Association for Women's Rights in Development, Hakima Abbas; and co-chair of Men Engage Global Alliance, Abhijit Das. Ms. Mlambo-Ngcuka emphasized the importance of giving women and girls platforms to share their experiences in order to educate others. She also noted that countries must not only pass laws to end violence against women, but to actively work to change culture within communities.
Later in the day, the Lorenzo Natali Media Prizes 2018 were awarded, including one in the category of ending violence against women. The winner was Achille Fatonji, a 20-year-old journalist from Benin, for a story on ending female genital mutilation in Benin.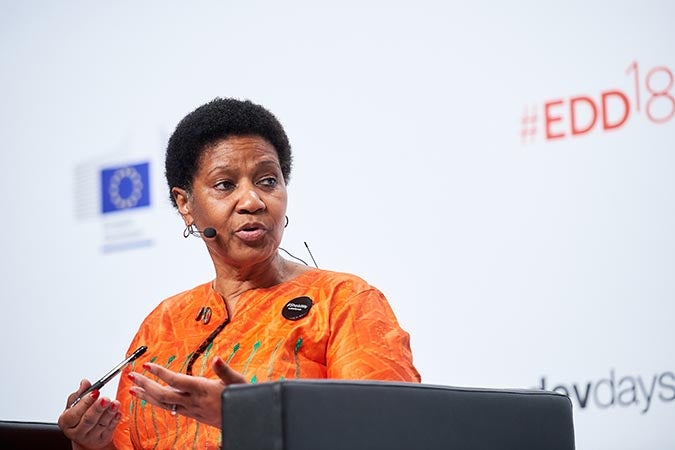 Ms. Mlambo-Ngcuka also participated in a panel discussions on women's economic empowerment through legislative change. In her remarks, the Executive Director highlighted the importance of eliminating the 'motherhood penalty' by changing discriminatory laws. "Women being able to decide if and when to have children it's an incredibly important decision with economic repercussions," she said.
Other participants on the panel included Salma Abdalla, a youthg leader from Sudan; Arancha Gonzalez, Executive Director of the International Trade Centre; Rebeca Grynspan, Secretary General of the Ibero-American Conference; Isabel Saint Malo, the Minister of Foreign Affairs of Panama; and Cecilia Malmstroem, Commissioner for Trade, European Commission. The discussion was moderated by Cristina Manzano, Global Director of Pensamiento Iberoamericano.
In a panel on amplifying girls' and women's voices in the global movement for gender equality, UN Women Executive Director spoke about the importance of men and boys as allies in advocating for women's rights, saying: "Patriarchy is very resilient, that is why you need men to participate and it's never too early to start."
Other participants in the panel included Sophia Pierre-Antoine, Board Co-Chair of FRIDA Young Feminist Fund; Stavros Lambrinidis, European Union Special Representative for Human Rights; Anne-Birgitte Albrectsen, CEO, Plan International; and Olaoluwa Halimat Abagun, Young Leader Nigeria. Simon Maxwell, Chair of European Think Tanks Group, moderated the panel.
4 June
On her first day in Brussels, UN Women Executive Director Phumzile Mlambo-Ngcuka met with European Union Commissioner Johannes Hahn to discuss ways to deepen collaboration in Northern Africa, Western Balkans and Turkey and Eastern Europe and Caucasus on ending violence against women. The discussions focused on supporting supporting women's participation in the labour markets, promoting economic empowerment through public and private policies, including t on child care, parental leave, and the Women's Empowerment Principles, and gender responsive budgeting.
Later in the day, Ms. Mlambo-Ngcuka met with European Union Commissioner Christos Stylianides. During the meeting, they discussed collaboration between the Humanitarian Aid Department of the European Commission (ECHO) and UN Women on various initiatives, including the Call to Action on protection from gender-based violence in emergencies and the roll out of the new Inter-Agency Standing Committee gender handbook. They also stressed the importance of providing education to girls and women in displaced contexts. They also discussed the situation of Rohingya women fleeing Myanmar and the danger and threats they face.