Strengthening resilience, investing in passion: Zonta International Foundation and UN Women empower women across Jordan
From 28-31 July, on their first official visit to the Hashemite Kingdom of Jordan, four members of a delegation headed by Susanne von Bassewitz, President of Zonta International Foundation, gained first-hand insight into UN Women's work and witnessed the opportunities that are being provided to women through continuous support from the Zonta International Foundation.
Date:
The four-day mission included visits to two UN Women Oasis centres in host communities in Mwagar and Taibeh, two Oasis centres in Za'atari refugee camp and the Jordanian Women's Union in Zarqa, as well as a meeting with civil society organizations and Jordanian women leaders to discuss national priorities to promote women's empowerment. 
Since 2018, Zonta International has been partnering with UN Women to support national efforts aimed at strengthening the resilience and empowerment of Syrian refugee and vulnerable Jordanian women and girls through the 'Eid bi Eid' (Hand-in-Hand) programme.
The partnership supports the UN Women Oasis Centres for the Resilience and Empowerment of Women and Girls, which provide women with relevant job skills and meet their protection concerns and promoting empowerment through leadership and civic engagement, while also engaging men and boys in dialogue and mobilization for social equality. 
"Doing something for women in this humanitarian context and in this part of the world is important to address the refugee crisis," said von Bassewitz. "The services provided within the center are impressive. It was inspiring to learn that the women themselves were raising the session topics that they want to learn about and discuss. This is empowerment, women knowing what their needs are and asking for it".
In 2012, UN Women opened its first Oasis Centre in the Za'atari refugee camp, eventually expanding to four centres in both Za'atari and Azraq camps. With the support of Zonta International Foundation, since late 2018, eight pilot centres have been launched in partnership with Ministry of Social Development and its community centres in Jordanian host communities in five governorates (Zarqa, East Amman, Karak, Ma'an and Tafileh). 
The delegation visited four Oasis centres, including two in Za'atari refugee camp, where they viewed the multisectoral services including: tailoring, childcare, information and communications technology, handicraft training and the after-school programme. The delegation proceeded to visit two Oasis centres in host-communities, where they were introduced to the new training sectors available for incentive-based volunteers: home maintenance and poly-tunnel agricultural training.
The host community centres address the growing challenges of women's limited labour force participation in Jordan – the lowest in the region – at just 15 per cent in the first quarter of 2019 (versus 54.4 per cent for men).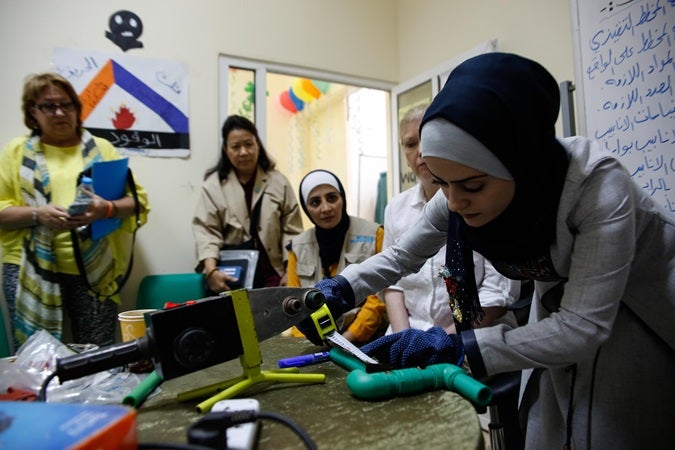 During the visit, von Bassewitz had the chance to interact with the women, including Rema Fayez Albtoush, 28, who shared her experience in joining the home maintenance training programme in the UN Women Oasis Centre in Taibeh (Karak Governorate) and her dream of starting her own micro-business in plumbing. 
"Despite achieving high grades at university, I was unable to find work," explained Albtoush. "But now I believe I can start my own business through the technical skills I have learned here." 
Aneisa Al Athamien, 34, faced challenges similar to those of Albtoush, after graduating university 12 years ago Althamien also struggled to find work. With one daughter and another on the way, Althamien was eager to find an opportunity to support her family. She enrolled in the centres IBV programme and began her training in home-maintenance. "I want to change the social perception in our village about women working in non-traditional fields, such as home-maintenance," affirmed Al Athamien.
The visit also included a tour of the Jordanian Women's Union in Zarqa. Supported by Zonta International Foundation, the organization provides safe and confidential access to comprehensive response services for survivors of gender-based violence. Von Bassewitz met with some survivors and witnessed the support and information services provided within the centre. 
"I am impressed by the resilience and the energy of the women everywhere we went. Every centre we visited, I was impressed. How they cope, how they want to make their lives better: it is amazing," said von Bassewitz. "And I saw what great work UN Women does." 
With the generous support of the Governments of Australia, Finland, France, Iceland, Italy, Japan and the European Union through its Regional Trust Fund in Response to the Syria crisis (Madad Trust Fund), as well as by the Zonta International Foundation and UN Women National Committees, the 'Eid bi Eid' programme addresses the challenges associated with growing vulnerability by improving women's access to sustainable and decent employment, coupled with protection services and community engagement – to enable greater equality and reduce violence against women.