UN Women Executive Director reinforces role of women as agents of peace and development in Sahel region on visit led by UN Secretary-General
Date:
UN Women Executive Director Phumzile Mlambo-Ngcuka is traveling this week with UN Secretary-General Ban Ki-moon and his delegation on a visit to the Sahel region. The delegation, which also includes World Bank Group President Jim Yong Kim, EU Development Commissioner Andris Piebalgs, African Union Commission Chairperson Nkosazana Dlamini Zuma, and African Development Bank President Donald Kaberuka, is visiting Mali, Niger, Burkina Faso and Chad.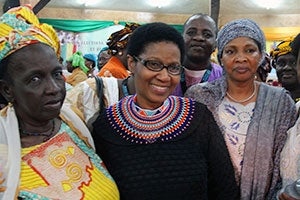 The Sahel region in West Africa has suffered for years from acute poverty and instability, with three major droughts in less than a decade. Estimates show that more than 11 million people are at risk of hunger, and political instability has brought significant negative economic and social consequences.
Women in the troubled Sahel region are often the first to experience the devastation of food and financial crises, armed conflict, and natural disaster. Immediately following the start of hostilities in northern Mali in April 2012, women and girls were subject to public rape and sexual violence. During repeated droughts in Niger and elsewhere, women and their children are the majority of those displaced and suffering a lack of access to water and food.
During the trip, Ms. Mlambo-Ngcuka met with women leaders in Mali, listening as women asked for action to protect women's rights and train security officers. Pledging robust support from UN Women, she made a strong call for the voices of women to be heard at all levels, saying that, "Women's full participation is critical for long-term stability across the region."
"Our reason to exist as UN Women is to be in solidarity with women, especially in tough times like this. Mali as a country is very much a priority to us, not just to UN Women but to the UN as a whole," she said.
Women are often invisible in crisis responses, and remain outside ceasefire, conflict resolution and re-building discussions.
In Mali, UN Women has supported training for women leaders in mediation skills, brought gender and women's rights training to the Malian military, supported market engagement by internally displaced women, and conducted some of the very first studies on the extent of conflict-related sexual violence in the North of the country.
In Niger, the UN Women Executive Director welcomed the adoption of quotas for women in parliament and promised support to provide training to candidates, after a request from the Minister for Women.
Other urgent priorities that Ms. Mlambo-Ngcuka will highlight are local initiatives to prevent gender-based violence, particularly in the context of elections, support to increase the participation and expertise of women and gender experts in conflict resolution and transition processes, and economic empowerment of rural women in the region.
"Agriculture is key to women's economic empowerment, especially in the context of conflict and post-conflict situations," said the Executive Director of UN Women.
UN Women offers technical and financial support to a range of initiatives in the region that advance women's rights, empowerment and participation.
Related Links:
https://www.un.org/apps/news/story.asp?NewsID=46410&Cr=Sahel&Cr1=#
https://www.unwomen.org/en/news/stories/2013/4/women-peace-advocates-put-forth-key-recommendations-for-sahel-region