From bike rides to pink ribbons, Egyptian anti-violence campaigns create ripples across the country
In Egypt, where up to 94 per cent of women report having been sexually harassed, students across 28 universities have devised clever anti-sexual harassment campaigns.
Date:
Walking down a quiet street in Cairo to enjoy the evening air, 23-year-old Heba couldn't help but wonder whether she was putting herself in harm's way. "Can I join my family for dinner after this walk," she asked herself. Heba is one of the countless women in Egypt who worry about being sexually harassed on a daily basis while using public transportation, going to school, or simply taking a walk.
Such concerns are not unwarranted. A 2008 survey of 2,320 women and 2,088 men conducted by the Social Planning Analysis and Administration Consultants and the National Council for Women [1] in seven governorates in Egypt revealed startling data on sexual harassment in public spaces. The data showed that 72.4 per cent of married women and 94 per cent of unmarried young women had experienced verbal forms of sexual harassment, while 22.2 per cent of married women and 21.7 per cent of unmarried women reported having been physically harassed.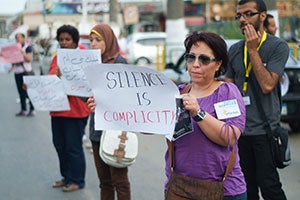 In efforts to address the issue of sexual harassment faced by women and girls in public places, UN Women has partnered with the international non-profit student's organization Enactus to engage students at various Egyptian universities to develop a sexual harassment awareness campaign. The campaign is part of a broad-based annual competition on Women, Leadership and Empowerment, which also promotes projects for women's economic security.
"This year, 28 universities were involved in the Women, Leadership and Empowerment initiative, implementing projects as part of a competition during their academic year to help empower Egyptian women through education, leadership positions and financial resources," said Fatma Sirry, President and CEO of Enactus Egypt.
As a result, 28 creative ideas were developed to spark sexual harassment awareness campaigns. A common initiative among several universities was to organize human chains on the streets while holding signs against harassment and engaging passers-by about the pandemic of violence against women and girls and ways to prevent it.
Since it is uncommon to see women ride bikes on the streets in places such as Zagazig, part of Sharqia municipality, one outreach featured both girls and boys taking part in a bike ride from Zagazig University, highlighting women have as much right to enjoy public spaces as men.
At the University of Shobra in Cairo, Enactus took their awareness campaign to metro stations where women are harassed everyday while using public transportation. They engaged commuters through dialogue and flyers and signs with anti-sexual harassment messages. The initiative builds on similar youth-driven public transportation campaigns already underway.
In the governorate of Helwan, for its online initiative, the Enactus chapter at the University of Helwan partnered with a movement started on Facebook called "Give the Ribbons and Invite them to the Ladies' Carts". Participants of the Facebook movement, along with Enactus students, decorated Cairo's women's-only metro cars with pink ribbons, decorations and stickers to dissuade men from using the women's cars in order to harass them.
While in previous years that campaigns had focused only on the capital city of Cairo, this year, the campaign toured the entire country, creating a buzz and raising awareness among thousands of Egyptians of all ages in districts across the country.
The Enactus competition supports the "Safe Cities Free from Violence against Women and Girls", a global programme launched by UN Women and UN-Habitat in 2010 – both by empowering youth to reduce the prevalence of violence in public spaces. Safe Cities will also support the implementation of a nationally-led media advocacy strategy to change public attitudes about women's rights.
See UN Women's In Focus compilation for International Day for the Elimination of Violence against Women
---