UN Women receives Presidential Award for action to confront the Ebola crisis in Sierra Leone
Date: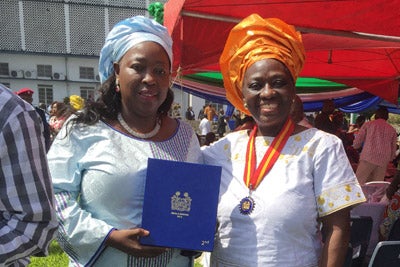 In a ceremony on 18 December, UN Women was presented a Presidential Award in Sierra Leone State House in recognition of its contribution to fighting Ebola. During the ceremony 200 individuals and organizations were honored for their work to fight Ebola.
During the Ebola outbreak in West Africa, UN Women facilitated mobilization and information efforts targeting women, who were disproportionately affected by this disease, coordinated UN efforts to address gender within the response, and supported the collection of sex-disaggregated data. In Sierra Leone and Liberia, UN Women worked with local radio stations and with traditional leaders to raise awareness and aid prevention; produced educational materials to train health workers; supported orphaned children and stigmatized survivors; ensured that women's needs were reflected in all aspects of the UN's humanitarian response; provided economic grants for hard-hit cross-border traders; and more.
The silver medal award was accepted on behalf of UN Women by Mary Okumu, a UN Women representative for Sierra Leone and Baindu Massaquoi, UN Women Programme Specialist who was seconded to the United Nations Mission for Ebola Emergency Response (UNMEER) during the emergency.