Safe spaces for women, by women, bring smart infrastructure for all
Date:
A woman's place is in her home. A woman's place is in the workplace. In the community. On the streets and in public parks. In politics and leadership. In grocery stores, classrooms and on college campuses. A woman's place is everywhere, and in every space, she has the right to feel safe and welcome.
Yet, according to a multi-country study from the Middle East and North Africa, between 40 and 60 per cent of women said they had ever experienced street-based sexual harassment, and in Australia, almost two out of five women (39 per cent) aged 15 and older who have been in the workforce in the last five years, have experienced sexual harassment in the workplace.
But that's only one part of the story. From marketplaces in the Pacific to parks in eastern Europe, women are rising up and demanding safety, respect and inclusion in public spaces, and coming together to make it happen. Through community efforts, UN Women is working around the world to help women claim their space.
Ensuring safety and inclusion in public parks
Open, public spaces can be the heartbeat of communities. But in many cases, those spaces are unsafe for 50 per cent of the population, because of sexual harassment and violence. By including women in the designing of public spaces, we can ensure that their perspectives are embedded, and their needs are met.
"[As female architects], we could make decisions that would lead to a better outcome, and address the needs of the community," says Dalia Osama, who worked with two other female architects to design a new community space in their Al-Shoka community of Gaza, Palestine.
"For example, originally, people suggested to put the bathrooms on the left side of the garden entrance, but eventually, we decided to place them on the right, because the light was better from that direction, making the bathrooms safer for women and girls."
Smarter infrastructure in parks, such as adequate lighting and clear sightlines, pedestrian pathways, as well as an open feeling to prevent entrapment can go a long way towards improving the safety of park-goers.
The architects—Dalia Osama, Samah Al-Nahal and Nihal Zourob—worked together to create a blueprint of the public garden, with the help of 30 young people from the area, as part of a joint programme of UN Women and UN Habitat, funded by the Government of the Kingdom of Belgium.
The 2,600 square-metre garden in Al-Shoka opened to the public in March 2018, at last providing a space for Al-Shokans to enjoy the fresh air and feel safe and welcomed, in a space built by and for the whole community.
Protecting each other at work in markets
In Fiji and Tanzania, women market vendors came together to change the culture of their workplace which is the market.
When Varanisese Maisamoa joined the Rakiraki market in Fiji in 2007, she immediately noticed the way that the women market vendors were struggling every day. There was no security, little water supply and not enough lighting.
"I realized that they had been in this situation for 15, 20 years or more, and nobody had ever listened to their plea," Maisamoa says.
In the Mchikichini market in Dar es Salaam, Tanzania, Betty Mtehemu learned that many women were suffering in silence, unable to speak up to protect themselves and their community, some even leaving the industry due to the gender-based violence.
"I found that everyone was minding their own business, no one helped you when you faced acts of gender-based violence," says Mtehemu, a market vendor and Chair of the National Women's Association for Informal Market Traders. "Women would sell their food and not get paid, they were abused by men, and everyone was quiet! There were no measures against gender-based violence."
But with awareness sessions on the prevention of sexual harassment, domestic abuse and economic violence and support and legal advice from the local organization Equality for Growth, a grantee of the UN Trust Fund to End Violence against Women, managed by UN Women, there's been a shift.
"It is very important for us women to work with each other," says Mtehemu. "When we can all speak in a single voice together as women, especially about the challenges faced by a woman, we can face those challenges as a team".
Now, the women vendors know what options they have when they are faced with gender-based violence. They formed Women Unions in the market, with committees within each union, and they know how to report and monitor incidents of violence.
In Fiji, after Maisamoa attended leadership and financial literacy workshops, she formed the Rakiraki Market Vendors Association. The workshops were part of UN Women's Markets for Change project, funded by the Government of Australia and implemented in partnership with UNDP.
When the market was damaged by a devastating cyclone in 2016, Maisamoa and the Market Vendor's Association contributed to making sure the reconstructed market will be cyclone-resilient, including a rain water harvesting system, flood-resistant drainage and a gender-responsive design.
"Today I am proud of what the association has achieved in terms of improving the safety of the women vendors' working place. I'm looking forward to a market that is safer, better ventilated, with facilities such as changing areas for babies, improved toilets and a female market security attendant," Maisamoa says.
Growing solidarity and strength in refugee camps
Cox's Bazar hosts nearly 1 million Rohingya refugees, and a majority of them are women and girls.
For women and girls fleeing conflict and persecution in their home countries, women's centres can be critical for finding support in a refugee camp, and some sense of belonging during a time of insecurity. In Bangladesh, Rohingya women and girls have gravitated towards women's centres in the refugee camps to support one another.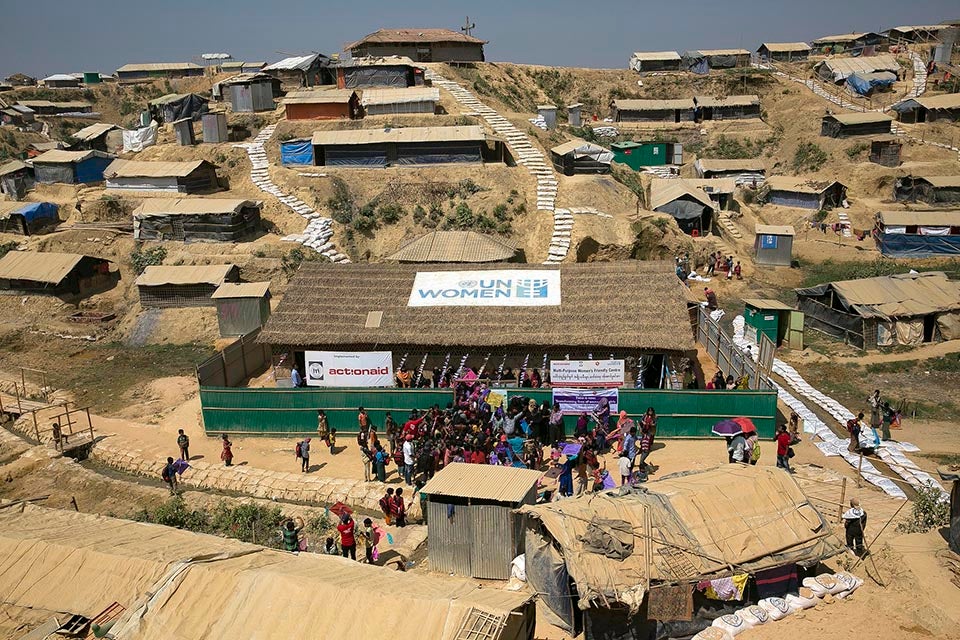 "Being a refugee myself, I know the struggles that other Rohingya women face in the camps," says Nur Nahar, a 35-year-old Rohingya woman, who left Myanmar at the age of seven. She now works as a mentor, teaching tailoring to the newly arrived refugee women at the Multi-Purpose Women's Centre in Kutupalong registered camp in Ukhiya, Cox's Bazar.
The Centres are safe spaces for Rohingya women and adolescent girls, with childcare and private rooms where they can breastfeed. They also offer secure bathing spaces and women-only toilets. Due to security and privacy concerns, women and girls often avoid using the common toilets and bathing spaces in the camp.
"Women need support from each other to cope with this crisis," says Nahar. "They also need some practical things, like menstrual hygiene kits, veils to wear because otherwise they cannot go outside their homes, lighting in the camps and more skills-training so that women can earn some income."
Shifting attitudes and ensuring safety in cities
Looking at urban planning and infrastructure with a gender lens matters because they impact the daily lives of women and girls—from their mobility to their access to toilets and sanitation, or how late they can stay outside and what jobs and work hours they can take.
In Maputo, Mozambique, nearly seven out of ten girls have experienced some form of sexual harassment or other form of violence in public spaces.
13-year-old Jareeyah* doesn't even feel safe making the ten-minute walk to her high school in the mornings.
"Sometimes I walk with friends… I don't feel safe in my city," she says.
But Jareeyah has had enough. Through a leadership group at her school, she organizes debates to get students to reflect on sexual violence in public and private spaces and other gender inequality issues.
The Maputo Safe City Programme, part of UN Women's Flagship Programme Initiative Safe City and Safe Public Spaces Programme, supported by the Spanish Agency for International Development Cooperation and the City of Madrid, works in two schools to engage community champions and young people and like Jareeyah to change attitudes and behaviours that hinder women and girls' safety in public spaces.
"We can use our voices to advocate, raise awareness among other girls about where we can go and how we can live without violence, discrimination, or being insulted," Jareeyah says.
She and her peers carry cameras to snap images of insecure spaces and use their voice, art and social media networks to advocate for infrastructure changes—and for girls to play a greater role in decision-making and designing gender-sensitive public policies.
As many as 25,000 community members are expected to be reached through awareness-raising activities in the neighbourhoods of Ka Maxakene and Kamalhanculo, and 2,000 girls and boys are taking part in the school-based activities.
And their voices are being heard. The photos made the issues more visible and students managed to get the location of the toilets changed because they were not private or safe for girls. Change may take time, but it is inevitable. Read the full story>
*The full name of the beneficiaries have been withheld to protect their identity.