Hand over the mic: Women on the front lines of violence against women during COVID-19
Date:
The coronavirus pandemic is much more than a health crisis. It is a human crisis that risks reversing decades of progress made in women's rights and equality. The crisis is taking an even higher toll on women and girls around the world who are facing an alarming surge in gender-based violence.
For the 16 Days of Activism against Gender-based Violence (25 November – 10 December), the United Nations' call to "Orange the World" comes with the rallying cry to "Fund, Respond, Prevent and Collect" – bridge the funding gaps, ensure essential services for survivors of violence, focus on prevention and collect the data that we need to adapt and improve life-saving services for women and girls.
And who is better placed to tell us what the needs on the ground are, than women on the front lines? This year we are handing over the mic to them.
Along with UN Women, our UN partners are working to end violence against women and girls. Hear from women leaders who are part of UN programmes from Kosovo to Kenya, who highlight what they need to stop the escalating violence, recover and rebuild after COVID-19.
Enforce an adequate criminal justice response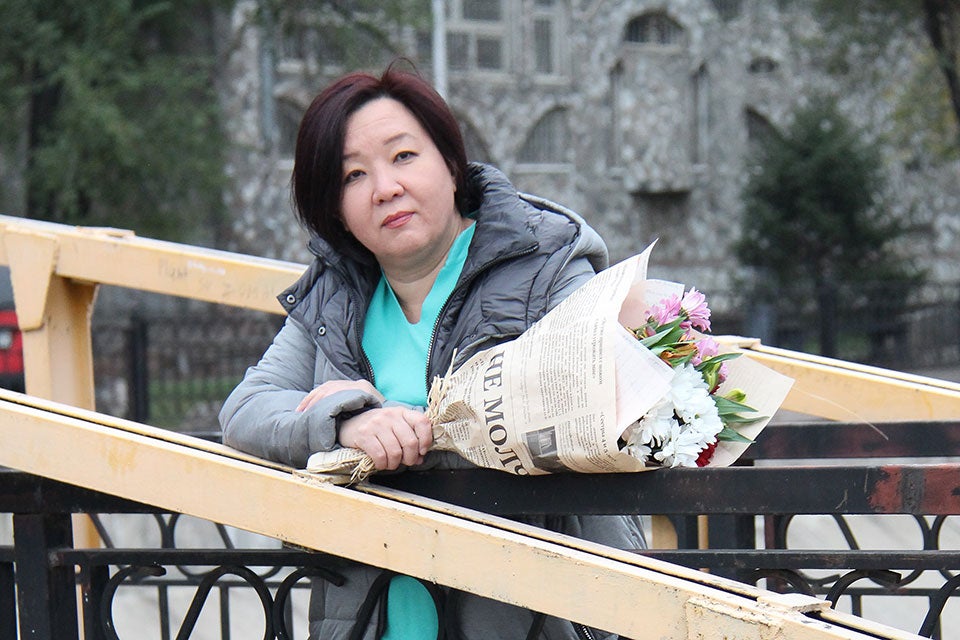 "We are going through a difficult situation. [Survivors of domestic violence] are not willing to report to the police because they are living in isolation, and sometimes in large families, with their husband's parents and other relatives in one house. Also, they know that the police would arrest the aggressor only for three hours and they would return home after this period.
The fact that domestic violence is not a criminal offence in Kazakhstan is hurting women during COVID-19 crisis. If, for example, violation of a protection order by the aggressor immediately becomes a criminal offence with a longer sentence, I think that would make a difference."
Dina Smailova is known in Kazakhstan for her unwavering advocacy for justice for sexual violence survivors. She is leading the NeMolchi (Don't Keep Silent) movement, which started a public dialogue on sexual violence and is providing free legal support to survivors. She spoke to UN Women in April, soon after COVID-19 hit Kazakhstan.
Listen to women facing intersecting forms of discrimination
"As a woman with a disability and through my work, I see that the biggest problem for people with disabilities [during the pandemic] is access to information and having their basic needs met. People with certain conditions rely on their caregiver or family members, who may not be available or supportive… The majority of people whom we interviewed revealed that they had experienced violence and discrimination from their family and community."
"[We must] bring the concerns and voices of people with disabilities to discussions in the community and in government. Our voices matter. We are all in this together and we will overcome this together."
Norberta V. Soares da Cruz is Interim Director at Community Based Rehabilitation Network Timor-Leste (CBRNTL), a Dili-based organization that advocates for health, rehabilitation, education and other services for people with disabilities. She is a volunteer member of the EU-UN funded Spotlight Initiative National Civil Society Reference Group in Timor-Leste.
Increase the number of women in leadership
"Women leaders around the world have demonstrated successful management of the pandemic. When women participate in high-ranking political and state level circles they contribute to more balanced, gender-sensitive, environmentally considerate and forward-looking policies. It is only through such a policymaking approach that we stand a chance in meeting the Sustainable Development Goals and in making this a genuine #DecadeOfAction and a #GenerationEquality."
Vjosa Osmani is the first woman assembly president in Kosovo[1] and has been praised for her leadership during the COVID-19 crisis in the country. In June 2020, Ms. Osmani spoke to UN Women about the importance of women's leadership, especially during the ongoing COVID-19 pandemic.
Listen to girls, unlock the opportunities
"I have always dreamed to know the camera, because since I was little, I watched films but didn't know what was behind the camera. I have always been curious to know who was behind the camera and what they were doing to make those images." Oumou picks up her camera and takes to the streets, she trains her lens on issues she knows well. She leads group discussions with teens in her community. When a young man in the group warns women to dress conservatively so as not to provoke sexual violence, Oumou remains steady. "No matter what a woman is wearing, you have no right to rape her," she says.
Even before the COVID-19 pandemic locked them down, gender stereotypes locked many girls in, confining their future prospects, says UNICEF. Oumou Kalsoum Diop, 18, uses her camera to help young women and girls speak out against sexual harassment and other issues that they face. Diop has always dreamed of being a filmmaker, and now as a student at Summer Pencc, she has the tools and opportunity to showcase relevant issues that directly impact the wellbeing of girls around the world. To hear more from girls from around the world, visit Teen. Girl. Activist.
More help for gender-based violence survivors
"Back in my country [South Sudan], because of the culture we're governed by women were always looked down upon and no one hears their voice, so I decided I'll work hand in hand with any organization [supporting] women's rights and hearing their cries. The problem of domestic violence got much worse during lockdown. Clients tell us that their situation is more dangerous, that they are not safe because the perpetrators are always there. We are also receiving cases of forced marriages. Schools have been closed and parents don't want their daughters to stay at home so many girls are being forced back to their homeland for marriages. I think there should be more help for gender-based violence survivors, like women's centres."
Sarah Nyajuok Guk, 24, is South Sudanese refugee living at Kakuma camp in Kenya. She works for UNHCR partner, the Danish Refugee Council, as a gender-based violence counselor. As the risk of COVID-19 reached refugee camps, the need for safe spaces and services for women victims of domestic violence became even more urgent. Find out how UNHCR is working with refugee women and girls during the COVID-19 crisis.
Essential services must reach women living with HIV
"COVID-19 has showed us that global solidarity is possible, that we can win the battle against stigma and violence together. Violence against women and girls is a crime and a human rights violation. Many marginalized women, including women living with HIV, who experience violence cannot report the violence or ask for help. We all have a duty to check on anyone who might be at risk of gender-based violence."
Yousra, an Egyptian actor and singer, has been the UNAIDS Goodwill Ambassador for the Middle East and North Africa since 2016. In her role, she focuses on advancing the AIDS response in the region, where some countries lack essential services for survivors of violence, especially in rural areas. Where services do exist, they do not always reach the people who need them, and the police and justice system often do not prioritize gender-based violence. UNAIDS is working to prevent gender-based violence, supporting survivors and raising awareness of the risks that women and girls face, and how to counter the gender-based violence.
More partnerships to empower women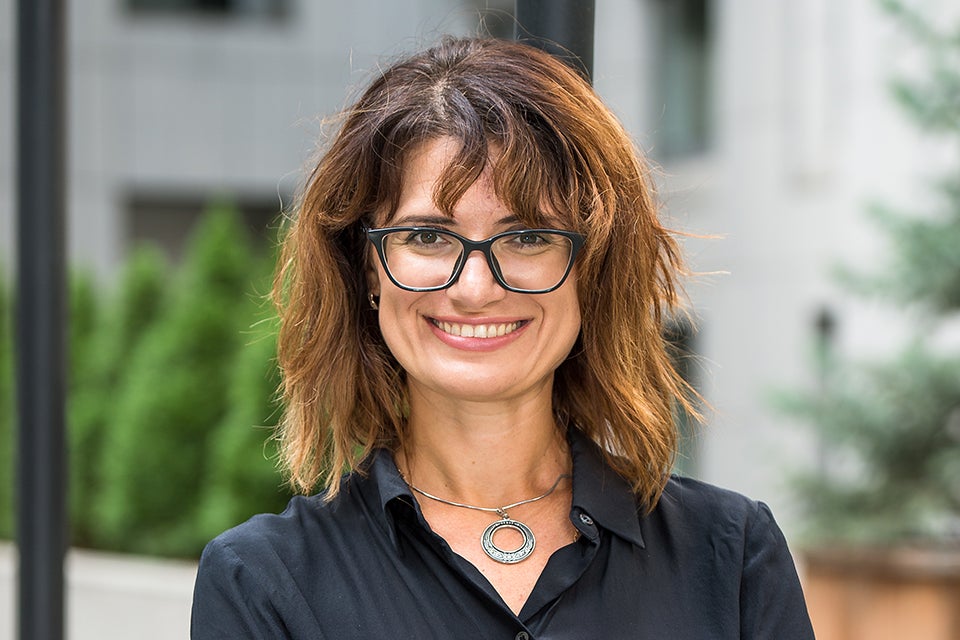 "CSR Ukraine works to achieve gender equality in Ukraine [by] increasing the number of girls in STEM professions, engaging businesses in gender equality issues, and preventing domestic violence… Our work is of critical importance now when pandemic lockdowns and quarantines affect girls' and women's wellbeing. To change the situation, we need more partnerships – between businesses, public agencies, non-governmental organizations, and [among] countries – [so that] gender equality becomes a new norm in our life and business.
Maryna Saprykina is the Head of the Board for CSR Ukraine. UNFPA is working with partners such as CSR to continue advocacy and empowerment programmes for women and girls, amid the lockdowns.
Ensure migrant women's health and dignity
"One of the first things a woman loses when she migrates irregularly is the access to [sanitation]… such as a shower and toiletries. These conditions have worsened due to the COVID-19 health emergency… women must prioritize access to food and water over personal care items. Elements provided in the dignity kits, such as sanitary pads, are key elements for migrant women, so they can cope with dignity in the harshest conditions and guarantee their self-care. Migration in the region has become a phenomenon that keeps causing pain to many women… I once witnessed that a girl in the border in one of the migrant shelters did not get out of bed, which made me think she had a disability condition… later, I realized that the girl had her period, and could not get up because she had no sanitary towels and was sitting on top of a plastic bag that her mother had placed to collect the blood flow."
Dildar Salamanca has worked as part of UNFPA's humanitarian team in Colombia. For the last five year, Salamanca has worked along the border between Colombia and Venezuala, where UNFPA provides dignity kits to migrants and aims to empower women migrants and preserve their rights and dignity.
Respect diverse identities, now and always
"Everyone denied my identity and with that, my existence. I remember everything vividly. When my manager, out of pity, pulled out a VND 50,000 bill on International Women's Day when other women in the company would be honored with a crisp VND 500,000 bill. It was when I had to share a room and live with 12 strange men at a job. It was when I was touched inappropriately because they couldn't figure out whether I was a boy or a girl. The more people refuse to accept me, the more I want to be myself. Even though every day I still have to face stigma and violence, I would still have to continue to fight for the rights of transgender people like myself."
Lo Kim Thuy is a transgender activist from Viet Nam, who dreams of organizing a pride parade in the community where she grew up. Together with the United Nations in Viet Nam, she works towards a world where everyone can live their life truthfully with recognition and respect.
Enforce laws to stop child marriage
"During the pandemic child marriages have increased in my country, Dominican Republic. I see girls like myself being married out to men who double and triple their age. In most cases, this is the way to escape from abusive family environments and from poverty. Girls believe that if they refuse to get married or if they leave the man, their life conditions will worsen. We are already witnessing the consequences of this form of violence: teen pregnancies and girls being out of school. We need laws banning child marriages and severe sentences to those who violate the law, as well as support to girls from institutions and education programmes. Otherwise, we will not be able to stop this cycle of violence and poverty that girls are trapped in."
Samanta Carreras Martinez is a girl advocate from Monte Plata, Dominican Republic. She has participated in webinars with UN Women around engaging girls in gender equality, and in the Heart to Heart conversation with UN Women Executive Director for International Day of the Girl 2020.
[1] All references to Kosovo on this website shall be understood to be in full compliance with UN Security Council Resolution 1244 (1999).