In Tanzania, a caravan of activists visits five regions over eight days on a journey to end violence against women
Date:
Approximately 140 million girls and women around the world have suffered female genital mutilation/cutting [i]. In Tanzania, Female Genital Mutilation (FGM) is still practiced in some parts of the country. Traditional practices and fear of stigmatization amplify women's reluctance to report such types of violence and heavily influence the way in which law enforcement authorities handle reported cases.
To address this issue, and violence against women overall, the United Nations team in Tanzania organized a 'Caravan for Change' – a bus consisting of 25 activists moving around five different regions for eight days – to raise awareness and encourage people to speak out against violence against women.
Beginning on 26 November 2012, activities included artist performances, workshops and panel discussions, during which key messages were delivered and people from different walks of life were brought together under the theme 'Open Up: Scold Violence Against Women, We Are All Responsible!'.
After hundreds of people marched from Mnazi Mmoja to the Diamond Jubilee Hall in the capital city of Dar es Salaam, the Caravan set off northwards for Kilimanjaro, where it attracted the attention of market dwellers in Moshi and the entire community urged local authorities to end violence against women in the region.
Continuing their journey through villages and rural districts to Singida, the Caravan gained momentum as it was welcomed by nearly 200 people who all took part in awareness-raising activities. In Mwanza, the Caravan was received by the police and its Gender Desks – focal points women can turn to for help and therefore vital actors in the fight against violence against women.
The last stop for the Caravan was Tarime, where FGM has been on the rise in recent years. Caravan participants spent three days meeting with school children, local authorities, traditional leaders and social workers, engaging the community as a whole through a series of workshops, aimed at understanding why FGM remains so widespread and identifying alternative rites of passage – ways in which the cultural and traditional underpinnings of FGM can be maintained as girls' passage into womanhood is celebrated, while eliminating the harmful practice of being cut.
In order to bring a concerted response to FGM, the UN Inter-agency Gender Group extended its support to the Tarime District Council (the local political body) as well as to the Masanga Centre, a school which provides alternative rites of passage, counseling and shelter to girls who have run away from the threat of being mutilated.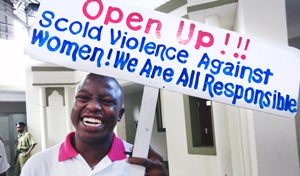 To help raise awareness of the need to combat violence against women even after the dust of the 16 Days campaign has long settled, the Caravan's activists launched a website and a variety of social media channels, throughout which their fellow Tanzanians will continue to be urged to take action and "Open Up!" (Funguka!).
Asked about the long-term impact of the Caravan, one of its leaders, Mwasapi Kihongosi, said "the response of people was overwhelming in every region and people really opened up. Through our dialogue with the community – be it the duty bearers or the rights holders – we really understood some of the violence against women-related challenges in the country which will enable us to identify sustainable solutions for the future".

Related stories
---
[i] World Health Organization, 2012, "Female Genital Mutilation: Fact Sheet No. 241," Geneva.
In #Tanzania,caravan of activists visits 5regions over 8days on a journey to end #violenceagainstwomen -find our more! owl.li/hCWs6

— UN Women (@UN_Women) February 12, 2013