In the words of Mwasapi Kihongosi: How ending violence against women and girls became my passion
Date:
A remarkable young man from Tanzania, 24-year-old Mwasapi Kihongosi won the global UNiTE T-shirt design competition in 2011, climbed Mount Kilimanjaro in March 2012 and led a Caravan for Change against violence and harmful traditional practices in November 2012. Mwasapi tells us how the plight to end such forms of violence became his passion.
"I did not really know just how widespread violence against women and girls is in my country until one morning, approximately one year ago the UN Secretary-General's UNiTE campaign changed my life.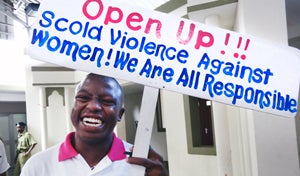 It all started with a casual conversation I was having with an old friend of mine, who told me about a T-shirt design competition he had heard of and encouraged me to use my skills as a graphic designer to the global UNiTE campaign. Unsure of what this campaign really entailed, I logged onto the Internet and learned that the UN Secretary-General had launched a call for young people to design a T-shirt which would mobilize people from across the world to combat violence against women and girls.
'How is this possible?' I thought to myself as I was researching the issue in order to develop a graphic design which would take into account its gravity, but not over-complicate the key messages behind the UNiTE campaign. I was so shocked to read about the persistence of violence against women and girls in the world, and especially on the African continent.
As a man, I felt ashamed to read about the thousands of women who have fallen victim to violence and rape time and time again. Thinking about my own female family members, I was so touched by this phenomenon that I was determined to come up with a design which would embody that one feeling which unites us all: the determination to protect your loved ones from harm.
I remembered how my mother told me she was treated badly by her new family, with whom she grew up after her own mother passed away. Stories of how she had to skip school, was beaten without any apparent reason, was not given a chance to complete her education after primary school although she was such a good student. Stories of how she was deemed to stay at home and carry out domestic chores instead. And I wondered why I could not see that happening to my younger sister right now.
Then I realized that my family has been blessed with incessant love, respect and understanding. Although my mother went through tough times, she did not take it out on our family but made sure she broke the cycle of violence she had witnessed herself.
And this was how my graphic design came into being. I decided to use the core concept of the family, stemming from my belief that if every family understands and respects the rights of women as fully-fledged human beings, equal to men, we can create future generations of individuals who will not treat women badly. By raising future teachers, soldiers, doctors, and politicians who adhere to these values, I am confident we will be able to jointly combat violence against women and girls, and practice what we preach.
After two months of anxiously awaiting the outcome, I came out as the Africa winner for the UNiTE T-shirt design competition which had received more than 500 submissions! I joined the other four winners from the remaining continents at the UN Headquarters in New York, where we received our trophies from Secretary-General Ban Ki-moon himself during the UN event on International Day for the Elimination of Violence against Women on 25 November 2011.
This experience meant a great deal to me, as I really felt the sense of responsibility to further mobilize my peers and tackle violence against women and girls in my own country. Through this involvement, I learnt a lot and decided to continue to combat this pervasive violation of women's integrity, dignity and worthiness.
Coming back from the ceremony, I started to participate in UN Women projects in cooperation with our Tanzania office and was selected to be the Youth National Representative for the Youth Forum and Kilimanjaro Climb Up! Speak Out! Campaign [in March 2012], which involved 72 representatives from different African Nations as part of the UNiTE campaign. While I was climbing Mount Kili, I kept thinking, we are climbing up, we are speaking out. It felt really good.
Now I feel very grateful to be a member of the 16 Days taskforce which is undertaking a series of awareness-raising activities in our country, in cooperation with the Government, UN Women and WILDAF. I hope that one day my children will be able to grow up in a world without violence against women and young girls."
Read more stories in the "In the words of..." editorial series.
In the words of Mwasapi Kihongosi, #Tanzania: "How ending #violenceagainstwomen & girls became my passion"

— UN Women (@UN_Women) February 5, 2013