Men in the kitchen: cooking up change in Mozambique
Date:
"Once we're in the kitchen, cooking as we know it, we learn a lot. … I didn't used to be comfortable. … I would return from work hungry but just because [my partner] was not home, I couldn't eat," admits Augusto Magaia, a 25-year-old man who lives in the suburbs of Maputo, the capital of Mozambique. He recently took part in the Men in the Kitchen programme run by the HOPEM network and supported by UN Women.
"This has changed our mentality completely. Now I know that what a woman does, I can do too. We try to convey this message in our homes so that they also know that what they can also do what we do, promoting gender equality," he says.
According to the 2004 Survey on Violence against Women in Mozambique by the Ministry of Women and Social Action, at least 1 in 4 women have experienced some form of violence in Mozambique, often as a result of deep-rooted unequal power relations between women and men and gender-based discrimination.
The HOPEM Men for Change Network is composed of 25 civil society organizations and recognized human rights activists in Mozambique. HOPEM is dedicated to engaging men and boys in transforming harmful masculine behaviour so as to achieve gender equality and improve the welfare of women, men and children.
HOPEM's Men in the Kitchen programme promotes gender equality and addresses violence against women and girls by increasing men's participation in domestic activities. The programme combines dialogue and reflection on gender-related topics with workshops on nutrition, education, agro-processing and preparation of nutritious recipes based on local resources. It also runs educational campaigns in public places, bars, nightclubs and other entertainment venues. As part of the campaign, the organizers use a mobile kitchen to arouse curiosity, then attract observers with artistic activities such as poetry, music and theatre, or by initiating debates on gender issues.
Sixteen hundred young men have participated in this initiative since it began in 2012. In a recent survey of participants of the week-long course, 90 per cent of respondents were in favour of equal sharing of domestic responsibilities between women and men.
Augusto admits that prior to taking the programme, he thought men were simply not meant to cook, and he was afraid to try it for fear of being ridiculed by his peers.
"By just grabbing the pan I felt despised or that when people saw me washing the dishes they thought that something was not good. They would say that a woman influenced me by using African magic. They said I was dzawanwa [1]."
Augusto recounted his personal journey of change at one of the programme's public awareness-raising activities held in Xiquelene, one of the most popular markets in the city of Maputo. It is visited daily by thousands of men and women, many of whom are traders, shoppers and passersby.
During a visit to Mozambique in early May, UN Women Assistant Secretary-General John Hendra interacted with members of the programme and answered questions on gender equality. He also put his own culinary skills to the test by cooking a recipe together with two men from the programme.
"If we are to move forward in advancing gender equality and women's empowerment, men must take on their fair share of the costs, time and care work required in daily life," Mr. Hendra said. "I came away really impressed by HOPEM and the openness they exhibited in challenging Mozambican men to rethink traditional norms of masculinity. In that context, the cooking programme is a great example of both positive role-modelling and learning by doing."
Mr. Hendra learnt more about the work of HOPEM and its activities in Mozambique at a meeting with members of this network and activists, which was held in a barraca (an informal bar typically frequented by men), a venue where members often undertake educational activities on gender equality. Such activities often include debates, musical sessions, as well as theatre presentations or videos on masculinity and violence against women. Sometimes they also hand out aprons or T-shirts with slogans like Homem de verdade nao tem medo de igualdade (Real men are not afraid of equality).
HOPEM also contributes to implementing the Government's national action plan against violence, with guidance from Mozambique's Ministry of Women and Social Action. Besides Men in the Kitchen, HOPEM programmes include Art 100 violence (Art without violence), educational groups in several communities, dialogue groups with male perpetrators of violence against women, projects engaging men in family planning and sexual and reproductive rights, and media programmes seeking to combat sexism and gender inequalities by transforming the attitudes of men and boys.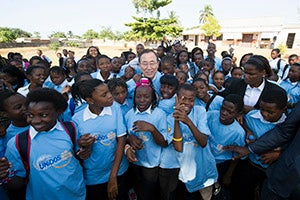 UN Secretary-General Ban Ki-moon led an official mission to Mozambique in late May and during his visit also saw first-hard some of HOPEM's work under the banner of his campaign UNiTE to End Violence against Women, which is managed by UN Women. He took part in an activity on violence prevention for girls and boys at the Mateus Sansão Muthemba Secondary School in Polana Caniço, on the outskirts of Maputo, organized in partnership with UN Women and civil society organizations Associação Coalizão, Horizonte Azul and the Association of Victims of Domestic Violence.
At the event, following a discussion, the children drafted commitments to concrete actions they could take to prevent violence at school. The girls presented their statements to the Secretary-General, followed by similar commitments from the boys. Mr. Ban highlighted the important role that men and boys play in eradicating violence against women and girls and spoke with students about the importance of education.
HOPEM Coordinator, Júlio Langa, who is also a member of the UNiTE campaign's Global Youth Network, says the network has sought to create such opportunities for boys and girls to critically reflect on how their attitudes and behaviours are important for eradicating violence.
"We believe that education, whether formal or informal, remains one of the most powerful weapons we have at our disposal for our emancipation from all oppressive structures of patriarchy, that promote various forms of discrimination against women," explains Júlio. "We also believe that men, especially young men, have a great responsibility towards women and girls in creating a society free from all forms of violence and discrimination."
---