Rebuilding lives after Boko Haram
More than 2,000 girls and women have been abducted by Boko Haram in Nigeria. The international community continues to advocate for their safe return. But after the girls are back, what happens to them? What happens to the children of rape and their young mothers? Hussaina Dahiru, from north-east Nigeria escaped Boko Haram, but tragically died at child birth. A programme by UN Women is working with girls and women who have survived Boko Haram's attacks and making sure that the humanitarian response addresses their specific and unique needs.
Date: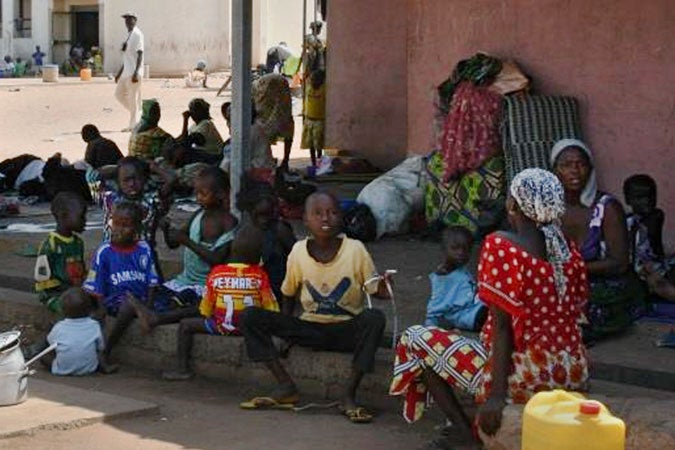 She was not even 16. Boko Haram rebels abducted Hussaina Dahiru from her home in the Madagali area of Adamawa State, Nigeria, in May, 2015. Ms. Dahiru, along with 13 other girls were taken to the Sambisa Forest and forcibly married off to one of the insurgents, who already had three other wives. Soon after, she became pregnant.
"Life in the insurgent's den was oppressive and unbearable," recounted Dahiru, when she met with UN Women representatives in Nigeria. She had recently escaped from Boko Haram.
Food was scarce and punishments were severe. "If your husband did not go for operation, you would not be given food." The captive women and girls were frequently beaten. Attempting escape was nearly impossible and often fatal. Those who were caught trying to escape were butchered; their butchered body parts were shown to the others.
In February 2016, heavily pregnant and unable to bear the daily terror and hunger, Ms. Dahiru took a chance and managed to escape. She ran through the night and at daybreak, a soldier found her on the Midu road in Madagali and helped her find refuge. A member of the Child Protection Network (CPN) in Adamawa state eventually introduced Ms. Dahiru to UN Women.
Hussaina Dahiru's story doesn't have a happy ending. Two months after her escape, on 16 April, she died during childbirth. Her child survived and is being cared for by her aunt. The Ministry of Women's Affairs has provided food and provisions for the child and for the foster mother. However, like most children of rape committed by Boko Haram insurgents, stigma surrounds him. The family and the community are yet to decide whether they would keep the child or give him up for adoption.
Ms. Dahiru's story is dismally common—a 2015 report by Amnesty International estimated that more than 2,000 women and girls had been abducted by Boko Haram and used as sex slaves [1]. The consequences of this violence extend across generations and cripple communities.
Adjaratou Fatou Ndiaye, UN Women Deputy Representative of West and Central Africa, recently met with internally displaced women and girls during a field visit. "Most of them have lost the families that they could depend on…and may have children they now have to support," she said. "While some of them expressed their desire for education, most pointed out that their immediate need upon returning to their respective communities is acquiring skills—such as tailoring, knitting, soap-making, farming and entrepreneurship—so that they can make a living," Fatou Ndiaya added.
UN Women is working with girls and women who have survived Boko Haram's violence through the "Emergency Assistance to Internally Displaced Women/Girls and Survivors of Boko Haram Terrorism Attacks in Nigeria" programme funded by the Government of Japan. The programme is being implemented in Adamawa, Bauchi and Gombe states in Nigeria, where the majority of the displaced women and returning abductees go to find refuge, and focuses on rebuilding their lives through emergency assistance, psycho-social support and economic empowerment. It tailors and strengthens the humanitarian response in Nigeria by addressing the unique needs and realities of women and girls.