Crisis update: Women of Syria, eight years into the crisis
Date:
Eight years. Since the start of the conflict, the Syrian crisis has displaced more than 6.6 million people internally and seen more than 5.6 million Syrians scattering across its borders.
The protracted humanitarian crisis in Syria has devastating consequences for women and girls. From food insecurity to loss of educational opportunities, lack of safe water or health services, and high rates of gender-based violence, women and girls are facing the brunt of the crisis. In 69 per cent of communities, early marriage is reported as a concern.
UN Women is working to address the needs of women and girl refugees, and promote their leadership in conflict-resolution, peacebuilding and recovery.
Safe spaces and skills training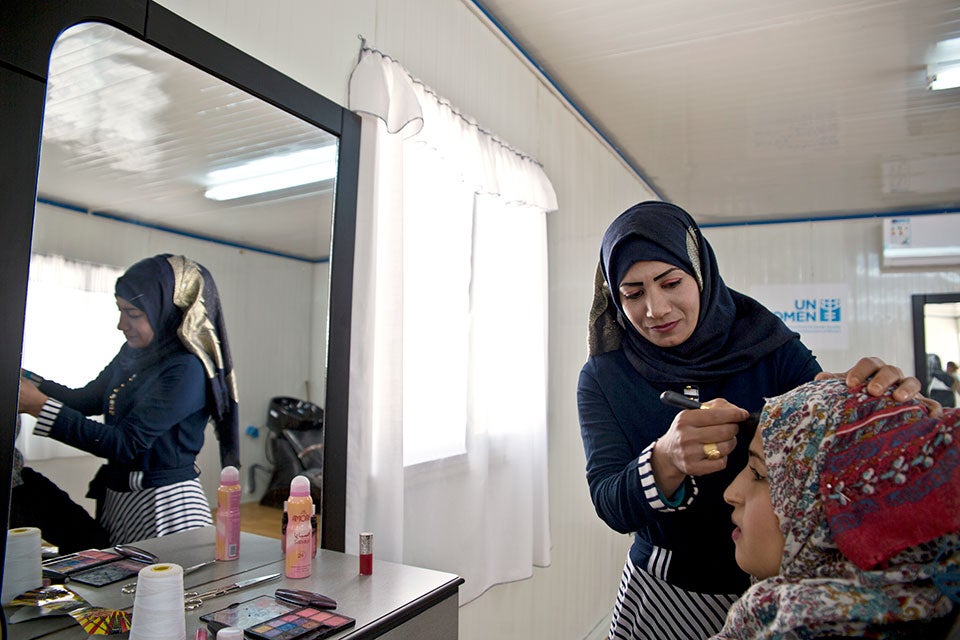 At 17, Intesar Hassan became the head of her household after fleeing Syria in 2015. She lives in the sprawling refugee camp of Azraq, Jordan, with her ailing father and five siblings.
"The beginning was incredibly hard," she remembers. When the opportunity came to join UN Women's cash-for-work programme, she took it right away. "I knew this was a way to provide for my family. It was the best choice I have made." Read more►
Hassan now earns a salary as a qualified beautician doing make-up, hair and nails inside the sprawling camp. Life of a refugee is the new normal for thousands of women like her, and no one knows when they would find another home, or go back to Syria. Finding ways to support themselves and their families has become urgent.
At the Azraq and Za'atari refugee camps in Jordan, UN Women has been providing safe spaces coupled with economic empowerment programmes for women and girls since 2012.
More than 16,000 refugees benefit annually from the four Oasis centres, including over 400 cash-for-work opportunities, child care services, counseling and referrals for gender-based violence.
"The tailoring project provides the women with a small haven inside a big, crazy world. When they take a break from tailoring, they laugh, joke and even dance," says Hadeel Al-Zoubi, the UN Women Senior Camp Assistant at Za'atari. "Empowerment is not telling women what they need. I like to ask them what they want and need… they should be able to make choices."
One of the cash-for-work programmes produces 1,000 baby kits per year, which are distributed to mothers in the Za'atari camp.
To help women work outside the camps, UN Women, the UN Office of the High Commissioner for Refugees (UNHCR) and the International Labour Organization (ILO), organized awareness raising sessions and job fairs in the Oasis centres, increasing the number of work permits being issued to Syrian women refugees from 3 per cent in 2017 to 11 per cent by January 2018.
UN Women is also working with Syrian refugees in Lebanon, Iraq and Turkey, empowering them to learn skills and earn decent incomes and raising awareness of gender-based violence.
In Lebanon, 2100 Syrian refugee women and Lebanese women and youth from conflict-affected communities have learned vocational skills to increase their incomes as part of the "Strengthening Resilience and Protection of Women and Youth in Host Communities" programme, funded by the Government of Japan.
Reducing refugee women's vulnerability to violence in host communities
Thirty-year old Menal Suleyman fled Syria with her children after her husband died and barely escaped drowning twice during her attempts to escape. She has found new hope in the UN Women-supported "SADA Women-only Centre" in the south east city of Gaziantep, Turkey.
"I didn't know how to use a computer before. Now when I go to class, my youngest boy, Yusuf, attends SADA's child-care," she says. Suleyman has taken Turkish language courses and patient registration training, so that she can find work as a medical receptionist.
Read more about Menal's journey►
Retibe Bilal, another Syrian refugee who has lived in Gaziantep since 2013, was divorced by her abusive husband after they arrived in Turkey. She heard about the SADA Centre through a neighbour and received legal consultation and psychosocial counseling. "The Centre helped me build my self-confidence and empowered me. I discovered my abilities, learnt my place in society and about my rights," says Bilal.
In Turkey, UN Women and the ILO run the "SADA Women-only Centre" in Gaziantep, funded by the European Union Regional Trust Fund in Response to the Syrian Crisis, the "Madad Fund" and the Government of Japan. The centre offers vocational and skills training, language courses and counselling to help refugee women apply for decent work and establish small businesses. Since the Centre opened its doors in September 2017, close to 1,800 women and 800 girls, mostly Syrian refugees, have registered.
Apart from facilitating these critical services, UN Women also supports governments to enact enabling laws and policies that empower women refugees and women in host communities. For instance, from 2016-2018, UN Women provided technical support for Jordan's first National Action Plan for the implementation of UN Security Council resolution 1325 on Women, Peace and Security. Launched in early 2018, the Plan seeks gender-responsive security-sector reform and focuses on raising awareness of rights, access to justice and services available to Syrian women refugees and Jordanian women survivors of violence.
Syrian women's leadership and coalition-building
"We are here to voice our pains and pinpoint what we share."
Almost 200 Syrian women leaders came together to talk about how to advance women's rights in Syria in a conference in Beirut, Lebanon, from 25–26 June 2018.
Convened by UN Women, the conference was part of its advocacy and coalition-building with Syrian women leaders and activists since 2014.
"The first step to ending the humanitarian suffering of Syrians is to end the war. You must find a way to end the war, otherwise the suffering will never end."—Rawan El Takriri, Jozoor at a Syrian women's meeting in 2016. Read more►
In February 2016, the first-ever Syrian Women's Advisory Board, comprised of 12 independent civil society representatives from diverse backgrounds, was established. They consulted regularly with the UN Special Envoy for Syria and included formally in the peace talks. Six members of the Advisory Board came from a group of Syrian women leaders who had come together at an meeting convened by UN Women when the Syrian peace process first started.
"We come from diverse and opposing backgrounds, but we were able to build consensus based on our common agenda for peace," said 58-year-old Monira Hwaijeh, one of the 12 members of the Syrian Women's Advisory Board (SWAB) when she spoke to UN Women.
According to Hiba Qasas, Programme Advisor and Head of UN Women's Arab States Section, coalition-building with and among the women of Syria is key: "UN Women has been advocating with the women of Syria for their rightful role as voices of peace, building their leadership capacities, convening women from diverse backgrounds and opinions, and supporting them in the process of identifying and unifying around a common agenda for peace."
In the words of Insaf Hamad, another member of the Syrian Women's Advisory Board: "We, the Syrian women, can—and may well be—the backbone of Syrian peace and reconciliation."