UN Women Deputy Executive Director Åsa Regnér visits Nigeria to strengthen partnerships
Date:
Assistant Secretary-General of the United Nations and UN Women Deputy Executive Director, Åsa Regnér, completed her first official mission to Nigeria from 21 to 25 October.
The Deputy Executive Director met with several distinguished representatives of the Nigerian government, including the Senior Special Assistant to the President on Sustainable Development Goals, Adejoke Orelope-Adefulire, to discuss the importance of embedding gender perspectives into all aspects of implementation of the SDGs.
Accompanied by UN Women Nigeria Country Representative Comfort Lamptey and UN Women Regional Director for West and Central Africa, Oulimata Sarr, she also met with Nigeria's Minister of State for Foreign Affairs, Ambassador Zubairu Dada, commending Nigeria's leadership on development efforts and emphasizing the need to fulfill its commitments to advance gender equality and women's rights agenda."Everything that happens in Nigeria to move the 2030 Agenda on SDGs and the Gender Equality Agenda forward is so important because as the largest country in Africa, the world looks to Nigeria for hope and inspiration," said Ms. Regnér.
The Deputy Executive Director also stressed on the need to address the alarmingly low representation of women in decision-making and the importance of legislative and constitutional reforms in partnerships with the Government.
"The upcoming 25th anniversary of the Beijing Platform for Action next year provides a very important platform to showcase Nigeria's commitment to advancing gender equality," she said.
The Deputy Executive Director also had a meeting with United Nations Resident Coordinator in Nigeria, Mr. Edward Kallon to discuss the overall political and development context, including the SDGs the national Economic Recovery and Growth Plan and the UN Reform.
In her meeting with the Vice President of Nigeria, Yemi Osinbajo, Ms. Regnér called for more investment from the Nigerian Government in girls' education and in protecting young women from sexual violence in institutions of learning.
The Deputy Executive Director also participated in a cross-generational dialogue with women ambassadors, the African Women Leader's Network's Nigerian Chapter, and other civil society representatives.
On 22 October, Ms. Regnér participated in a meeting on gender-based violence in Nigeria with the Spotlight Initiative partners and European Union delegation to discuss existing opportunities to work together to address gender-based violence, harmful and discriminatory cultural practices in Nigeria.
"The Spotlight Initiative is about building on existing structures and supporting activists and service providers working on the frontlines to prevent and respond to violence against women and girls," she said.
Later that day, the UN Women delegation led by the Deputy Executive Director also met with a cross-section of Women in Politics to discuss the low participation and representation of women in politics.
At another event, Ms. Regnér heard from young women entrepreneurs who shared their success stories as well as the challenges they face, ranging from access to finance and market, investments and persistent gender bias.
The DED also had a chance to interact with young women in the technology industry who are redefining Nigerian women's career paths and goals.
At an interactive discussion with young girls of the Sexual Offences Awareness & Victims Rehabilitation (SOAR) Initiative, a safe space dedicated to prevention and providing survivor support, Ms. Regner said: "It is the grown-up world which teaches boys and girls negative attitudes that promotes gender-based violence. UN Women is strongly committed to supporting initiatives that promote safe spaces for our girls. You have thought us a lot with your stories, I feel honoured to be here."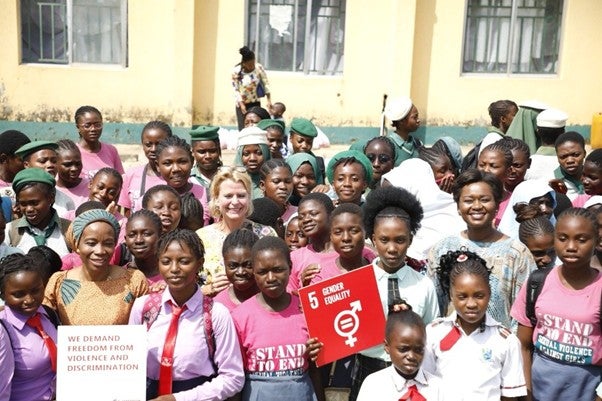 UN Women's Regional Director for West and Central Africa, Oulimata Sarr, added: "We [UN Women] need to make sure you are empowered, because the future belongs to you."
On 24 October, The Deputy Executive Director joined the commemoration of UN in Nigeria, and in her remarks, reiterated UN Women's commitment to work with partners to leave no one behind.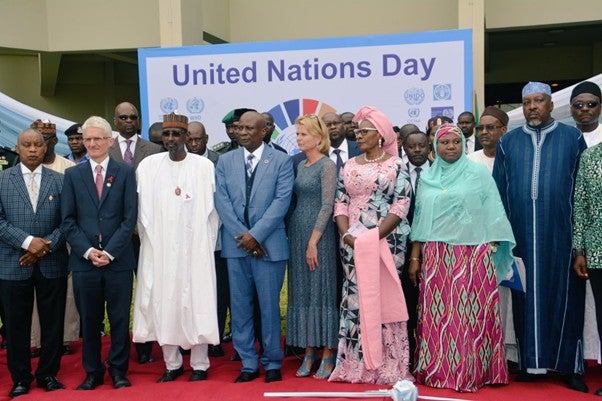 She also met with Nigeria's Minister of Humanitarian Affairs, Sadiya Farouq, to discuss development and humanitarian context in the North East, and protection and empowerment of women and girls in Internally Displaced Camps (IDPs).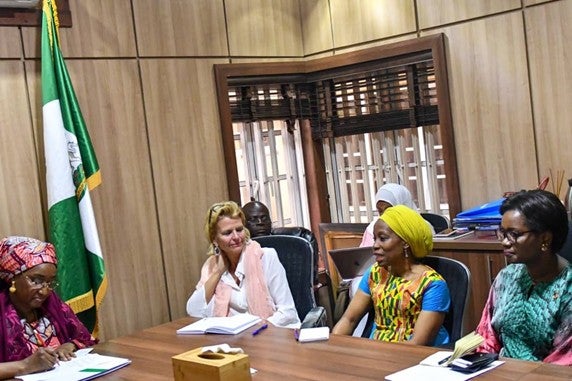 Ms. Regnér concluded her visit with meetings with women and girls affected by the Boko Haram insurgency, in Maiduguri, Borno State, as well as development partners."It is very important for me to understand the reality on the ground and to show that we are here to support you in empowering women and girls," she stressed.
In collaboration with Borno State Government, the UN Women delegation commissioned a rice milling machine in Jere Local Government Area for women and girls affected by the insurgency who have been trained on improved parboiling technology.
To read the full coverage, please visit UN Women's regional website for Africa