From conflict resolution to prevention: connecting Peace Huts to the police in Liberia
Date:
"This hut is working for me, Oh, this hut is working for me, Oh, sang a group of 60 women and girls clapping to rhythm in one of the 14 Peace Huts of Weala, a town in Margibi County in Liberia. Spread across the West African country long-affected by a deadly civil war, the huts are a safe space where women of the village come together to mediate and resolve community disputes.
This is where women gather to discuss matters that affect their day to day lives. This is where the reconciliation and resolution of conflicts takes place, where rural women can openly and safely discuss issues of inequality and together take decisions on peace and security.
From resolving cases involving pregnancy and abandonment, to counseling survivors of domestic violence or rape, the peace hut initiative in Liberia has grown since 2011. UN Women is supporting more than 16 Peace Huts across the country.
The Liberian National Police (LNP) is working with the peace huts to improve the prevention of crimes and violence against women by providing mobile phones. In Weala, at police headquarters, phones were distributed to be installed in the nearby police station. With the private sector, a free hotline was established so that Peace Hut women could call the police and each other without charge.
The women were instructed to keep their phones charged at all times and use them to alert the police when any type of security problem was brewing including domestic violence and other types of violence against women and girls in Weala. Those who received phones were trustworthy and selected by the Peace Hut women themselves to use them properly to improve security in the community.
In total, 14 of the women in the Peace Hut women were presented with mobile phones. One phone was given to a leader of adolescent girls, since girls are often ashamed to report abuse to elder women. Two phones were given to the local town chiefs, who had proven track records with the Peace Hut women for undertaking peer education with men and boys in the community on ending violence against women and girls.
In Weala, since the women started their work in the Peace Huts in 2011, "The calls are coming less and less. Each month there are less and less because the Peace Hut women are stopping the violence before it happens, said the Commanding Police Officer for Weala Town, James Flomo.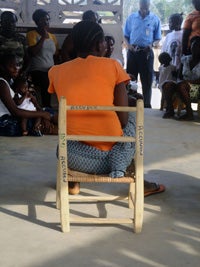 This year, UN Women and the United Nations Development Programmes (UNDP) will support the Peace Huts with an economic empowerment component so that the women can afford to continue their vital peacebuilding work. Each group can choose their own project such as running a bakery or fish processing shop and operate it collectively as a small business.
As the Peace Huts are evolving as a place to resolve conflict, they are becoming increasingly more inclusive of men and boys. UN Women and partners supported the creation of 'anti-rape' football clubs for boys in some of the Peace Hut communities and held focus group meetings with male leaders and adolescent boys.
At first, the Peace Huts focused on a 'shedding the weight' process and counseling women who had experience grief and trauma as well as supporting ex-child soldiers after the civil war. Then, in 2006, Peace Hut women began hearing cases. The methodology is based on the traditional 'Palava' hut system: the complainant and accused get to air their respective grievance and defence, then the local leader helps them reach an agreement that both consider fair and peace is restored.
The role and participation of women in the peace hut for the maintenance of peace in communities is increasingly being appreciated, and women in the communities now see themselves as crucial players in peacebuilding and conflict resolution.